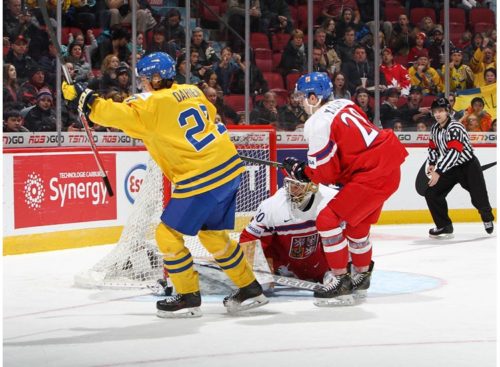 Sweden faced the Czech Republic on Saturday and gave star goaltender of the tournament, Felix Sandström, a break and introduced Filip Gustavsson, a Pittsburgh Penguins prospect.
Thirty-seven seconds into the game, Rasmus Asplund, a Buffalo Sabres prospect, scored to start Sweden off. Asplund's goal was assisted by Filip Ahl and Elias Pettersson, a top prospect for the 2017 draft.
After the calm of the initial surge from Sweden, a penalty from Czech Republic's David Kase resulted in a power play goal from Jonathan Dahlen. Dahlen's goal was assisted by Asplund and Nylander. Nylander leads the tournament with 4 G, 5 A in the prelims.
The Swedes finished off the first period racking up one more goal and two killed penalties. Jens Lööke brought Sweden's lead to 3-0 with just a few minutes remaining in the period.
The second period brought more penalties than points, with 4 minutes for the Swedes and 2 for the Czechs. Dahlen also tallied his second goal of the game, assisted by Fredrik Karlström, a Dallas Stars draft pick.
The start of the third period brought the Swedes another chance to increase their lead. Petr Kalina of Team Czech Republic was called on a hooking penalty and Dahlen capitalized on that, scoring the third goal to complete his hat trick. Dahlen's goal was assisted by Nylander and Kylington.
After back-to-back penalties on Team Sweden, the Czechs got on the board when David Kase brought the score to 5-1.
Just as the third was wrapping up, Lucas Carlsson of Team Sweden was penalized for slashing and Filip Hronek scored the second for the Czechs.
Gustavsson finished the game with a 94.74 save percentage and the Swedes went undefeated in the preliminary round.
Sweden will face Slovakia in the quarter-finals on Jan 2 at 2:30 p.m. in Montreal.