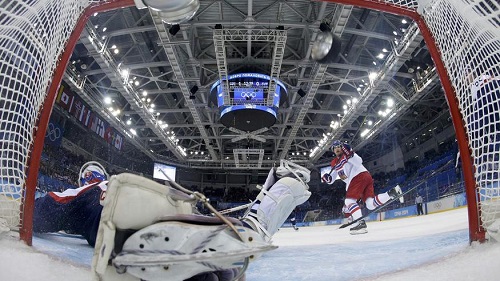 For our younger readers, the Czech Republic and Slovakia were a single country for nearly 84 years. Both countries were united under the Czechoslovakian flag between 1918-1992, minus some rough years during the Nazi takeover of their country. The split in 1992 was a peaceful dissolution conducted by the Czechoslovakian parliament.
One would assume that their shared history has sprung a friendly rivalry between the two bordering countries. The rivalry continued as the two countries met for the third consecutive time in the Olympics, with the Czechs taking the previous two.
The Czech Republic came out strong on Tuesday, scoring three goals in the first period and adding another in the second. Ales Hemsky, the Edmonton Oiler who began the tournament as an extra skater but impressed enough to move up to the second line, scored a goal to open the scoring for the Czechs.
With a 4-1 lead going into the third period, the Czechs may have gotten ahead of themselves as Slovakia took the first seven shots of the period before Marian Hossa of the Chicago Blackhawks scored his second goal of the game. Tomas Surovy would score again for Slovakia just over a minute later, making the score 4-3.
What appeared to be a monumental collapse in the making for the Czech Republic, was foiled when Andrej Meszaros took a slashing penalty with 53 seconds left in the game. The Slovaks pulled their goalie to create an even strength situation, and Tomas Plekanec would seal the deal for the Czechs, scoring the empty-netter.
The Czechs were backstopped by their only NHL goaltender, Ondrej Pavelec, who made 29 saves. Pavelec will have a big challenge ahead of him when his country squares off against the USA in the Semifinals on Wednesday.