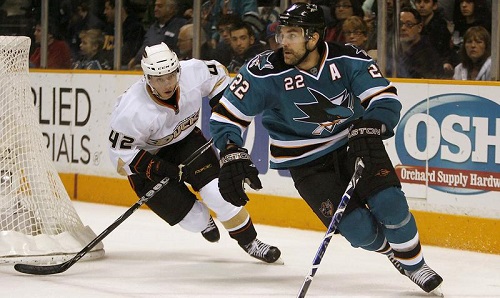 We're one week in to free agency, and the first two days certainly provided a flurry of activity. Things have cooled off drastically in the transaction department since then (with arbitration rulings in the not too distant future), but there are still plenty of free agents remaining. Teams around the NHL still have holes to fill, and the New York Rangers are no different. Before we look at their biggest remaining need (and also their biggest need heading in to free agency), let's look at what the Blueshirts have done so far.
Defenseman Dan Boyle – Two Years / $9 million
-All signs pointed to Anton Stralman not coming back to New York (he signed with Tampa Bay), so the Rangers were to need to add a veteran presence to the blueline. Enter the 37 year old (he turns 38 this Saturday ) former Sharks defenseman, who began his career in Florida, and won a Stanley Cup alongside Martin St. Louis in Tampa Bay in 2004. He provides the Rangers with a much-needed right-handed shot from the blueline, he'll run the point on the power play, and he'll be a strong veteran presence in the locker room (with an Olympic gold medal on his resume as well).
He's not a spring chicken, and his numbers are trending slightly downward, but the Blueshirts don't need Boyle to be the #1 defenseman he was for most of his career. Half of his 36 points last season (12 goals / 24 assists), came on the power play (6 goals / 12 assists). If he can repeat those numbers in a #4 defenseman role next to Marc Staal, it makes one of the deepest bluelines in the NHL even deeper. Another thing to keep in mind is that Boyle specifically wanted to play for the Rangers, considering he turned down more money from three other teams.
Center Dominic Moore – Two years / $3 million
–Dominic Moore was an important cog on the Rangers roster last year. He killed penalties, centered their very effective fourth/shutdown line, and moved up to higher lines when the line combinations needed a bit of a shake-up. He'll continue to fill those roles, and he gives Head Coach Alain Vigneailt piece of mind among his bottom six forwards. Bringing him back at that contract was a no-brainer.
LW Tanner Glass – Three Years / $4.35 million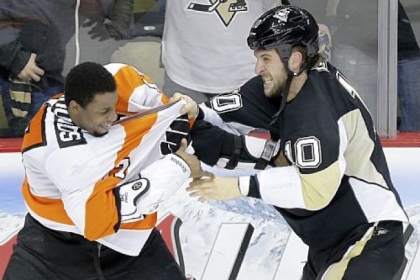 -Glass is a typical fourth line journeyman, who has made stops in Florida, Vancouver, Winnipeg, and Pittsburgh since breaking in to the NHL in the 2007-08 season. He's not going to bring offense (his high water mark was five goals and eleven assists with Winnipeg in 2011-12), but he does bring an edge and a willingness to drop the gloves at a moment's notice. While he'll be seen as trying to replace the hole that was left by fan-favorite Brian Boyle, he's taking over the tough guy role that was occupied by Derek Dorsett and Dan Carcillo last season. If Glass can resist the penchant he has for taking stupid penalties in the offensive zone, he could end up being a nice find. If he doesn't, he'll quickly become the whipping boy among the Garden Faithful.
*RFA Wingers Mats Zuccarello, Chris Kreider, and RFA Center Derick Brassard have all filed for arbitration.
The Glaring Need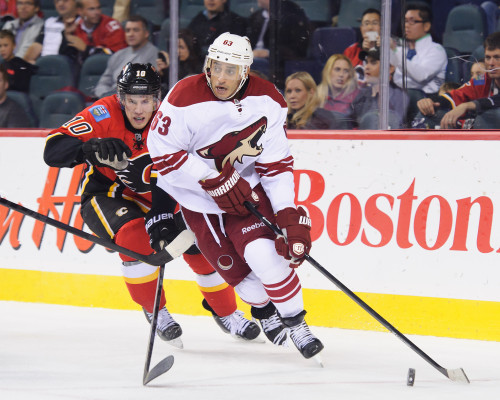 -When Brad Richards was bought out of his contract, it left the Rangers thin at the center position. One of the strongest winning recipes in the NHL is having quality depth down the middle (Boston and Los Angeles being the prime examples of that). The centers on the Rangers current roster are Derek Stepan and the aforementioned Dominic Moore. If things work out with Derick Brassard in the arbitration process, that still leaves them needing another center. If they want to make another serious run at a Stanley Cup, they need to add someone who can consistently contribute. The center market was thin to begin with this off-season, and with Paul Stastny quickly signing in St. Louis, and Dallas making the trade for Jason Spezza, there's not much left out there. Here are the two best remaining options:
Sharks C Joe Thornton – Adding Jumbo Joe would keep the Rangers among the championship contenders. He and Rick Nash have experience playing with one another on the Canadian Olympic team, and he would also give the Rangers some much-needed size. He's not the Joe Thornton of yesteryear, but he still posted 76 regular season points last season (11 goals / 65 assists), which would have been tops on the Rangers by a sixteen point margin. The problem here is that the Rangers would have to give up a significant piece to get him back, and also make some cap room to make this happen. The trade speculation between these parties has cooled off over the past week, but I wouldn't say there's no chance of this happening anymore either. Thornton has a no-movement clause, and the word on the street is that he'll only leave San Jose for the Rangers.
UFA C Mike Ribeiro – One of the surprises right around the opening of NHL Free Agency season was Mike Ribeiro being bought out of his contract. Coyotes GM Don Maloney made it clear that this was a decision based on Ribeiro's conduct, and not a financial move. For a GM to make a move like that, it automatically puts that ugly "Clubhouse Cancer" scarlet letter on him. Behavioral issues aside, Ribeiro is a play-making center, wins a ton of face-offs, and would help any team's power play. He could be an excellent fit next to Nash or St. Louis. His recent troubles also means that the 34 year old could be had on a short-term/cap friendly deal.