Featured
Daniel and Henrik Sedin Named Special Advisors to the GM of the Vancouver Canucks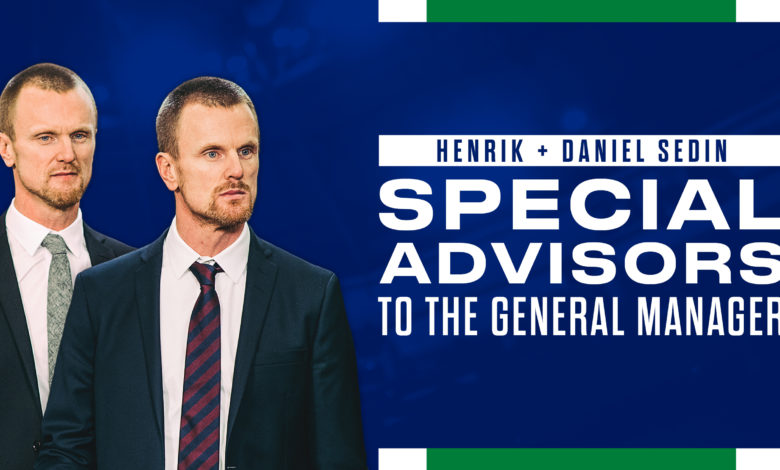 General Manager Jim Benning announced earlier today that Daniel and Henrik Sedin will join the Hockey Operations department as Special Advisors to the GM.
Basically, the Sedins will be learning the entire management side of hockey with an eye on a bigger role down the line. Canucks GM Jim Benning released a statement on the move:
Henrik and Daniel's hockey intellect and experience is exceptional. We've had an open line of communication since they retired as players. They are students of the game, eager to learn, who will make valuable contributions and strengthen our staff. We are very pleased to add their knowledge and passion for the game and have them begin the next stage of their careers with us.
Daniel and Henrik Sedin's new roles with the Vancouver Canucks will be unveiled tomorrow. Both will be heavily involved in development and focused on the Canucks AHL club. I'm interested to see how their roles change moving forward. Two very bright and knowledgeable guys.

— Darren Dreger (@DarrenDreger) June 22, 2021
"We are grateful and humbled by the opportunity to contribute to the team we care so much about," said former Captain Henrik Sedin. "The province and the fans care deeply about this team. As we've said, being part of the Canucks family has been the best time in our lives. It is an honour to be back, and we will do everything we can to learn and contribute to the success of this team."
"When we retired, we always thought we'd like to be involved in the business side of hockey one day," added Daniel. "There's a lot to learn, but we are excited and ready for the opportunity. This team has some of the best young players in the NHL and we want to do everything we can to support the group and achieve our goals."
Daniel and Henrik Sedin retired in 2018 after 17 NHL seasons as Vancouver Canucks. Their jerseys were retired on Feb. 12, 2020.