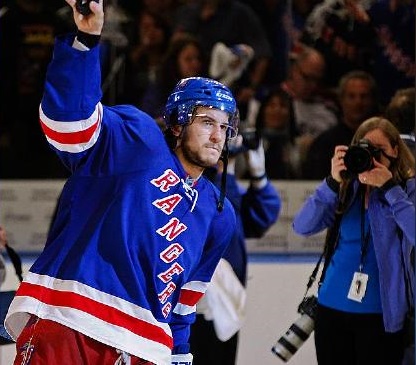 It should come as no shock to Rangers fans that Defenseman Michael Del Zotto was traded to the Nashville Predators today in exchange for fellow Defenseman Kevin Klein. It proves that wishes can come true; because Del Zotto has been Madison Square Garden's current favorite whipping boy of the blueline (previous owners of that title include Wade Redden, Michal Rozsival, Marek Malik and Tom Poti). It's no secret that 23-year-old D-man has been in the doghouse of Rangers Head Coach Alain Vigneualt all season, and MDZ's name has been bandied about the rumor mill since late October. So what are the Rangers giving up and what are they getting in return?
Del Zotto was in the midst of his fifth season with the Blueshirts. He had 37 points (9 goals / 28 assists) in his rookie season (22 power play points), and it looked like the Rangers had their power play quarterback of the future. A sophomore slump followed (47 NHL games – 2 goals / 9 assists) in which he split the season between the NHL and AHL. He bounced back nicely in his third season, tallying ten goals and 31 assists. His fourth season was okay (three goals and 18 assists in 46 games), but this current campaign resembled his sophomore season too much (two goals and nine assists in 42 games thus far). One thing that has dogged him throughout his career is his defensive play. More often than not, he's been a liability in his own zone. An average defensive-defenseman that can get a rush going can be tolerated and paired with a reliable stay at-home defenseman, but Del Zotto wasn't handling his primary responsibility well at all.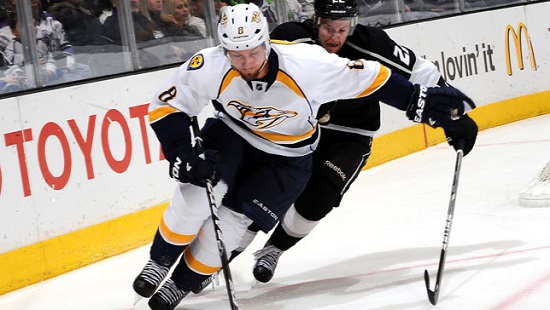 Enter Kevin Klein (not the Oscar & Tony Award-winning actor). Klein was selected by the Nashville Predators in the 2nd round of the 2003 draft. After a few seasons with the Predators AHL-affiliate in Milwaukee, the 29-year-old rearguard got his first significant NHL action in the 2008-09 season. No one will mistake him for an offensive wizard, considering his best point production season came in 2011-12 (four goals and 17 assists in 66 games). But what he can provide is twenty minutes a night of reliable defense, and six years of experience on a team that doesn't light the lamp often (sound familiar?).
The argument against making this trade (from the Rangers perspective) is that Del Zotto still has some upside at the young age of 23. That may be true, but you don't win games with upside. At some point, upside expires, and a team needs to cut their losses before a player has little value. MDZ wasn't improving defensively, and he was the team's sixth defenseman. He'll surely benefit from sharing a blueline with Shea Weber, and this also gives Nashville another young puck-mover along with 2014 1st Round Pick Seth Jones. I would have liked the Rangers to have also received a mid-late round draft pick in the swap, but in no way is this a bad deal for New York. Klein will likely slide right in to Del Zotto's old spot next to John Moore on the 3rd pairing, but we'll find out tomorrow night against St. Louis.