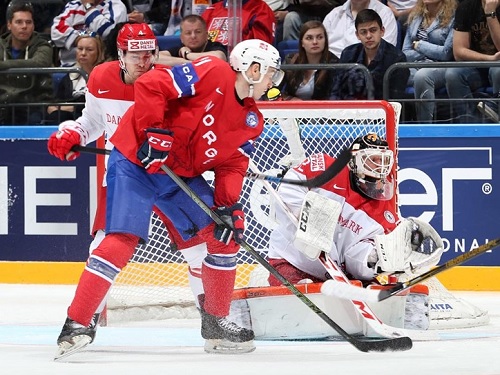 It may have taken 13 years for a World Championship victory over Norway but Denmark enjoyed its second such triumph in 12 months against its Nordic neighbor all thanks to a fine goaltending display from Sebastian Dahm.
Nicklas Jensen and Jesper B. Jensen found the Norwegian net as Denmark justified its pre-tournament talk of pushing for a play-off place. Dahm finished with 44 saves; Denmark won it 3-0 to follow up its status-preserving 4-1 success over the same opponent in Ostrava last season.
And after a winning start, Dahm sounded a warning to the rest of Group A. "This is going to be a dynamite group," he said. "Any team can make the quarter finals, and any team could get sucked into the relegation battle. This is a good start for us but we have to build on it. We can't treat it as a pillow and go to sleep."
"It was a really good effort and if we play like we did today we have a really good chance," the double goalscorer said. "It was a team effort and our goalie did really well."
That goal shifted the momentum: after soaking up so much first-period pressure, Denmark was able to push Norway back. But Dahm still had to be alert and was almost beaten in a scramble around the crease after a Mathias Trettenes shot rebounded off the goalie's pads and into the danger zone in the 32nd minute.
Within two minutes, though, Denmark was celebrating a second goal. Lars Eller found Jesper Jensen at the bottom of the circle and the Jokerit Helsinki D-man produced the kind of wicked wrist shot that would delight the most predatory of forwards to rattle the puck into the top corner.
"I don't know how I ended up in front of the net," Jensen said. "I'm a defenceman! I felt I had a lot of space and I got a great pass from Lars Eller. It was a nice goal and important for the team to take a 2-0 lead."
Indeed, once the Danes killed a double minor penalty on Eller midway through the third it was clear that there would be no way back for Norway even before Nicklas Jensen fired his second of the night into an empty net to wrap it up.