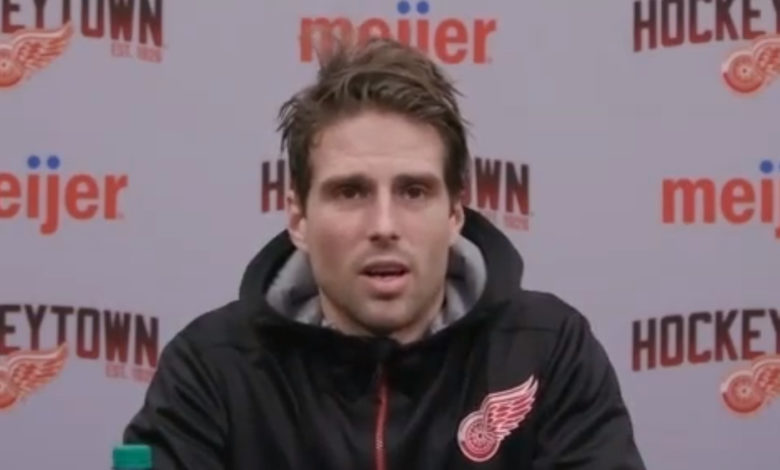 The Detroit Red Wings began their season Thursday night in Detroit, as they hosted the Carolina Hurricanes.
Former Wings netminder Petr Mrazek was the goalie for the Canes, while newcomer, veteran Thomas Greiss backstopped for Detroit.
Greiss wasn't the only new face on the ice. In fact, there were quite a few new names acquired since last season. Forwards Vladislav Namestnikov, Mathias Brome, and Sam Gagner, along with defensemen Jon Merrill, Marc Staal, and Troy Stecher, all skated in the opener.
Dylan Larkin was also named the 37th captain in franchise history this week, as Detroit had played last season without anyone wearing the 'C.'
However, despite the new roster changes, the game began poorly for the Wings. A giveaway by Larkin in the early minutes gave the Hurricanes an easy scoring chance. Sebastian Aho intercepted the puck and passed across the slot to the awaiting Nino Niederreiter, who made no mistake in putting it past Greiss. Niederreiter encountered no resistance, as no defenders were on his side, allowing him a free shot.
"I thought very early in the game, I thought we were playing really well," said coach Jeff Blashill. "I thought we came out and did a lot of things we needed to do. Until they scored, I thought we played well. We kind of gave them a freebie there on the first goal, so that's a tough one."
Mathias Brome was a bright spot for Detroit throughout the game. The 26-year old winger from Sweden played his first career NHL game, and he was solid on the night. In the first, he took the puck around the net and fired a hard wrister which hit the crossbar. It was the one of the best scoring chances the Wings had all game. He demonstrated good puck control throughout, which is a skill that Detroit needs.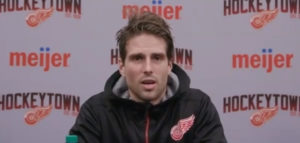 "I thought Brome did a good job," said Blashill. "I thought he did play with that tenacity we need. He was hard on pucks, I thought he dug in well. He did have a few chances to potentially score. I thought he played well; I thought the line played fairly well."
A recurring theme that Blashill noted was puck management and turning pucks over. Detroit had 16 giveaways, of which Brome had zero.
"My strength is to hold onto the puck and turn around in the offense, and get chances from that," said Brome. "I felt pretty good out there. It was really fun to play."
Much will be expected from Larkin's first line this season, alongside Anthony Mantha and Tyler Bertuzzi. However, that line struggled a bit to get chances in the first game.
"The line probably pressed too much," said Blashill. "Everything good comes from checking well and managing the puck, and I think we forced too many plays. We tried to make things up that weren't there, and the next thing you know you're defending or chasing back."
Detroit was outshot by large margins each period, with the Canes having an 18-3 shot edge in the third, 43-14 on the night. Coach Blashill noted his team allowed 10 chances alone in the final 20.
43 shots meant Greiss saw nonstop action. The only other goal he allowed was on a Carolina power play, as Ryan Dzingel deflected a Jake Gardiner point shot past him near the crease. Neither goal was really his fault, especially Dzingel's tip.
"I thought Thomas played well," said Blashill. "He made the big saves at big moments to keep it a 1-0 game. Both those saves in the 3rd, on the 2-on-1, and he made the backdoor save on the power play. He stopped the other one's he was supposed to stop. That first goal he doesn't have much of a chance on."
Andrei Svechnikov added an empty netter to make it 3-0 for the final score. Detroit will have a chance to bounce back on Saturday as they play the Hurricanes again (7:00 ET).
Next week's schedule:
Monday: Columbus @ 12:00
Tuesday: Columbus @ 7:30
Friday: Chicago @ 8:00
Love Reading About Hockey?

Subscribe to keep up-to-date with the latest and most interesting hockey news!
| | |
| --- | --- |
| | We hate spam just as much as you |