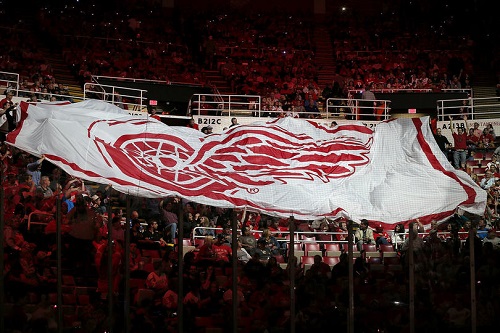 The Detroit Red Wings kicked off the regular season at home last night by taking on the Buffalo Sabres. Detroit's all-time home record vs. Buffalo coming into the game was 35-18-5-1. The game would feature two brothers going head-to-head. Detroit's Drew Miller (forward) faced off against his brother Ryan Miller (Buffalo netminder).
The Red Wings would take control of the game in the first 20 minutes. Cory Emmerton, who had to be waived earlier in the week due to a roster logjam, report to Grand Rapids, and then return to Detroit a few days later, set up the first goal of the game. He backhanded a shot towards Miller, of which Mikael Samuelsson was able to re-direct into the net.
36 seconds later, Pavel Datsyuk, after stealing the puck from defenseman Rasmus Ristolainen, backhanded it past Miller to give his team a quick two goal lead. However, that would be the last goal Detroit would score in the game. The rest of the time, the emphasis was on playing good defense and killing off a multitude of penalties.
Red Wings players spent a total of 14 minutes in the penalty box (including two 5-on-3s for the Sabres), giving the opposition seven tries to capitalize. On many of those chances, Detroit was able to prevent Buffalo from even recording a shot on goal.
Veteran forward Daniel Alfredsson, playing in his first NHL game wearing a sweater other than that of the Ottawa Senators, when asked of the importance of his team's penalty killing efforts said "They were huge tonight (PK units). Usually your goalie's the best penalty killer, and he was outstanding tonight. Also, guys were sacrificing themselves, throwing their bodies in front of shots. I'm sure Buffalo walks away here tonight with a wasted opportunity with the amount of power play chances they had."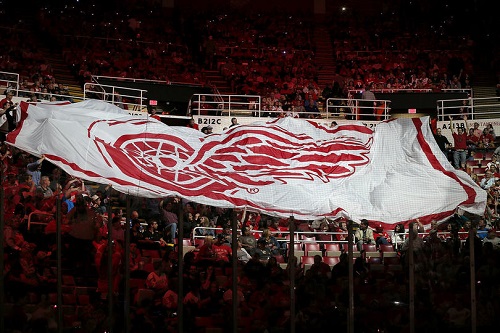 Later in the game, Emmerton would find himself on a shorthanded breakaway midway through the second period that was disrupted by a backchecking Sabre. He was awarded a penalty shot for his efforts. He did not score on the free shot, but he was quickly making a name for himself in the game. He would also play a little over three minutes on the penalty kill.
When asked about his roller coaster of a week, Emmerton replied "Every day is a new opportunity. You want to go out and you want to contribute in any way every night. I'd be lying if I said there was not a little extra fire there (in his game). But that's how you need to play every night. Tonight I thought our line (which also has wingers Drew Miller and Mikael Samuelsson) did a real good job."
It wasn't until the final 10 minutes of the game that the Sabres made the Red Wings feel threatened. 12 minutes into the third period, Jimmy Howard went behind his net to shoot the puck around the glass. Instead it hit Buffalo center Brian Flynn and caromed into the crease. Howard tried to make an quick save, but rookie Zemgus Girgensons was quicker. Zemgus, a native of Latvia, recorded his first career NHL goal.
Unfortunately for Buffalo, that would be the only goal they would put past Jimmy and the Red Wings. The final score: 2-1. Pavel Datsyuk's first period goal would stand as the game-winner.
After the game, I asked Emmerton to describe the feeling of being able to start the regular season with Detroit (instead of Grand Rapids or NHL team). "I think, it's special," he said. "It's a great team here, organization, everything. It's something you don't want to leave. I think everyone knows that we have a chance to do really well this year and go far as long as we play the way we can and stay healthy. I want to be part of it, so I'm going to do the best I can to make sure I'm here and contributing."
Key Stats: Detroit won 60% of their 58 faceoffs. Pavel Datsyuk went 13-for-21 (62%). Joakim Andersson went 9-for-13 (69%). Stephen Weiss went 9-for-13 as well. Justin Abdelkader recorded a team-leading five hits while Datsyuk led both teams in takeaways with four (33% of all the takeaways in the game). Detroit outshot Buffalo by a total of 34 to 20.
Detroit takes on the Carolina Hurricanes tomorrow night (7:00 ET) followed by the Boston Bruins on Saturday night (7:00 ET).
Follow me on Twitter @yungspork