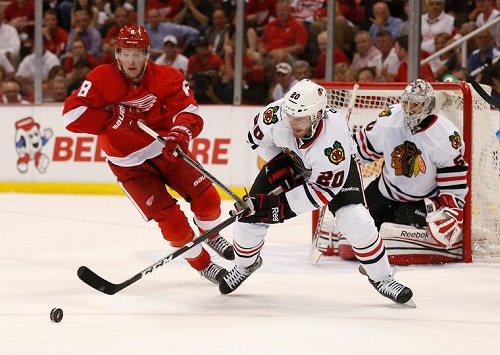 The Detroit Red Wings will host Game 4 of the Western Conference Semi-Finals tonight at Joe Louis Arena in Detroit. They came into the series as the underdog and now will look to extend their lead in the series.
If the Red Wings win tonight it will be the Chicago Blackhawks's first three-game losing streak of their season.
Hope is restored in Hockeytown with some really good news. Besides the return of forward Drew Miller, there is some talk of Darren Helm and Danny DeKeyser possibly returning if the Wings make it to Round 3. That has to be some added encouragement for the whole team. Even if one of the two returns, it would make a huge difference.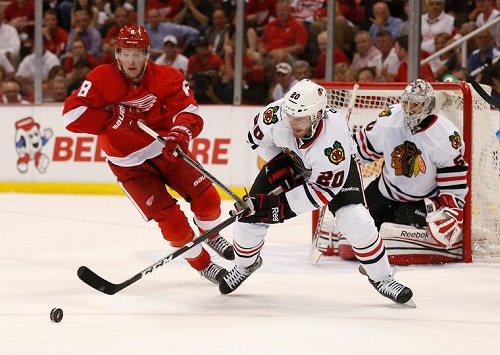 The Red Wings are getting support from all areas of the team now. Damien Brunner is back to the way he was playing at the beginning of the regular season. Gustav Nyquist and Pavel Datsyuk continue to dazzle and amaze. The third and fourth lines have been very reliable, and the penalty kill is even better with Miller back in the lineup.
Another reason the Red Wings are having success is because of the stepped up play from forwards Johan Franzen and Valtteri Filppula, who were virtually nonexistent throughout the season, but have now emerged in these playoffs.
Defenseman Jonathan Ericsson said after last game "Playoffs are different from regular season. It seems like whatever they did in the regular season, beating records or whatever; it doesn't matter at all once playoffs start. Regular season [stats] don't really mean anything now."
As long as Detroit continues to have that mentality, that Chicago is mortal like every other team, they will continue to find success.
The whole team is doing a much better job backchecking this series than the previous one. Everyone hustles back quickly, which is necessary against a speedy Blackhawk team. Detroit has also done a great job at clogging up the neutral zone and making it very difficult for the opposition to penetrate.
The Wings have done the little things right so far: winning faceoffs, outhitting, blocking shots (all of which Detroit led in Monday night), and just showing heart. This isn't the same team that took Anaheim to seven games. This is a revamped squad, and Mike Babcock has found a way to further improve his team.
They will have to continue playing "the game inside the game" in order to upset the number one seed.
Tonight's Game 4 starts at 8:00 ET, and Satuday's Game 5 is also at 8:00 ET.
Follow me on Twitter @yungspork