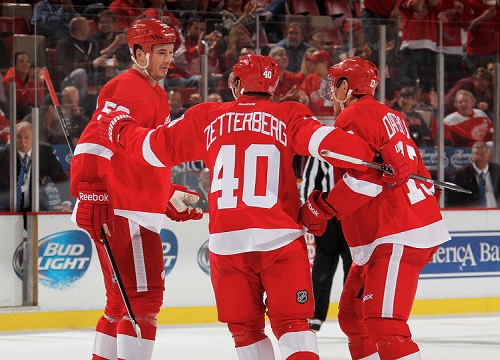 Thursday night, the Detroit Red Wings faced off against the Phoenix Coyotes. It was Detroit's second home game and fourth overall, having played back-to-back games against Carolina and Boston last weekend respectively. They came into the game with a 2-1-0 record, having lost to the Bruins.
It was the 132nd time the two teams have met in the regular season. Detroit's all-time record coming into Thursday's game was 62-41-23-3 (36-21-8-1 at home; 6-3-1 in the last 10 meetings since October 28th, 2010).
Phoenix would take ownership of the faceoff circle early in the contest and would not let up. Pavel Datsyuk won just 38% of his draws. Faceoff specialist Joakim Andersson won just 31%, and second line center Stephen Weiss won 24%. Detroit lost 46 of their 70 faceoffs in the game.
Defenseman Derek Morris would score the game's first goal on a rocket from the point. Jimmy Howard had no chance to stop it.
Early in the second period, Detroit would tie the game and take the lead shortly after. Andersson and Jonathan Ericsson would score 53 seconds apart, giving the Wings a 2-1 lead.
Phoenix forward Mikkel Boedker would even the score 1:04 after Ericsson's goal. After Red Wings defender Kyle Quincey was caught out of position, Boedker was able to put it past a falling Jimmy Howard.
Pavel Datsyuk's line was buzzing late in the second period, finding themselves three or four prime scoring chances, but was not able to capitalize on any of them. Their best chance came on a Datsyuk to Abdelkader one-timer that Mike Smith was somehow able to stop.
Defenseman Michael Stone would win the game for the Yotes with less than five minutes remaining in the game with the help of Mike Ribeiro and Martin Hanzal. Antoine Vermette would add an empty netter for good measure to bring the final score to 4-2.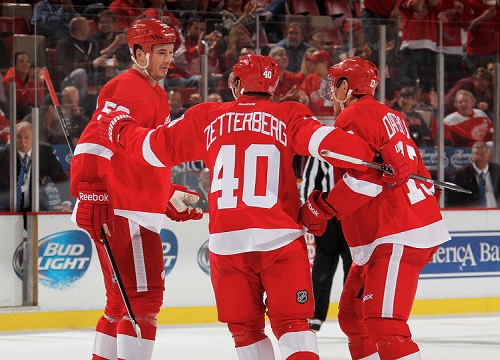 Jimmy Howard made 34 saves on 37 shots (.989). Detroit finished the game having given the puck away a total of 12 times.
The third line played very well in the game as well. "It was good to see them get a goal," said Mike Babcock. "[But] we need everybody. You can't just have one group. Tonight we didn't [have everybody] and we were poor as a team."
—————————————————————————————————————————————————————–
Tonight Detroit will look to rebound from that loss against a Philadelphia Flyers team that has started their season 1-4-0.
The lineup for this game will be drastically different than that of Thursday's game. At practice this morning, it was reported that Todd Bertuzzi will be replacing Justin Abdelkader on the first line to play with Datsyuk and Zetterberg. Daniel Alfredsson will be moved to the third line to play with Cleary and Andersson, while Abdelkader takes his place on the second line where he will play with Franzen and Weiss. The fourth line will look the most different.
After Cory Emmerton was sent to Grand Rapids this week, Luke Glendening will play his first NHL game in his place. Also, the injured Jordin Tootoo will be playing alongside him and Drew Miller. This will be Tootoo's first game of the season, having been injured with a bruised shoulder.
Forwards Mikael Samuelsson and Tomas Tatar will be scratched once again, along with defenseman Brendan Smith. Brian Lashoff will be taking his place on the third defensive pairing alongside Kyle Quincey.
Jimmy Howard will be starting tonight's game and Jonas Gustavsson was recently activated from injured reserve, making him available to back him up.
Game time is 7:00 ET.
Follow me on Twitter @yungspork