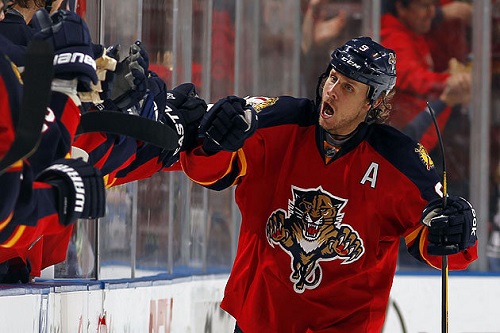 After signing veteran winger Daniel Alfredsson Friday afternoon, Detroit was not done. After the Red Wings and Valtteri Filppula were unable to come to an agreement, the two parted ways, and a void had to be filled.
Filppula was drafted back in 2002 by Detroit, and played his first NHL game in the 2005-06 season. After playing in four games that year, he became a regular the very next year. He had been the team's second line center and had a lot of potential.
However that potential never really showed. His best season came last year when he scored 66 points (23 goals) in 81 regular season games (.814 PPG). His second best season came back in 2008-09 when he put up 40 points (12 goals) in 80 games (.500 PPG). This past season he only scored 17 points (9 goals) in 41 games (.415 PPG).
In 483 total games played, he only amassed 251 points in 483 games (.520 PPG).
In the end, he wanted a first line center position, and with that, first line money. Detroit could not afford what he wanted and opted for a better option.
Steve Yzerman, GM of the Tampa Bay Lightning (and former teammate of Filppula in 2005-06), signed him to a 5-year, $25 million deal.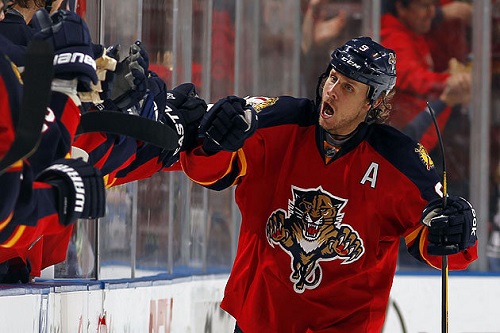 Florida's Stephen Weiss became Detroit's new target. The Red Wings signed him to a 5-year, $24.5 million contract. Weiss was drafted the year before Filppula, 4th overall by the Panthers, and has scored 394 points (145 goals) in 654 games (.602 PPG). Last season, Weiss suffered from a wrist injury, limiting him to just 17 games, but Detroit hopes he will be ready to go come training camp.
Weiss played junior hockey for the Plymouth Whalers of the OHL. He recorded 223 points in 172 games for Plymouth, a nearby city of Detroit, over three seasons.
Playing so close to Detroit those years gave him nothing but good things to say upon signing with the team Friday.
"I always dreamed of playing for the Wings one day. Words can't really express that right now," said Weiss in a joint conference call with Alfredsson. "I played in the Plymouth area for a few years [and] got to see some Wings games."
He will likely be slotted as Detroit's second line center, replacing Filppula.
With Alfredsson and Weiss on the roster, this Red Wings team will look more like the Red Wings of old. It allows them to play more of a puck-possession style (even more so if right winger Daniel Cleary signs elsewhere, since he prefers a dump-and-chase style).
Detroit is obviously not done making moves though. 22 players are currently under contract as of now, including 14 forwards. Not included in the 14 are Joakim Andersson and Gustav Nyquist. Defenseman Brendan Smith isn't signed either yet. If all three are signed, it brings the roster to 25 players (two too many).
There is also a possibility that they might sign a veteran defenseman. If that were to happen, at least one defenseman would have to be moved. That would likely be Kyle Quincey.
UFA defensemen that are still available include Marek Zidlicky, Douglas Murray, Ron Hainsey, Ryan Whitney, and Hal Gill.
Follow me on Twitter @yungspork.