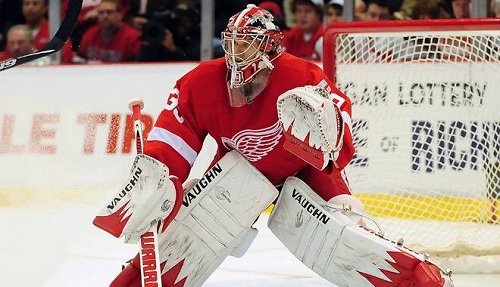 Red Wings Season Preview: Why Detroit Is Better This Year Than Last Year
First and foremost, before we begin this season preview, let's recap last summer's free agent frenzy pertaining to Detroit:
Departures: Yes, Lidstrom's gone. Yes Stuart's gone. Yes Hudler's gone. How, you ask, are the Red Wings a better team this year than last year? I will begin to explain that now.
Brad Stuart was starting to slow down anyway. In the playoffs he looked shaky and he made some bad mistakes in key situations.
Jiri Hudler never scored more than 25 goals. In 2010-11 he scored just 10 goals and 27 assists. He even filed for arbitration with the Red Wings in 2009. When he didn't get the money he wanted, he fled to Russia to play for the year (where he had his best year). In the 2010-11 season he sunk back into mediocrity. Calgary definitely overpaid for Hudler at $4 million/year. Detroit couldn't compete for that salary.
Additions: When the clock struck midnight on July 1st, 2012, GM Ken Holland went to work. He signed former Red Wing (and 2008 Stanley Cup winner) Mikael Samuelsson, Swiss League superstar, Damien Brunner, Nashville Predators grinder Jordin Tootoo, and backup goaltender Jonas Gustavsson from the Toronto Maple Leafs (after Detroit did not re-sign Ty Conklin).
Tom Renney – Last season, with Lidstrom, Stuart, and Hudler, the Red Wings finished with 102 points in the standings (48-28-6). Their goals per game and goals against per game were both 7th in the league. Their powerplay was a weak 16.1% (22nd) and their penalty kill was only 81.8% (Tied for 17th). How can those numbers possibly improve without Nick and Brad?
Enter Tom Renney, the head coach of the Edmonton Oilers last season, and the season before. Look not at the coaching record of 260-255-9-68, but look at the numbers in Edmonton. But the Oilers finished in last place again last year like every year! I know that, but that's nothing unusual for them. Look at the powerplay numbers. He brought a young Oilers team from last in the league on the powerplay 2 years ago, to 3rd in the league last year, a very impressive feat.
Not to mention he's a very player-friendly coach. The players in Edmonton loved him. He also fits the Red Wings' puck-control style of play. He'll work to balance out coach Mike Babcock's tough coaching style. Renney will be around for the next three seasons. Don't underestimate the impact of a new assistant coach. Detroit will be a great fit for him.
Mikael Samuelsson: Samuelsson was a Red Wing from 2005 to 2009. He scored an average of 40 points a season with Detroit. When he went to Vancouver, he increased his point total to around 50 points in the next two seasons. When he was traded to the Florida Panthers, he missed half of the season (last year) due to a groin injury.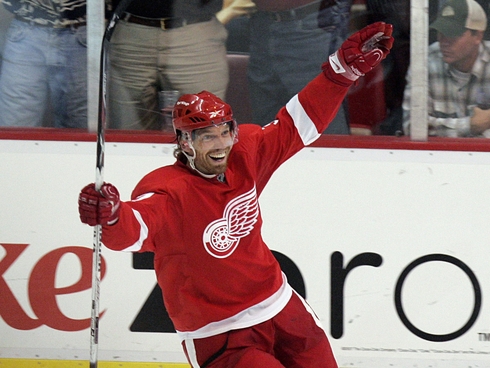 Jordin Tootoo: The acquisition of Jordin fills a void that Detroit has had for years. He plays like McCarty, won't take bad penalties, sticks up for teammates, and can score crucial, timely goals. At 5 foot 9, he fought 6 foot 5 Tom Sestito of the Blue Jackets and knocked him unconscious. Don't underestimate the player that calls himself the Tasmanian Devil. For a full profile on Tootoo, check out my recent article "Welcome to Detroit Jordin Tootoo."
Jonas Gustavsson: Gustavsson also brings something new to the table, that Detroit has not had since 2008, a solid goaltending duo. "The Monster" will have the chance to start about 20 games in net, sharing the rest with Jimmy Howard. He now gets the opportunity to work with Jim Bedard (goalie coach) and Chris Osgood. In Training Camp he looks really good in goal.
(Games played – Goals – Assists – Points – +/-)
Forwards:
Probable Line 1: Henrik Zetterberg – LW Pavel Datsyuk – C Damien Brunner – RW
Impact they will have
Zetterberg: Captain Hank scored in the Red and White game featuring the Red Wings and the Grand Rapids Griffins, less than 2 hours after he received the captain's jersey from General Manager Ken Holland at the press conference.
Last season: 82-22-47-69- +14
This season (in Swiss League – EV Zug) – 23-16-16-32- +17
Datsyuk: He will pick up exactly where he left off in Russia.
Last season: 70-19-48-67- +21
This season (in KHL – CSKA Moscow) – 31-11-25-36- +14
Brunner: Tore it up in Swiss League – A with teammate Henrik Zetterberg. The two played on the same line as each other. Brunner will thrive with Hank and Datsyuk as linemates. Brunner also spent time during the Red and White game playing defense with Kronwall (possible powerplay combo).
Last season: 45-24-36-60- +17
This season (in Swiss League – EV Zug) – 33-25-32-57- +18
Line Chemistry: A+ This is, hands-down the best line combination in the NHL. Sweden, Russia, and Switzerland are all represented in this combo. I'll let their play do the talking.
Probable Line 2: Mikael Samuelsson – LW Valtteri Filppula – C Johan Franzen – RW
Impact they will have
Samuelsson: Sammy will have a good season IF he stays healthy. He already sustained a groin injury during training camp (missed half of last season with groin injury). He said today he's feeling good, and everything's back to normal. Let's hope that's true. If that injury lingers in a shortened season, it would mess the line's chemistry up. We'll see how a 36 year old veteran returning from an injury can play so often in a 48-game season.
Last season: (Vancouver) 54-14-17-31
Filppula: Last year Val was third in team scoring, having his best overall year with the team. He's entering his prime now. Look for Filppula to score about 20 goals this season. He would be an everyday 1st line center on any other team. Filppula will definitely be a difference maker all year.
Last season: 81-23-43-66- +18
This season: (Jokerit Helsinki) – 16-6-9-15- +7
Franzen: "The Mule" will need to prove this year that he belongs on the Detroit Red Wings for many more years to come. Playing for a team with a wealth of forwards, it puts a lot of pressure on the Swedish power forward.
Last season: 77-29-27-56- +23
Line Chemistry: A – "The Two Swedes and a Finn Line." All three players played together on the 2008 Stanley Cup winning Red Wings team. Obviously Samuelsson is a few years removed from the team, but the line will thrive nonetheless.
Probable Line 3: Daniel Cleary – LW Darren Helm – C Todd Bertuzzi – RW
Impact they will have
Cleary: Still brings a lot of grit to the team. Has decent speed and penalty killing ability.
Last season: 75-12-21-33- +2
Helm: Draper's apprentice will likely spend the whole season on the 3rd line this year. He will excel at killing penalties as well.
Last season: 68-9-17-26- +5
Bertuzzi: Bert's "demotion" to the 3rd line only happened because of the talent-overload on this Red Wings team. His shootout skills are second only to Pavel Datsyuk. He will likely be on the first powerplay unit.
Last season: 71-14-24-38- +23 (tied for team lead in +/-)
Line Chemistry: B+ Cleary (34) and Bertuzzi (37) are solid wingmen for the young Helm. All three can hit and are very durable. This is the "Canadian Line."
Probable Line 4: Drew Miller – LW Justin Abdelkader – C Jordin Tootoo – RW
Impact they will have
Miller: Drew played for the Braehead Clan in the United Kingdom. He's ready to play. He'll have more confidence after being a PPG plus overseas.
Last season: 80-14-11-25- +6
This season (in EIHL [Elite Ice Hockey League – UK]) – 23-15-15-30- +7
Abdelkader: Justin only missed one game last season. He can score, kill penalties, hit, and fight…and he's only getting better.
Last season: 81-8-14-22- +4
Tootoo: The final piece in a strong 4th line. The "Tootoo Train" will be a huge factor for the Red Wings success this season. Detroit has not had a true grinder that can fight and hit like Tootoo can, since Darren McCarty in his prime.
Last season: 77-6-24-30
Line Chemistry: A- Tootoo is a very personable player and he's a great teammate, so I don't expect there to be a long adjustment period. This line will jive from day 1.
Defense:
Probable Defense Pairing 1: Niklas Kronwall – LD Jonathan Ericsson – RD
Impact they will have
Kronwall: By default, he is the man responsible for picking up where Nick Lidstrom left off. He's a good leader and solid defensively. Kronwall is very consistent…and he can hit (for the one person who didn't already know that).
Last season: 82-15-21-36- -2
Ericsson: Jonathan has made many errors in the course of the last few years. This season will be a challenge for him to prove he's worthy of playing on the top pairing.
Last season: 69-1-10-11- +16
Pair Chemistry: A The two Swedish defenseman will likely perform well on the same pairing. I've yet to see Ericsson prove himself. But it'll be interesting to see how they play.
Probable Defense Pairing 2: Kyle Quincey – LD Brendan Smith – RD
Impact they will have
Quincey: Kyle was acquired by Detroit mid-season last year. He is a strong-bodied defenseman that can skate fast. He's not afraid to throw a hard hit either.
Last season: (Colorado) – 54-5-18-23- -1
(Detroit) – 18-2-1-3- 0
This season (CHL – Denver Cutthroats) – 12-2-9-11
Smith: This will be the first full season (if you can call it that) that the young Brendan Smith will play in the NHL. Many have said that he was over-ripening in the American Hockey League, and they're probably right.
Last season: (Detroit) – 14-1-6-7- +3
(Grand Rapids) – 57-10-24-34
Chemistry: B Because Brendan Smith is still new, and because of Quincey's detour in Los Angeles and Colorado, it's very hard to tell how it'll play out.
Probable Defense Pairing 3: Jakub Kindl/Carlo Colaiacovo – LD Ian White – RD
Impact they will have
Kindl: Make or break for the 25 year old defenseman, who will become a restricted free agent this summer.
Last season: 55-1-12-13- +7
This season (Czech League – Pardubice HC) – 27-1-10-11- -7
Colaiacovo: Carlo was a member of Team Canada, who defeated HC Davos to win the Spengler Cup this past December. He has a long track record of injuries however. These include: 2006 – concussion; 2006 – hand; 2007 – arthroscopic knee surgery; 2008 – left ankle (missed 2 games); 2009 – upper body injury (DTD), another upper body injury (missed 4 games), lower body injury (DTD), another lower body injury (missed 1 game); 2010 – lower body injury (DTD), lower body injury (missed 5 games), next season same year, upper body injury (DTD), upper body injury (missed 7 games); 2011 – undisclosed (DTD), facial injury (DTD), facial injury (missed 2 games), eye injury (IR), eye injury (missed 7 games), illness (DTD), illness (missed 1 game), head injury (DTD), upper body injury (IR), upper body injury (missed 5 games), lower body injury (DTD), lower body injury (IR), lower body injury (missed 8 games); 2012 – sprained right wrist (DTD), sprained right wrist (missed 3 games). Somehow I know he has to be related to Rick Dipietro.
(Source: http://www.stlouisgametime.com/2012/9/26/3404930/remembering-carlo-colaiacovo … Injury, injury, injury, injury, injury, hey look who the Wings signed!)
Last season: 64-2-17-19- +7
White: Very responsible and dependable defensively. Will continue to excel on PP and SH opportunities.
Last season: 77-7-25-32- +23
Chemistry: B- Yesterday I asked coach Mike Babcock: If all seven defensemen are relatively healthy, how do you choose between Kindl and Colaiacavo? He replied: "They choose. By how they play, they tell me who's playing." This is definitely a wildcard pairing. Ian White has been awesome in practice and training camp. Colaiacovo's current status is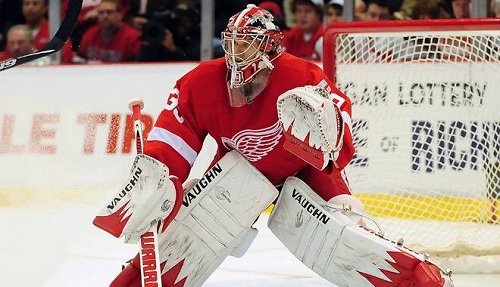 Goaltending Duo: Jimmy Howard – starter; Jonas Gustavsson – backup
Impact they will have
Howard: Will play probably 30-35 games this season. His consistency will be tested.
Last season: 35-17-4, 2.13, .920
Gustavsson: Will be ready and waiting to jump in if Howard gets injured. "The Monster" is a great #2 goaltender. I wouldn't be surprised to see Jonas play 20 games, given that the Red Wings have to play on back-to-back nights 11 times this season.
Last season: 17-17-4, 2.92, .902
Next in Line: Forwards
Cory Emmerton (C), Jan Mursak (RW), Gustav Nyquist (LW) and Tomas Tatar (LW) all have some experience wearing the winged wheel. All four are NHL-ready with nowhere to go.
Next in Line: Defense
Brian Lashoff and Adam Almqvist are likely to be called upon if needed this season. Lashoff attended Red Wings training camp on Sunday. Both have played well in GR.
Next in Line: Goaltending
Petr Mrazek in Grand Rapids was just named to the AHL All-Star game because of the astounding season he's having.
What about Free Agents?
Mike Knuble: Mike Knuble is still at Red Wings training camp on an invite. He has been continually training with the Grand Rapids Griffins and staying in shape. Mike is 40 years old, but can still crack the lineup with the risk of injuries in a shortened season and no preseason.
Wade Redden?: I'll answer that with one word…no. He hasn't played in the NHL in 2 years, failing to crack the Rangers' lineup.
Questions That Will Be Answered During the Season:
1. Can the Red Wings survive without Lidstrom and Holmstrom?
2. In a strong Central Division, will the lack of defensive depth plague Detroit?
My Bold (pun) Predictions:
1. Detroit will finish 2nd in the Central
2. Brunner will score 30 goals
3. Renney will get the Wings' PP to top 5 in the league
4. Howard will have his best year.
5. You'll be happily surprised this season.
This concludes my season preview of the Detroit Red Wings.
Game 1: Saturday at 8:00 PM ET @ St. Louis Blues
Follow me on Twitter @yungspork
Love Reading About Hockey?

Subscribe to keep up-to-date with the latest and most interesting hockey news!
| | |
| --- | --- |
| | We hate spam just as much as you |