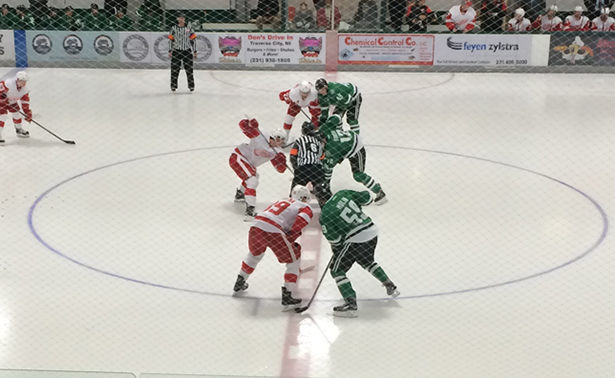 The Detroit Red Wings prospects advanced Monday night by defeating the Dallas Stars prospects, earning them a spot in Tuesday's championship game at the annual Prospect Tournament in Traverse City, Michigan.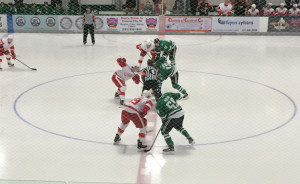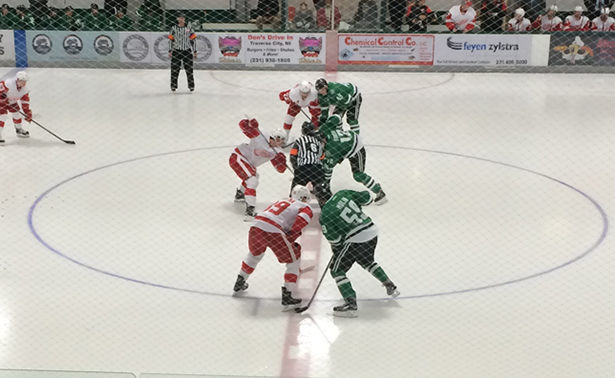 Detroit had previously taken the first two games, which took place on Friday and Saturday. 1-0 was the final for Game 1, with Tomas Nosek scoring the lone goal over the Carolina Hurricanes, while Game 2 was won 3-2 on goals from Anthony Mantha (2) and Nosek, which held off the Chicago Blackhawks.
The Wings' top line of Andreas Athanasiou, Dylan Larkin and Anthony Mantha was dominant from the opening faceoff.
Larkin kicked off the scoring (on only the team's third shot) after Athanasiou dished a quick behind-the-net pass of which he one-timed past Stars netminder Philippe Desrosiers on the power play.
Dallas's Devin Shore tied it at one with fewer than three minutes to play in the first on a nifty backhanded effort that landed top-shelf past Jake Paterson.
Mattias Janmark, who along with Mattias Backman, was traded to Dallas in last season's Erik Cole trade, showed that maybe his team should have kept him all along. He pulled his team ahead 2-1 on an unassisted goal.
Three minutes later, Detroit's top draft selection in 2015, Evgeny Svechnikov evened the game at two. After Athanasiou nearly put one past Desrosiers following a nicely-executed deke at the blueline, the ensuing faceoff allowed Svechnikov to jam the puck in during a scrum in the slot.
Dallas stormed back to start the third period, with Janmark setting up a pair of goals, the first by his left wing Jason Dickinson at 1:19 and the second by his right wing Brett Pollock at 4:29.
It appeared as if Dallas was running away with the game, before Detroit began to mount a comeback.
Newly signed defenseman Robbie Russo (22, Notre Dame) led the charge on a power play goal, assisted by Larkin.
"I think that power play, where we scored the one [was the turning point]," said Larkin. "Robbie took a good shot. We had the puck, worked it around pretty good and then the goal. It was huge for us, and I think after that they were kind of on their heels, so that was a big goal for us to move into the finals."
Next, Athanasiou scored with 4:33 left in regulation, also with an assist from Larkin.
A timeout was called, allowing Athanasiou to plan his next goal, and he did just that, scoring on a breakaway with 2:21 to play.
"The first period they came out strong," said Mantha. "I think we were on our heels a little bit, but as the game went along, we started being more confident. Then they started that third period and got two goals. So we had to keep pushing, and that's what we did. We knew they had to win this game to move on to the finals. When it was 4-4, we all knew that they were going to take their goalie out to get that 'W' because overtime wasn't enough. And we just kept pushing and double-A took his speed out and scored again so it was just a relief."
The final minutes were chippy, with tempers flaring as the game neared its conclusion.
"Teams don't come up here just for experience or just for fun," said Larkin. "It's a competitive tournament. Everyone's being evaluated by their respective clubs and they want to win and have a good showing. I think every game the [chippy play] has rose, and we've been right there to answer the bell, so that's a sign of a good team."
Of Detroit's 19 shots, he was behind 26% of them (Larkin 21%). Paterson, on the other hand, faced 30 shots in the win, his third consecutive victory.
The duo combined for three goals and three assists in the contest, while Janmark's line combined for three goals and five points for the Stars.
"It's easy to play with those guys," said Larkin. "Andreas's speed and Anthony's big body, he can skate and score as well. Andreas had four breakaways today just from working hard and skating, so it's fun playing with those guys. You want to work for them. We were trying things in the offensive zone and we're working hard to get the puck back, which is most important."
"Larkin is quick and a skills player," said Mantha. "Double-A is I think even quicker and has as much skill. It's just easy playing with those two guys. The chemistry came in that first game together. Double-A I played the whole season last year with him, so the chemistry's been there. It's just a great line."
Detroit will face the Columbus Blue Jackets in the final game of the tournament tonight at 7:00.
The Jackets won their first two games by a combined score of 13-7 and lost the third 4-0 to the New York Rangers.
Follow me on Twitter @KevinSporkaHOHM