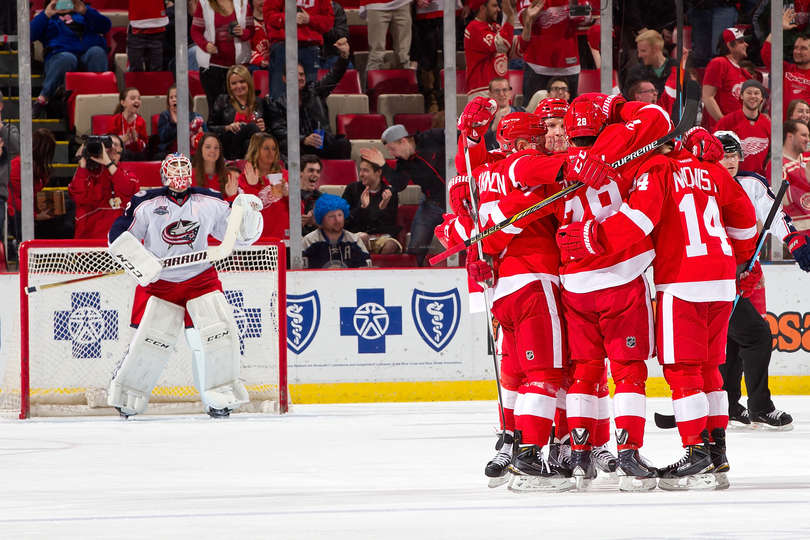 The Red Wings failed to solve Columbus Blue Jackets netminder Sergei Bobrovsky more than once on Thursday night, a game that Detroit needed to win with the Boston Bruins quickly gaining ground on them, winning four straight and seven of their last ten. In total the team fired 42 shots, of which Bobrovsky saved 41.
The Wings did strike first, with Marek Zidlicky firing a rocket from the blueline that was skillfully deflected by Justin Abdelkader, who has now scored five goals in five games. He has already far surpassed his career-high point total (28) he set last season with 36 in 59 games this year.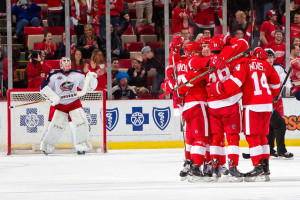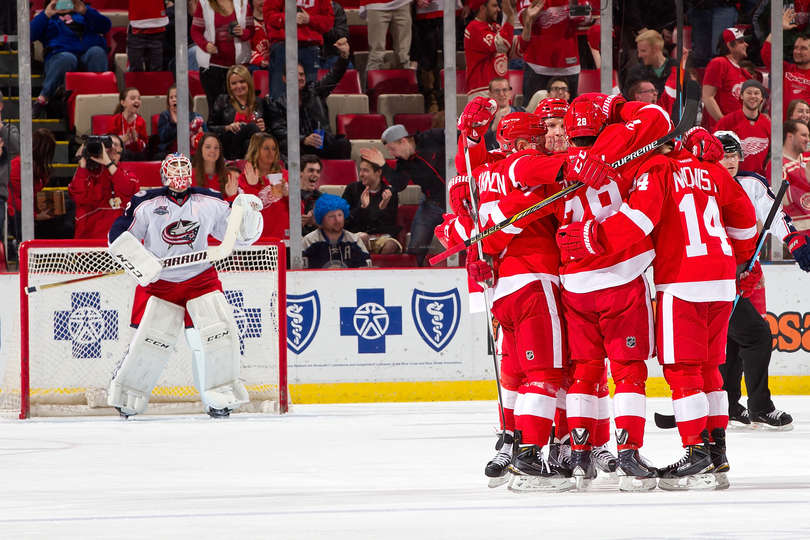 Detroit dominated the face-off circle in the opening third, winning 12 of 14 puck drops, but that was not enough to prevent the Jackets from scoring twice to take a 2-1 lead into the first intermission.
"I think in this game it was tough to get momentum," said captain Henrik Zetterberg. "I think we had a pretty good start, you know, we got that first goal. Every time we got the puck down in their end we create a lot of chances."
Neither goal can be pinned on Jimmy Howard though. The first goal was the result of a cross-crease pass that the defense allowed, letting Columbus defenseman Fedor Tyutin wrist one home. Exactly four minutes later, Scott Hartnell received a pass from a teammate behind the net. He dropped to a knee and fired a one-timer in the slot that even a brick wall would have had trouble stopping.
"We've got to do a way better job in our own zone," said defenseman Niklas Kronwall. "Everything starts with us having the puck a lot of times."
They didn't make things any easier for themselves in the second period when they were called for three minor penalties, the third of which they allowed their third goal against, courtesy of Cam Atkinson.
The Wings outshot their opponent 13-1 in the final stanza, but they were not able to find the back of the net.
Howard liked his team's effort in the game.
"I thought tonight's effort was probably the best one that we've had since coming off the west coast trip, so it's definitely something to build off of."
Bobrovsky, winner of the 2013 Vezina Trophy for best goaltender, was definitely on his game.
"They play five tight. It's tough to get to 'Bob,' said Howard. "We had a lot of opportunities tonight, a lot of them came from the outside, and they did a great job of boxing out and allow him to see it."

"He's big, square, and he's a smart goalie," said Kronwall.
Detroit still owns the NHL's best power play percentage (25.2%) but they went 1-for-6 on the night (16.7%), and that effectively cost them the win.
"I thought we were set up (on the power play) quite a number of times," said Kronwall. "We just weren't able to create any real dangerous scoring chances. They're a tight box, they kept it simple and we just couldn't find the pucks through."
When asked if there were enough quality scoring chances on the 42 shots, he said:
"Good question. Yeah, I thought we had some looks, but it's about burying them when we do have those chances. They were able do it and we didn't."
In addition to scoring a power play in seven consecutive games, the Wings also have allowed at least one power play against in their last eight games. The latter stat is troublesome, given that the team's penalty killing has been one of their main assets all season long.
Detroit will have an opportunity to bounce back Saturday afternoon in Philadelphia when they take on the Flyers, who are winless in four straight (28-27-14).
Follow me on Twitter @KevinSporkaHOHM