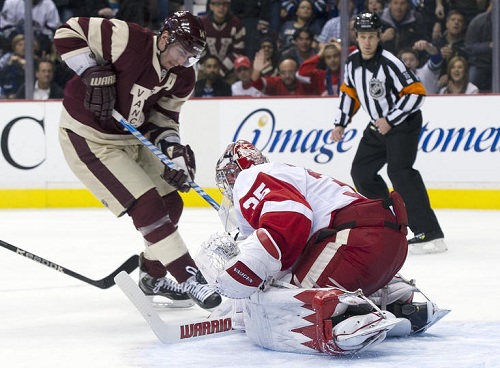 The Red Wings have a lot of decisions to make this offseason (and during the season as well). A total of 9 players have expriring contracts, and the time will soon come to either invest or let go. Below are the 6 unrestricted and 3 restricted free agents on the roster, and you will find my thoughts on each player as well. Later in the week I will analyze this offseason's available free agents and discuss some viable options for Detroit.
Who Should Stay and Who Should Go?
UFAs: When the start of July rolls around, the Red Wings have some important decisions to make. The players who are set to become unrestricted free agents (players who are able to sign with any team they choose) if they aren't signed by the season's end are: Valtteri Filppula, Daniel Cleary, Damien Brunner, Drew Miller, Ian White, and probably the most important decision, Jimmy Howard. Here's my take on these players.
Filppula will want between $4 and $5 million/year, and probably a long-term deal. Detroit simply cannot afford to pay him a penny more than $3 million. Teams were allowed to spend up to $70.2 million this season. However, next season the cap ceiling will decrease to $60 million, meaning teams that are at the ceiling now will have to quickly clear the space to fit under the new restriction. This is the reason why Ken Holland didn't offer Zach Parise and Ryan Suter $400 million each for 25 years. The anticipation of a cap decrease after the lockout's end was well thought out by Ken Holland. If Filppula demands more than $3 million, I would not resign him. He has not proven himself to be a reliable contributor. He's only scored more than 20 goals once (last season).
Cleary should definitely not be re-signed after this season. As noted in Part 1, Cleary's speed has slowed this season, and the rigors of a compressed schedule are the main cause of that.
Brunner will definitely be re-signed if he keeps up the great work. He still leads the team in goals scored. He's not a rookie, but he's a first-year NHLer, and he has impressed. Playing with his lockout linemate in Switzerland, Henrik Zetterberg, he has excelled. Twice he has won a game by scoring the game-winning shootout goal.
Drew Miller is a very respectable player. He's a great penalty killer. He skates well and has really good hockey sense. If the price is right, I would re-sign him for a few years.
Ian White is the most-likely player on the roster to be dealt at the deadline. White has been scratched for 8 of the last 9 games due to the surprisingly overflowing wealth of defenseman on the Red Wings bench. Personally I think he should be playing every night, especially with the way some of our other blueliners have performed. He had a couple of bad breaks, and I mean that literally. Last month, his stick broke twice, leading to direct giveaways that resulted in two breakaways goal for the opposition. I certainly don't blame him for those unfortunate turnovers. If he hasn't switched brands after those two incidents, however, maybe then something needs to be done. If he's not being played on a nightly basis, I would like to see him traded, possibly in a package deal for a decent defenseman with a small salary.
Jimmy Howard is the toughest decision to be made. He has single-handedly won numerous games this season, even with one of the league's worst defenses in front of him. On the other hand, he hasn't helped the Red Wings advance past the second round of the playoffs in his three previous years as the starting goaltender. He is still under the tutelage of 3-time Stanley Cup winner Chris Osgood, and that has clearly helped his game progress this season. On paper, his stats are really good, but when the only important thing is making the right saves at the right times, it's hard to invest a lot of money and years into a player who still has a lot to prove at 28 years old. I would re-sign him, but not for more than 2 years (3 at the very max). Petr Mrazek will eventually take over the reins when he is fully developed in the American Hockey League, and there needs to be room for him when he's ready to jump in full time (maybe in the next 2 years or so).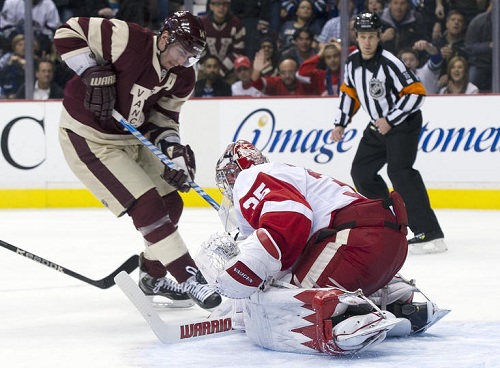 RFAs
Joakim Anderson has definitely impressed in his first full year on the big club. His contract expires at season's end. The 88th pick in the 2007 draft has a ton of potential both physically and offensively. He could be a solid forward for many years in Detroit. Re-Sign
Jakub Kindl is in his 8th year in the Red Wings organization and has yet to fully prove himself. This season is Kind's make-or-break year. With a number of free agent defensemen available this offseason, Detroit's best option may be to let this first-round bust go. Do not Re-Sign
Brendan Smith is here to stay in Hockeytown. He has more than proven himself worthy of a roster spot. There's no chance that Holland will let go of this tough but speedy defender. He'll be a mainstay on the blueline for many years to come. Re-Sign
Part 3 coming later this week, stay tuned to Hooked on Hockey!
Follow me on Twitter @yungspork