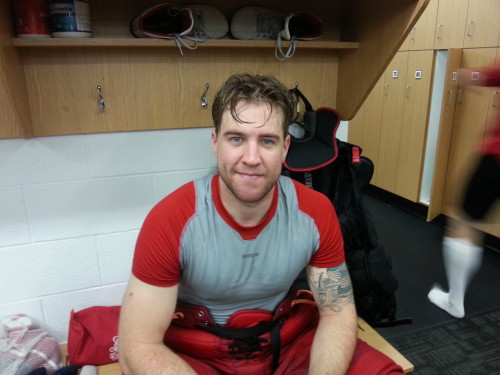 I had the chance to talk with goalie Jared Coreau, whom the Red Wings signed right out of college (Northern Michigan University). We talked about his struggles in the minor leagues this past season, his introduction to the AHL, being able to fully participate in the camp this summer, and much more. Here's my interview with Jared: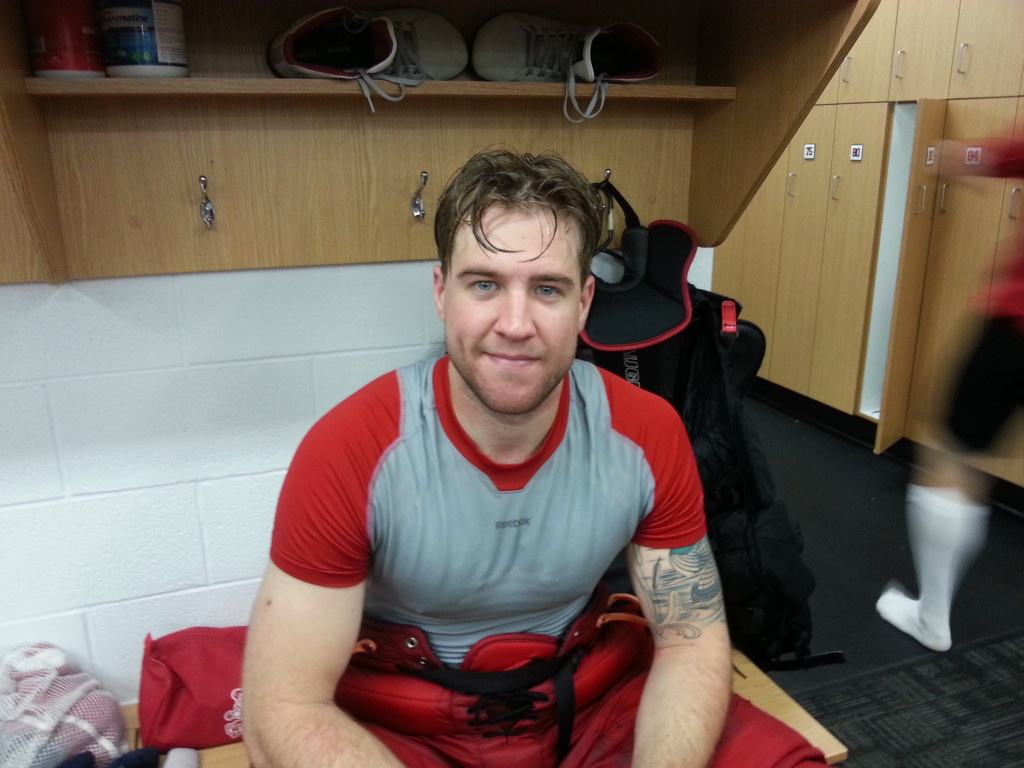 HOHM: "Can you talk about last season, obviously a big transition year going from college to minor-pro Toledo (ECHL)."
Jared Coreau: "I had a good start to the year, but hit a slump for a while. I only had one win. Obviously it's not the year I wanted. It was just a quicker game (than the college level). Players are a little bit more selfish, which is a good thing. They shoot the puck. In college, you have a bit more playmaking and a little bit more patience, but at this level, Jimmy B's (Red Wings goaltending coach Jim Bedard) told me many times, the rule is just anticipate [that] the player's going to shoot until he doesn't. So that's the biggest thing, just being ready."
HOHM: "You also got a small taste of the American Hockey League. How was [playing with the Grand Rapids Griffins] different from Toledo?"
Coreau: "Well, the biggest thing between the two leagues is the execution. In the AHL, you know, the passing is a bit more crisp, and the plays are a bit more deliberate Whereas in the east coast, you'll have a few good plays a game, and sometimes it might get a little bit more scrambly. I mean, both are good leagues. There are players in both leagues that could play in the NHL, or if you're in the [ECHL] play in the AHL. Both have their good parts and bad parts. The biggest thing is just the speed of the game."
HOHM: "In what part during the season did you start to find your comfort level?
Coreau: "Probably, when I got sent back down to Toledo in February. And, I just calmed down a bit more. I wasn't moving so much, and [I was] just controlling rebounds more. That was a big focus, just being a lot more calm. That was the biggest thing. I was pretty jittery before games."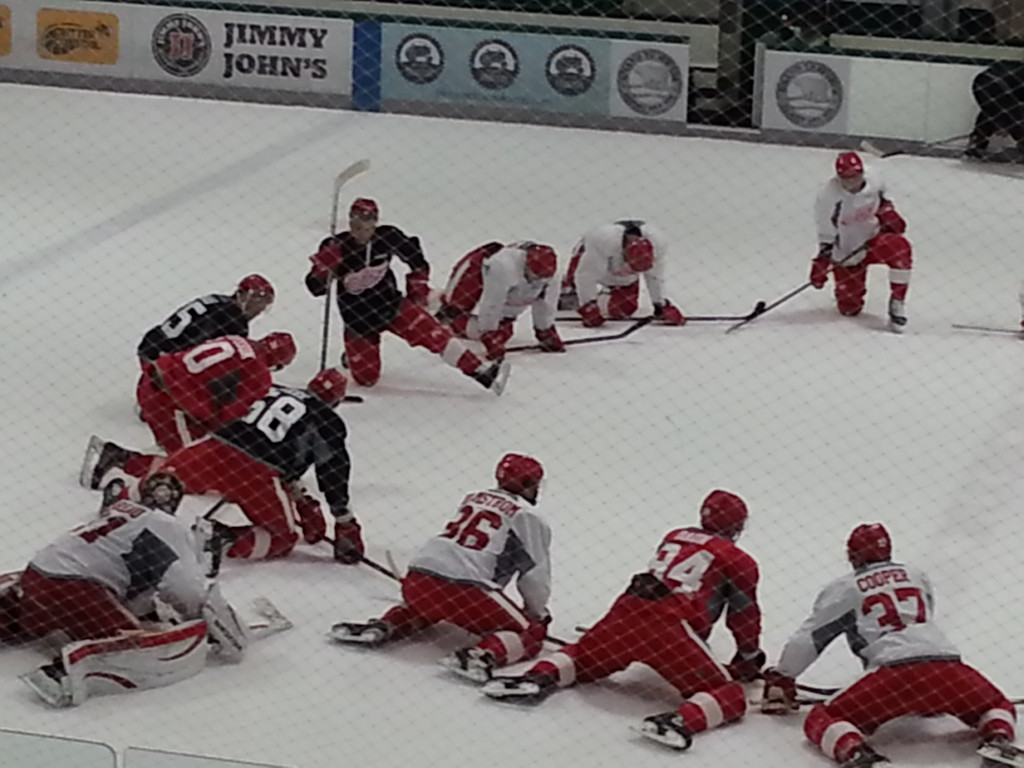 HOHM: "Last development camp, obviously you weren't able to take part in all the drills. This time, you're healthy and taking part in everything. Just kind of describe what it's like to be a part of the camp."
Coreau: "Just participating in everything, that's awesome. But also, just being around the guys more, because last year, I'd see them in the dressing room, and then I'd go out and do the goalie skate. Then when practice would start, I would come in, get undressed by myself…So it's the comradery too. I get to see everyone more and be around the guys more. So that's the big thing."
HOHM: "What do you hope to take away from the weekend?"
Coreau: "Well, this weekend here, just listening to the coaches, goalie coaches specifically. Anything they can give me that they think I still need to improve on for next season, and just keep a mental note, keep it in the back of my head, and any time I get on the ice, work on those specific things, and just show them what I've improved on from the end of the season until now."
HOHM: "What part of your game do you think needs the most work?"
Coreau: "Hmm. Well, still rebound control. That's something you can always get better at. And if I can use that speed and that size to be square and challenge, there's not going to be much net to shoot at."
HOHM: "Last summer, I remember you telling me that you watched Pekka Rinne a lot to develop your style. Is that still the case, or is there a different…"
Coreau: "No, actually it's more of a shift towards Ben Bishop. So, I watched him a lot this year, and he's got really quiet hands, manages depth well. He knows when to challenge. He knows when to sit back a bit. Great rebound control. He puts himself in a good position on rebounds that, you know, he doesn't have to sprawl out too much or anything. He's always square. He had a really good year, too bad he couldn't play in the playoffs. Yeah, but he's the one I watch now."
HOHM: "What goals, going into next season, do you hope to accomplish?"
Coreau: "I mean, if I started in Grand Rapids or started in Toledo, just win, and go on a roll, take the reins wherever I am. No bad goals. And be a great teammate, you know, every media timeout, come to the bench, get the guys going in the dressing room. You know, don't worry about anyone's mistakes, just come in, say 'good job' and worry about the next period."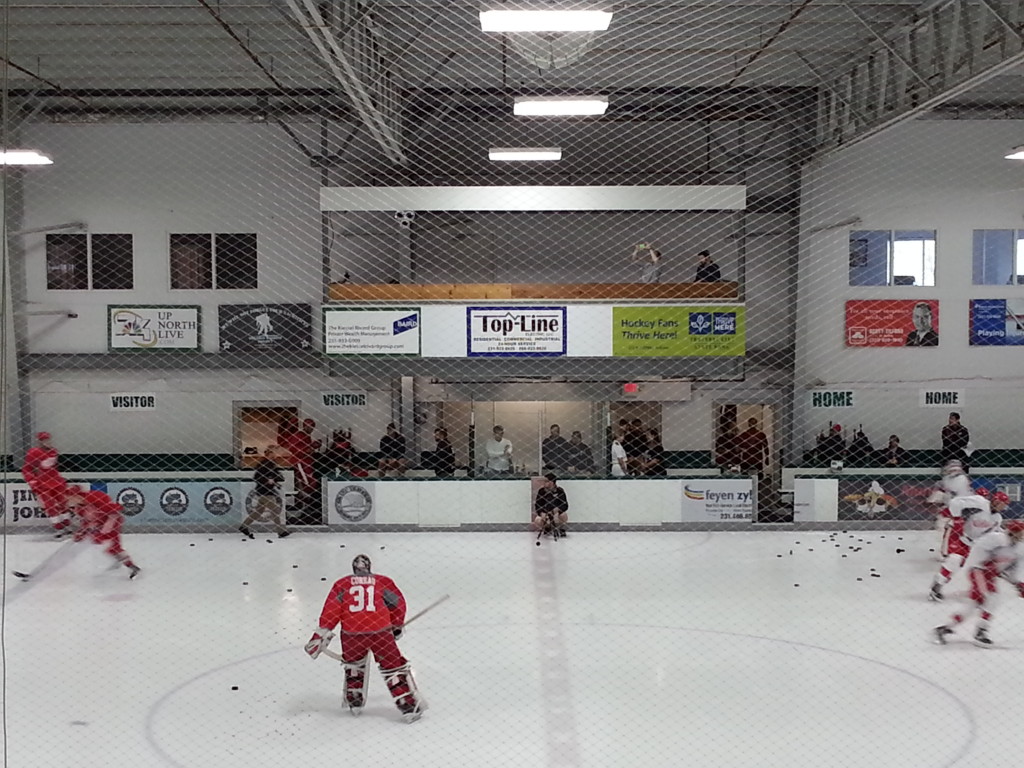 HOHM: "And the scrimmage. Can you talk about being able to play in a game with these guys."
Coreau: "Yeah, it was good. It's not as fast as AHL hockey. But it's good because I broke my finger at the end of the year, so I hadn't been in a practice with these high-caliber players since about early May. So it was a good taste, kind of in the middle of the summer, so I got some training in, then this, and then I have the rest of the summer to develop."
HOHM: "Are you glad that there's a second scrimmage added on to the end of this camp?"
Coreau: "Yeah, I am. There was one shot that I wanted back in that scrimmage (on Saturday). It was the one up off my chest, I let the rebound out. But other than that, I thought I played well. So in this scrimmage that's coming up on Tuesday, just, you know, play the same way, but just have a perfect game, a clean game, and I'll be happy."
*Team Yzerman won their scrimmage on Tuesday by a score of 5-1, with Coreau giving up just a single goal. He also stopped all eight shootout attempts afterward (according to KuklasKorner's George Malik's very detailed shootout summary). Three of those attempts were made by Tomas Nosek, Zach Nastasiuk, and Andreas Athanasiou*
Stay hooked on HOHM for much more from my series of prospect interviews at the Red Wings development camp.
To read the first in this series of interviews, check out Detroit Red Wings Prospect Camp Interview: Dominic Turgeon
Follow me on Twitter @yungspork