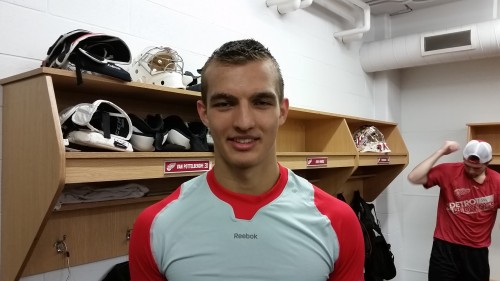 I spoke with newly-drafted Swiss netminder Joren Van Pottelberghe, or JVP for short, at the Red Wings annual Prospect Development Camp in Traverse City, MI. He was recently drafted by Detroit in the fourth round of June's Entry Draft.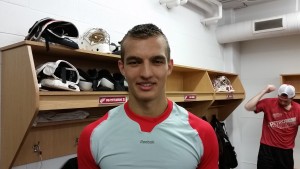 What were your thoughts on being drafted by Detroit, in this organization?
It's just amazing. It's an amazing opportunity for me. I'm really happy and really fortunate to be drafted by such an amazing team with a big history.
Obviously your first camp, did any of these guys give you any pointers coming in to help you get adjusted to this new setting?
It was actually really easy to get used to it. I think there are a lot of new guys who it's their first time in this camp here. So it was pretty easy to get used to the stuff here.
Any nerves coming in? What were the emotions coming in?
I was not very nervous. I was more excited. I was really excited and I was looking forward to it.
Did you watch a lot of NHL hockey growing up?
More in the last years, because in Switzerland or in Sweden where I play now, it's pretty hard to follow it, like because in the middle of the night…but I like watch the highlights. And if I have the opportunity to watch, I like to watch.
Is there any particular NHL goalie that you liked to watch?
When I was younger I really enjoyed watching [Henrik] Lundqvist and [Carey] Price. I don't play like them. I just like to watch them.
In terms of your style, which goalie do you think matches up to you in comparison?
I really don't know. They say I play like Reto Berra in Colorado. But I actually don't know. I try to be my own and just try to pick the best out of the best of the best and try to take the best out of them.
Describe your game overall.
I'm a butterfly goalie. I like to be on the ice and use my size. I think I'm good on my skates. I'm pretty fast and I like to handle the puck.
What do you hope to take away from this camp, what do you think you need to work on the most?
I would say maybe my reaction with the hands. That's what I'm going to work on in the winter. And my flexibility, get it to reach the big save at the end there. Something like that, that's what I want to work on, not just now but during the whole season through.
I saw you talking earlier with Jeff Salajco (Grand Rapids Griffins goalie coach). It looked like he was kind of giving you some pointers. What was he saying?
He was just helping me a little bit with some tips and stuff like that.
Last year you played at a bunch of different levels, the J18 Elit, Allsvensken, SuperElit, what's the biggest difference between each of those leagues?
The difference between the U20 and the U18 is not that huge. You need to, in the practice, you need twenty minutes and you get pretty fast used to it. The bigger difference is from the U20 to the SHL. When you practice with those guys you need a little bit longer to get used to it, because they're quite good.
Is it hard to, when you're switching around a lot in these different tiers, is it a little hard to get adjusted to one and then you're in another?
No, I wouldn't say that. It's nice to be everywhere (laughs). I enjoy it. It's not that hard to get used to the other one.
Which level are you going to be playing next year? The SuperElit?
I'm going to play in Linköping, the U20 there and hopefully play some Allsvensken games or maybe join some games in the SHL. That would be nice.
What's your favorite hockey memory?
I would say probably the U18 World Championship, in my hometown, this last April. It was amazing with amazing crowds, in the semi-finals with a sold-out rink with a little bit more than 7,000 people, it was nuts. It was amazing.
Love Reading About Hockey?

Subscribe to keep up-to-date with the latest and most interesting hockey news!
| | |
| --- | --- |
| | We hate spam just as much as you |