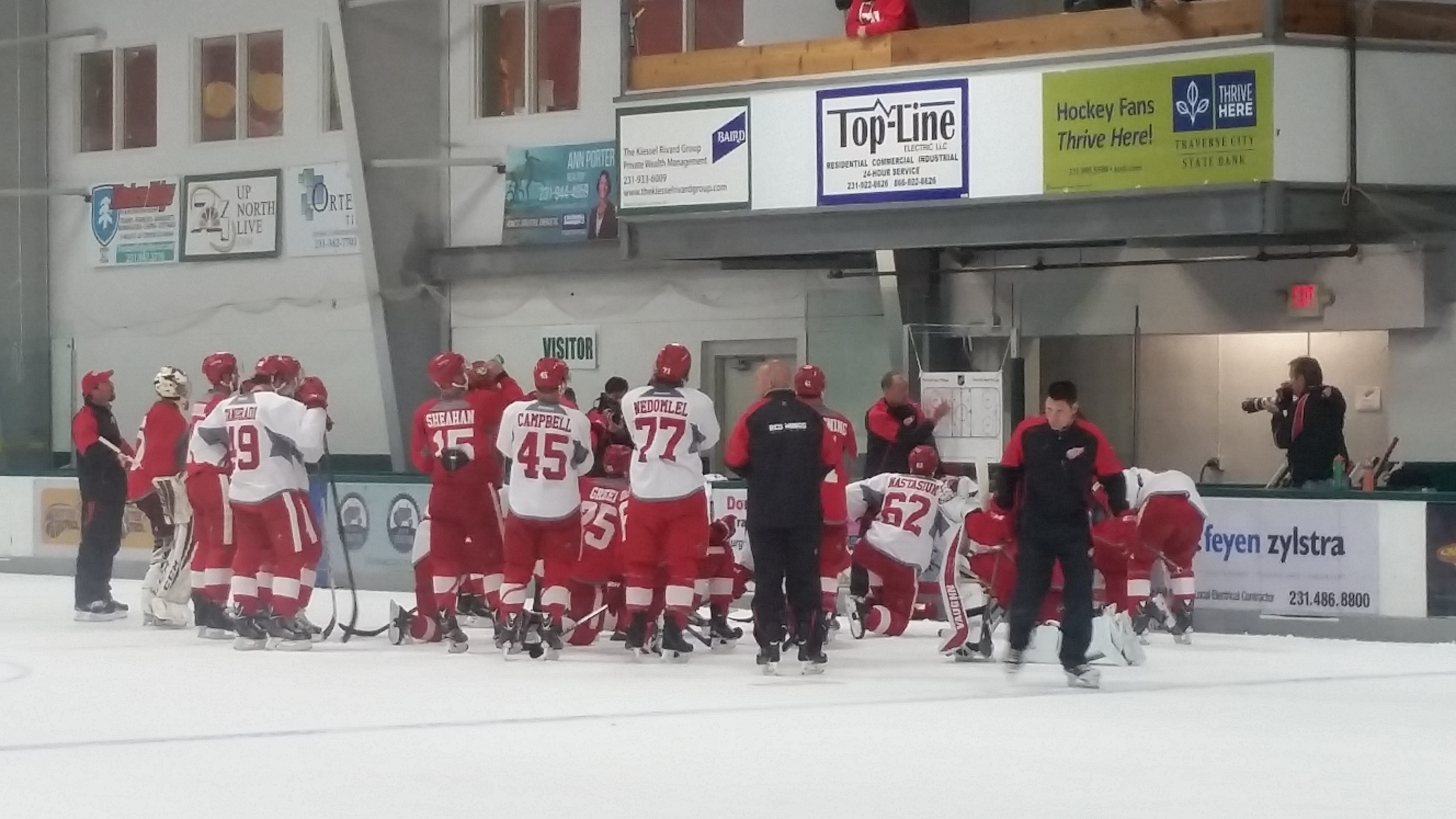 The Detroit Red Wings kicked off their training camp Friday after a short break following the Prospects Tournament (they finished 2nd in the four-game set).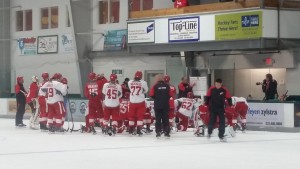 The day began on a negative note with forwards Darren Helm and Jerome Verrier colliding mere minutes into the first on-ice practice of the camp. Helm got up right away, but Verrier remained on the ice. Both were taken to the hospital for evaluation and the remainder of the group's players switched rinks so Verrier could be attended to.
Coach Jeff Blashill would later give an update on the two players after his on-ice instruction was completed for the three groups. Verrier sustained a broken leg, while Helm is undergoing concussion protocol to determine if he sustained a head injury. Regardless, Blashill deemed the speedy center day-to-day plus more, meaning he will likely miss the remainder of the camp.
For Verrier, whose skill level impressed the Red Wings front office in July's Prospect Development Camp so much that he was invited back for the tournament and training camp, it is certainly an unfortunate turn of events.
Three Teams
The camp participants were divided into three groups, Team Delvecchio, Team Howe and Team Lindsay.
Here are some noteable players from each group:
Delvecchio: Franzen, Glendening, Helm, Nastasiuk, Nosek, Richards, Sheahan, Tatar, DeKeyser, Green, Sproul, Mrazek
Howe: Athanasiou, Bertuzzi, Jurco, Larkin, Mantha, Pulkkinen, Svechnikov, Jensen, Kindl, Quincy, Coreau, McCollum
Lindsay: Abdelkader, Andersson, Ferraro, Miller, Nyquist, Zetterberg, Ericsson, Hicketts, Kronwall, Marchenko, Saarijarvi, Smith, Howard
Both Goalies Looking Sharp
Both Jimmy Howard and Petr Mrazek had strong first days of camp Friday, with the former trying to regain his spot as starter from the latter. Howard's last two seasons saw a dip from 2012-13's .923 save-percentage and 2.13 goals-against average, to an average of .910 and 2.55. Mrazek, eight years his youth, turned in an impressive 16-9-2 campaign that saw him earn a 2.38 GAA and .918 SP last season. Only time will tell who will begin the season in net.
Nosek Impresses
Tomas Nosek had a great first day, showing good skating and hand-eye coordination. He appeared energized and determined to turn in a good showing this weekend. The 23-year old Czech forward scored 34 points in 55 American League games with the Grand Rapids Griffins last season, as well as 7 points in 12 post-season contests.
Franzen Back
Forward Johan Franzen was in great spirits today as he was able to fully participate in the camp following a long recovery period for a concussion sustained early in the year (the latest in a high number of head injuries he's suffered in his career). He seemed elated to be back.
Scrimmage Results
Today's scrimmage was between Team Howe and Team Lindsay.
Dylan Larkin scored first for Howe, with help from Teemu Pulkkinen and Tomas Jurco. 15 minutes later, Tyler Bertuzzi made it 2-0 from Andy Miele.
Team Lindsay would even things out with a pair of goals from Gustav Nyquist and Justin Abdelkader.
In the second period, defenseman Jonathan Ericsson and captain Henrik Zetterberg made it four unanswered goals, before Team Howe's Justin Lemcke scored an unassisted marker at 16:27.
Jimmy Howard saved 8 of 10 shots in period one, while Jake Paterson stopped 5 of 6 for the win.
Team Lindsay began the scrimmage with Tom McCollum, who stopped 12 of 14, and finished with Jared Coreau who stopped 6 of 8 in the loss.
Ericsson finished the game with the most shots (4), while Zetterberg and Conor McGlynn each had 3.
Each period consisted of 18 minutes of 5-on-5 and 5 minutes of 3-on-3.
Other Notes
A number of other players had impressive moments throughout the day. Martin Frk showed some really good dekes and performed very well. Both Drew Miller and Landon Ferraro had a few goals worth noting as well for Team Lindsay.
Stay tuned all weekend for more coverage of Red Wings training camp, and be sure to:
Follow me on Twitter @KevinSporkaHOHM
Love Reading About Hockey?

Subscribe to keep up-to-date with the latest and most interesting hockey news!
| | |
| --- | --- |
| | We hate spam just as much as you |