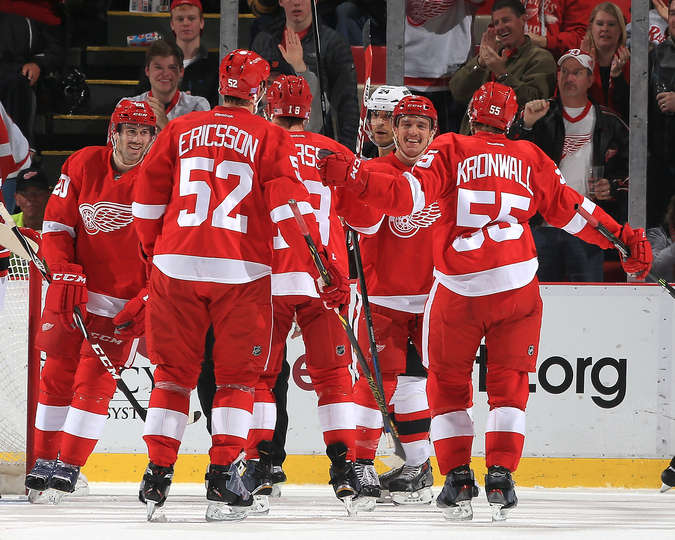 The Detroit Red Wings have been struggling offensively this season, so who better to kick start said offense than the defense?
Defensemen Jakub Kindl, Brendan Smith, and Niklas Kronwall combined to score three of Detroit's four goals in a 4-2 win over the New Jersey Devils Friday night. The Red Wings improved to a 11-1-0 record against New Jersey at home since 1997-98. They also pulled to within one point of first place in the Atlantic Division with a 7-3-4 record.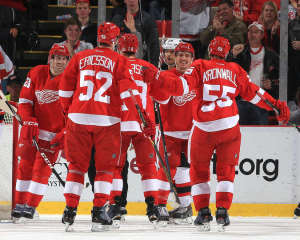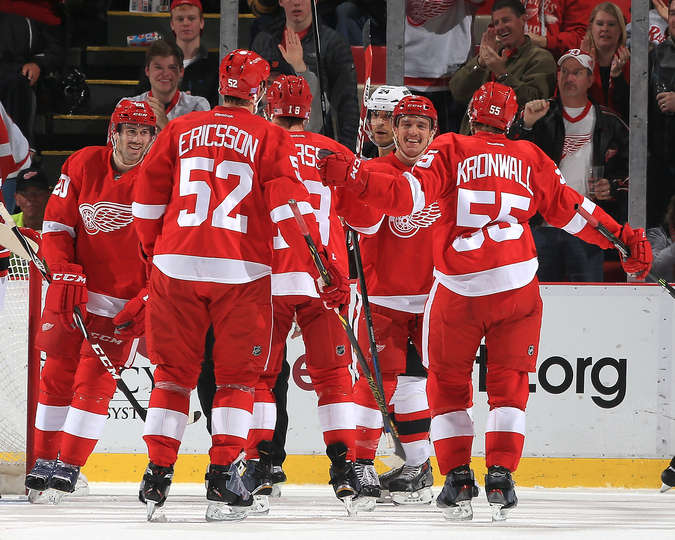 The Devils had just played the night before in what was nearly a historic comeback against the St. Louis Blues. After being held scoreless through the first 43 minutes, Blues netminder Jake Allen was closing in on his third straight shutout. The Devils, however, managed to rally from 3-0 to 4-3 in a span of 2:34.
The heroic efforts New Jersey expended on Thursday were clearly evident in this game. Detroit held their opponent to only five shots in the first half, and seventeen for the game. It was the fewest number of shots the Devils had registered all year.
After the Devils took an early 1-0 lead on the first shot of the game, the blueline party began for the Wings. A Jakub Kindl power play goal tied the game late in the first period, after his shot deflected off the stick of defenseman Adam Larsson and past goalie Cory Schneider, who has started all but one of his team's fourteen games thus far. Brendan Smith scored 33 seconds later, also from a deflection. Drew Miller briefly left the game after he was stung blocking a shot.
Detroit would add two more in the second period. The ever-streaky Johan Franzen showed off his accuracy as he sniped a shot right below the glove of Schneider. "The Mule" now has three goals and two assists in his last five games. It was the second power play goal of the contest, adding to New Jersey's last-place penalty kill, which is now an embarrassing 65.5% (Detroit's PK stands third at 89.6%). They have now given up a total of 20 power play goals in just fourteen games.
"Overall, I think our power play hasn't been scoring as much as we want it to be scoring," said Gustav Nyquist. "In this league, every team is good. It's gonna be hard to score on any PK team. It's just a matter of getting our power play going I think, and we did a good job with that tonight."
Nyquist also knows the difficulty of a team playing back-to-back nights. "We've experienced that in New York and although I thought we fought hard in that game. I think we did a pretty good job of keeping them on the outside and blocking a lot of shots (Detroit blocked 20 shots while New Jersey blocked 4), and Howie did a good job in net when the shots got through."
"The way I look at it is, we played in New York, our third in four nights," said Mike Babcock. "That's the league. You got to find a way to play good. We were awful in the first ten minutes and turned it over seven times. They were better than us, and then we kind of took over."
Kronwall would score the team's fourth goal while grinder Luke Glendening set up a perfect screen on the play.
Early in the final stanza, former Red Wing Jordin Tootoo scored his first goal of the season to cut Detroit's lead to two, but they would run out of gas shortly after.
The Red Wings' home record now stands at 5-1-1. Their next three games are at home as well, against the Tampa Bay Lightning, Chicago Blackhawks, and Montreal Canadiens.
Follow me on Twitter @yungspork