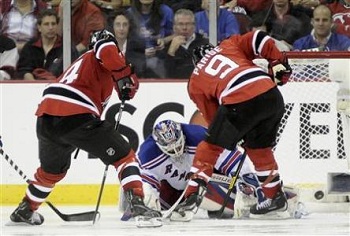 If you're a Devils fan, other than Mike Rupp sucker punching Marty Brodeur (more on that later), you couldn't be happier right now. Zach Parise stepped up with two goals and an assist after he took some heat for being the Captain and not facing the media after the loss in Game 3. Martin Brodeur looked sharp and was a late Ruslan Fedotenko goal away from a shutout. Defenseman Bryce Salvador, who is usually known for his stalwart blueline play, chipped in a goal and an assist and is 5th on the team in playoff scoring. Rookie C Jacob Josefson looked more like a reliable veteran in his first ever playoff game centering the 3rd line. Peter DeBoer's line shake up worked marvelously. The way the Devils created traffic in front of Lundqvist for two of their goals was reminiscent of their Game 2 domination in this series. There is a lot of positive momentum for this team heading in to Game 5.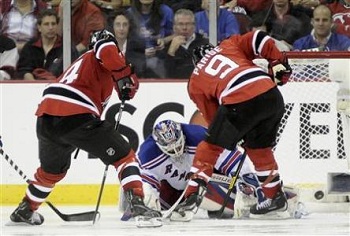 On the other side of the Hudson, things arent' so bright and shiny right now. If you're a Rangers fan, the silver linings from last night's game include:
-Only one of the goals Lundqvist gave up was his fault. He couldn't see the Salvador shot and he was left out to dry because of bad defense on the Zajac goal.
-They avoided a shutout (I think Brodeur still has a shutout in him before this series is over)
-John Tortorella actually gave thoughtful answers and was about as polite as a losing coach could be after an effort like that from his players
That's about it. Everything else for the Rangers last night was awful. I will be the first to say that not having a high-energy and edgy guy like Brandon Prust can affect your line-up negatively. Muckers and grinders can energize a bench with a good hit or a relentless forecheck that leads to a turnover. Prust was missed, but his absence shouldn't have had that kind of impact. Other than a short stretch of the 3rd period (when the game was already out of reach), the Rangers came out of the gate looking lost and slow. They played that way the whole night. The Devils were one step quicker and were smarter with the puck all night long. Tortorella simplified the loss in his postgame press conference, saying they needed to have the puck more. But more important than having the puck is making good decisions when you have it. I counted at least three times when a Ranger tried to make a pass out of his own corner through his own slot (never a good decision). Michael Del Zotto making a blind, backhand, rinkwide pass on a power play, that almost led to a Devils shorthanded goal (which was only prevented by Dan Girardi's breakneck effort to get back and break up the odd-man rush), is another example of just how sloppy the Rangers were last night.
The Ranger efforts to try to bait the Devils in to a Broad Street Bullies type of hockey game were dumb and futile. If this is a January 21st regular season game against New Jersey with the Devils leading 3-0, chances are you can goad a Ryan Carter or a Cam Janssen in to a fight. But when you're this deep in to the playoffs, no matter how strong the rivalry is or how heated the series has become, there is no way a disciplined team will entertain your desire to fight when they are leading by three goals and are well on their way to evening a series 2-2. There's nothing wrong with being a little edgy and trying to get under another team's skin, but the Devils made it clear that they wouldn't partake in any brawls last night (except for the McDonagh-Henrique "fight," which lasted about 1.5 seconds).
As for what Mike Rupp did to Martin Brodeur…it was classless, stupid, and wrong. It was clear that no Devil was taking the bait, and all Rupp did was give the Devils a reason to retaliate against Henrik Lundqvist in the future. All of that being said, Rupp should NOT be suspended for his actions. Yes it was a sucker punch to the sternum and completely uncalled for, but the bar has been set in the 2012 playoffs. Elbows to the head or intent to hit the head get you a suspension. It's a broken record at this point, but it applies here: if Shea Weber grabbing Henrik Zetterberg by the scruff of the neck and ramming his head in to the glass didn't get a suspension, then neither should Rupp's actions. You can debate all day about whether getting sucker punched in the sternum is more or less dirty than getting your face mashed in to a solid surface, but the bar has already been set. If you really feel the sucker punch is that much worse, then I invite you to have a friend do both to you and say that the Weber-Zetterbeg recreation was more enjoyable. Give Rupp a $2500 fine (the max the NHL can fine for on-ice actions) and have this incident factor in to any future altercations that require disciplinary action, but Rupp should be allowed to play in Game 5.
Other random notes from Game 4:
-Martin Brodeur can add yet another record to his collection. His assist on Parise's empty net goal last night gives him four helpers in the playoffs – the most by a goalie in a single postseason ever
-Just how disgusted was John Tortorella with Michael Del Zotto's play last night? He paired Stu Bickel and Steve Eminger on the blueline for a decent stretch of the game. These are two guys who haven't been able to crack the 6 min barrier in a playoff game because Torts doesn't trust them as much as the rest of the blueline.
-Both Devils Head Coach Peter DeBoer and Tortorella deserve credit for not letting their in-game screaming match from the benches spill over in to the postgame. They left it on the rink and didn't turn things in to a soap opera. That being said, I'd love a transcription of the conversation.