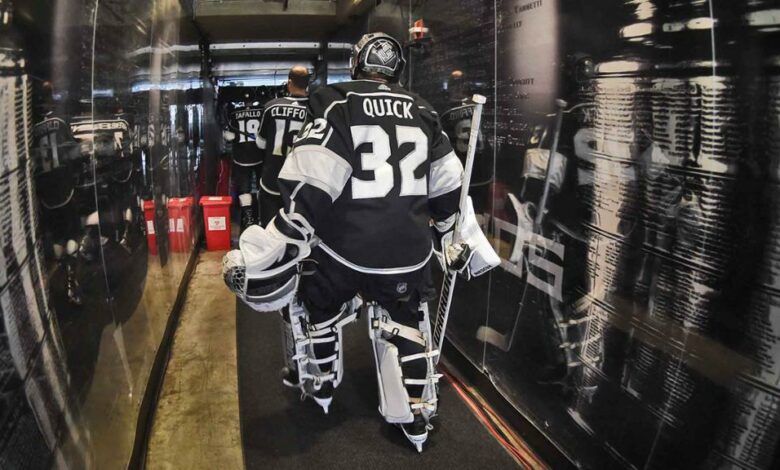 Every now and then, goaltender Jonathan Quick would flash his glove, kick out his leg, or shove an intruding opponent out of his crease, and it would feel like the Kings' best years all over again.
Yet, for Quick, who was the most valuable player in the Kings' surprise 2012 Stanley Cup playoff run and was up to the challenge of working even harder to help them win a second championship over a grueling 26 postseason games in 2014, those moments had become all too rare in recent seasons.
No athlete has beaten time and the humiliations that come with it — slower reflexes and longer recovery periods, eager, young challengers who grew up with your poster on their bedroom wall or grew up watching videos of your technique.
Even Quick, a Connecticut native who ranks among the best American goalies to put on the mask and pads, couldn't stop time. He couldn't even pause it to be a part of the Kings' next championship run.
It was painful to watch him slow down in the final season of his 10-year, $58-million contract, almost immeasurably but enough to make him vulnerable. Quick, 37, couldn't intimidate shooters any longer, and he couldn't make big saves when the Kings needed them the most.
He was the franchise leader in games (743), wins (370), and shutouts (57), but he couldn't bring the Kings back to their former glory. He must have despised that, as a man of few words and little regard for anything other than winning.
He deserved better pic.twitter.com/M2LRWVIa98

— Dr. Paul Maurice (@Staals2themoon) March 1, 2023
There's little room for emotion in business or hockey, but the news that the Kings were trading Quick, along with a conditional first-round draft pick in 2023 and a third-round draft pick in 2024, to the Columbus Blue Jackets for goaltender Joonas Korpisalo and defenseman Vladislav Gavrikov was breathtaking.
Elliotte Friedman of Hockey Night in Canada broke the news late Tuesday, and the Kings made the announcement early Wednesday morning.
Rob Blake is dirty. Jonathan Quick is a franchise legend and he deserved better.

— ayyitschrisyo (@dunningcruger) March 1, 2023

The trade will continue closing the door on the Kings' most successful era, coming a few weeks after the team had unveiled a statue honoring Cup team captain Dustin Brown.
The news came on the same day that the Chicago Blackhawks, who shared the Stanley Cup with the Kings from 2012 to 2015, traded franchise cornerstone Patrick Kane to the New York Rangers.
Woke up depressed and then it hit me, Quickie was traded. Still hating you Rob. #lakings #jonathanquick #Imeanohio #comeon

— marlawhite/WHPR (@marlawhite) March 1, 2023

Only center Anze Kopitar and defenseman Drew Doughty remain from the two Cup-winning teams with the Kings, and both are vital contributors to a team that is second in the Pacific Division despite having a negative goal differential for much of the season.
Even as an @AnaheimDucks lifer, I'm angry about the #JonathanQuick trade. Real shitbag move on @LAKings part

— ANADucksAdvocate 🌴🦆 (@AnaAdvocate) March 1, 2023

What's unfortunate is that Quick didn't have the opportunity to say goodbye to Los Angeles, to skate off after a big win and raise his stick in tribute to fans who have watched him grow from a kid whose work habits were questioned into a man, a husband, father, playoff MVP, and two-time Jennings award winner as the goalie on the team that gave up the fewest goals.
A statue of Quick will stand alongside the recently installed likeness of Brown one day.
He has more than earned it. He couldn't, however, stop or pause time, and the Kings' return to the top of the hockey world will not include him.