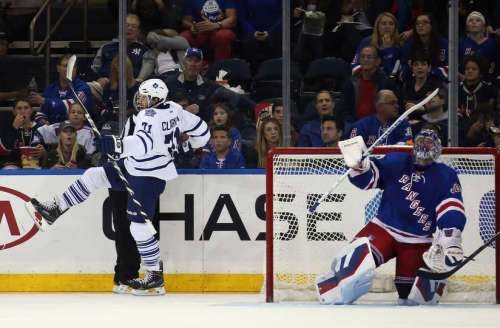 The New York Rangers are 1-3-0 four games in to the 2014-15 campaign. After stealing a late win in St. Louis to open the season, the Rangers have lost at Columbus 5-2, and have lost a pair of home games to Toronto and to the Islanders (both by a score of 6-3). Yes, Henrik Lundqvist has given up a dozen goals in a two game span, and yes they've been outscored 19-11 thus far. Before premature panic sets in, there are multiple reasons to believe that the sky isn't falling yet:
-The Rangers haven't played 5% of their schedule yet (4.87% to be exact)
-The losses to Toronto (second period) and the Isles (third period) were the result of an awful period within the game, not poor play throughout three periods.
-Rick Nash has come out of the gate strong, scoring five goals in the first four games (including a franchise record of scoring in four consecutive games to open a season). He obviously won't continue to produce at a goal+/a game rate. But if he maintains a production rate that's close to this, the Rangers will have the goal scorer they were hoping for when they traded for Nash, and the dominant offensive presence they've lacked since Jaromir Jagr.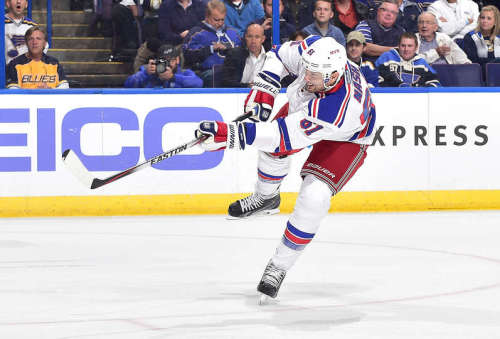 -You hate to use injuries as an excuse, but the bottom line is the Rangers are without their top center (Derek Stepan) and an important piece of their blueline and power play (Dan Boyle). With the amount of roster changeover amongst the forwards from last season to this season, finding the right line combos would have been a bit of a challenge even if everyone was healthy. Alain Vigneault will find the chemistry and figure it out line by line, just like he did last season.
-The Rangers had a poor start to open the 2013-14 campaign (2-6-0 before righting the ship) and still made it all the way to the Stanley Cup Final. A big part of that was a nine-game road trip to open the year, no Nash for most of that stretch, and an injury to Lundqvist, but the precedent has been set that a very poor start doesn't mean doom and gloom for the whole season.
-Off-season acquisition Lee Stempniak has meshed well with his new team already, tallying two goals and two assists. He's also had some time on both special teams units. That's not a bad start for a guy who signed a one year/$900,000 contract and was expected to be nothing more than a third-line mainstay.
The Blueshirts next game is Thursday night at Madison Square Garden against Carolina. The Hurricanes will likely be the last place team in the Metropolitan Division this season, and they will probably be one of the five worst teams in the league. You don't want to put too much in to one game, but if the Rangers have a poor showing and lose to the Canes, that would be a justifiable reason for some worry.