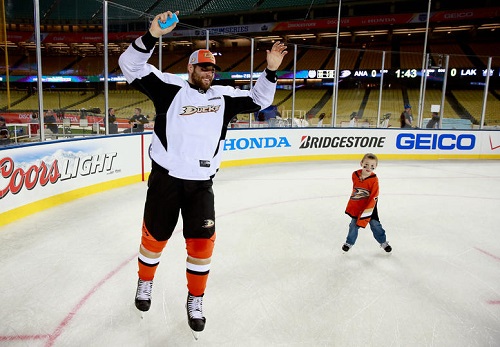 The Anaheim Ducks made a splash this afternoon trading away Dustin Penner and Viktor Fasth. To follow it up, the Ducks also received Stephane Robidas from the Dallas Stars.
Penner is on his way to join his new team, the Washington Capitals. He has certainly been a positive presence in the Ducks lineup this season. The 31 year-old was traded for a 4th round pick. The Capitals just received a player with 13 goals, 19 assists and a +22 rating on the season. He's played alongside Corey Perry and Ryan Getzlaf this season and might get the opportunity to play alongside Niklas Backstrom and Alex Ovechkin. That's a pretty good return for a 4th round pick.
Meanwhile, Fasth is about to begin a battle with Ben Scrivens for the starting goalie position with the Edmonton Oilers, who sent Ilya Bryzgalov to the Minnesota Wild. Fasth was also dealt for two 3rd round picks (2014, 2015). The Oilers have suddenly upgraded their goalie tandem, compared to where they were at the beginning of the season.
Overall, the Ducks cleared up some cap space and it appears that they are poised to make another move before the trade deadline tomorrow. What move might that be?
Sources telling me Ducks making room for Thomas Vanek.

— Josh Rimer (@JoshRimerHockey) March 4, 2014