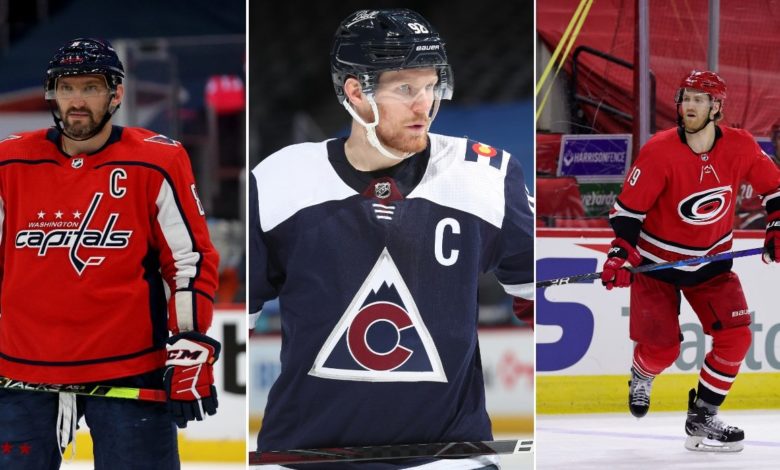 The current player everyone has their eyes on is Jack Eichel and his future with the Buffalo Sabres, who could trade him after already trading defenseman Rasmus Ristolainen to the Philadelphia Flyers and forward Sam Reinhart to the Florida Panthers this weekend.
Sabres general manager Kevyn Adams said after the first round of the draft Friday that he is fielding calls on Eichel. He said he spoke to Eichel's agent, Peter Fish, twice Saturday, and has not ruled out keeping him the Buffalo captain.
"I would have no problem at all if Jack Eichel is on our team when we start training camp," Adams said. "I have said this before and I'll say it again: If we are in a position that we believe will help our franchise not just short term but for the long term in building this out, building around a core and a foundation of critical assets, then we'd be open to look at that. If we didn't have that on the table or don't think that makes sense, then we don't do something. But, yeah, I have no problem with Jack being here."
The expansion Seattle Kraken plan to be active entering the free agent market for the first time.
"Certainly we think there are some players in free agency that we'd like to have a discussion with, and hopefully we're able to convince them to come and join our organization," Kraken general manager Ron Francis said.
Several teams have already addressed needs through trades or signing their own would-be free agents.
The Colorado Avalanche got defenseman Cale Makar, a pending restricted free agent, under contract for six years and $54 million ($9 million average annual value). They'd like to re-sign forward Gabriel Landeskog and goalie Philipp Grubauer; each can become an unrestricted free agent.
"Both Philipp and Gabe, our captain, we're hopeful that we can come to terms as well and have them signed to be a part of us as well," Avalanche general manager Joe Sakic said. "I won't comment on the negotiations. They're still going on. We still have time."
The Bruins, Sabres, Flyers, Predators, Toronto Maple Leafs, Carolina Hurricanes and San Jose Sharks are among the teams that figure to be involved through free agency or trades. Colorado will be too, if Grubauer leaves.
The goaltending market could include either Robin Lehner or Vezina Trophy winner Marc-Andre Fleury if the Vegas Golden Knights decide to trade one of them.
The market for defenseman is led by pending UFA Dougie Hamilton from the Hurricanes.
Ryan Suter, Keith Yandle, Alexander Edler, David Savard, Alec Martinez, Tyson Barrie and Zdeno Chara also each can become an unrestricted free agent.