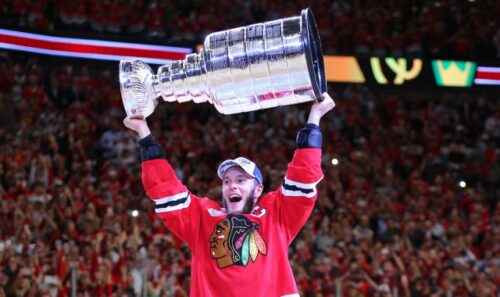 Jonathan Toews will play his final game for the Chicago Blackhawks tonight.
The Blackhawks' general manager, Kyle Davidson, has issued a statement through the team, indicating that the team will NOT re-sign Toews as a free agent this upcoming offseason, and that Toews' time in Chicago will come to an end tonight.
Tonight will be Jonathan Toews' last game as a Blackhawk❤️ pic.twitter.com/di4fTbr3g6

— Chicago Blackhawks (@NHLBlackhawks) April 13, 2023
Mark Lazerus, a Blackhawks insider, has more to say:
Kyle Davidson says the Blackhawks will not be re-signing Jonathan Toews. A discussion and decision that was made in Seattle.

So tonight is Toews' last game in a Blackhawks uniform.

— Mark Lazerus (@MarkLazerus) April 13, 2023
Davidson didn't offer Patrick Kane a contract, either. He said he wanted to "clear the deck" for the next generation of Blackhawks leaders, to have the same opportunity to build something that Kane, Toews and all the core guys had.

— Mark Lazerus (@MarkLazerus) April 13, 2023
Davidson said he expects Toews to play next season somewhere else.

— Mark Lazerus (@MarkLazerus) April 13, 2023
However, according to TSN insider Pierre LeBrun, Toews has not yet decided whether he will continue his NHL career next summer.
The plan is for Toews to take some time after the season and see how he feels, etc. If a Cup contender comes calling July 1, does that interest him? Or does he pack it in after a terrific career. TBD. https://t.co/pSaiZfxVV7

— Pierre LeBrun (@PierreVLeBrun) April 13, 2023
Could you blame the guy if he just packed his belongings and retired for good? For nearly two decades, he has given his heart and soul to the Blackhawks, accomplishing nearly everything there is to accomplish in the sport.
He's a true champion who will be remembered as one of the greatest Blackhawks of all time, with a strong case to be made that he is THE greatest Blackhawk of all time.
He's a three-time Stanley Cup champion, a two-time Olympic gold medalist, and one of his generation's most respected players. His body is giving out on him, and he has nothing to prove to anyone in hockey.
Jonny, take a bow… you've done well.
However, in an interview with Lazerus last week, Toews stated that he would love to play for a Stanley Cup contender once more.
"There's no doubt I'd love to know what that feels like again, to play hockey on the biggest stage and enjoy the spotlight and have an entire city on your back," he said. "When you're going through something real with your teammates, where you're pushing through a lot and working through things together and figuring out how to reach the peak of the hockey world together. Nothing replaces that. You always kind of long for that experience."

– Jonathan Toews
It sounds to me like there's still a little fire in the belly there…