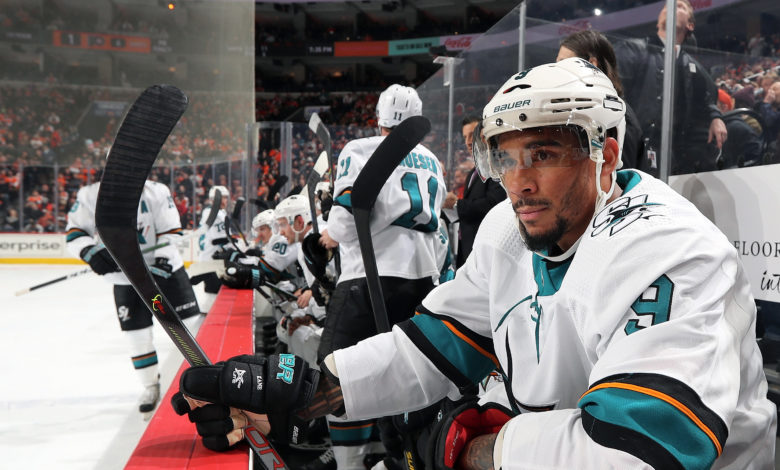 Evander Kane said he never bet on NHL games, but the San Jose Sharks forward admitted he has a gambling problem during an interview with ESPN that aired Thursday.
Kane also said he no longer gambles and has received counseling for the issue.
"I've gambled before. I think that's well documented," Kane said. "It was a big part of my life for quite a number of years. It's something that I would say I definitely had a problem with at certain points throughout those years, certain times more than others."
But Kane denied allegations made by his estranged wife, Anna, in a social media post July 31 that her husband bet on and threw NHL games.
"Obviously, incredibly false," Kane said. "It's unfortunate that that transpired. It's unfortunate that those allegations, false allegations, were made. Obviously, when they happened, I understood the magnitude of them immediately, not knowing what was going to happen next, but confident because I know that's not true.
"I knew none of what she was saying was true and I was very confident and comfortable with where I was knowing that I was going to be exonerated and am going to be exonerated of those allegations."
The NHL said in a statement July 31 that it intended to conduct a full investigation into the allegations against Kane. The Sharks also issued a statement that day that said, "We support a full and transparent investigation into the situation to maintain the integrity of the game and consistency with our team values."
During the NHL/NHLPA Player Media Tour in Chicago on Thursday, NHL Deputy Commissioner Bill Daly said of the investigation, "It's ongoing, and we expect to have a report on the findings soon."
When asked during the ESPN interview if he ever bet on an NHL game, Kane replied, "Not at all."
Kane, who led San Jose in goals (22), assists (27) and points (49) in 56 games last season, also said he never intentionally tried to lose a game and never altered the way he played because of a wager he or anyone else made.
But he did acknowledge that his gambling contributed to him filing for bankruptcy in January.
"These are decisions that, obviously, I didn't take lightly, and I knew that part of the reason of why I was where I was was because of gambling," Kane said. "For that, I'm not going to go back to that point in my life so gambling can continue to live with me, and I've understood that."
Love Reading About Hockey?

Subscribe to keep up-to-date with the latest and most interesting hockey news!
| | |
| --- | --- |
| | We hate spam just as much as you |