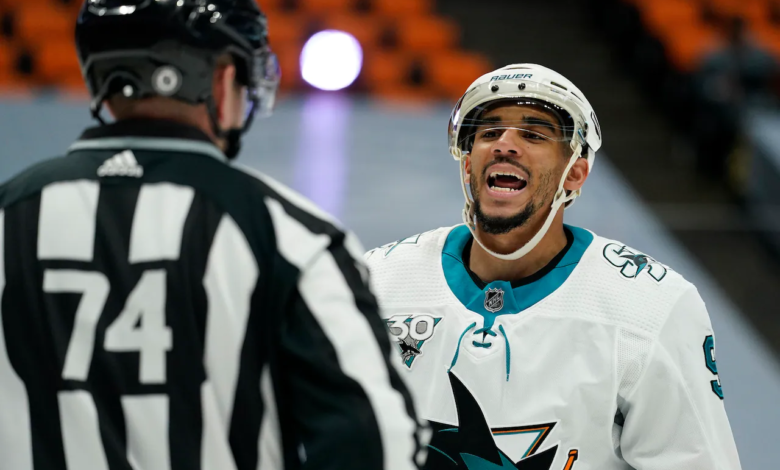 The San Jose Sharks terminated Evander Kane's contract on Jan. 8, yet the NHL revealed Wednesday that the grievance process initiated by Kane and the NHL Players' Association for wrongful termination could extend past the opening of free agency on July 13.
NHL deputy commissioner Bill Daly said part of the reason for the holdup is independent arbitrator Shyam Das is not available during the month of June. Kane was unable to participate in hearings during the Edmonton Oilers' playoff run, which ended in the Western Conference final on June 6.
"We're currently in discussions with the Players' Association as to what all that means in terms of Evander's status," Daly said prior to Game 1 of the Stanley Cup Final. "If it goes to the second day of hearings and we wait for a decision from the arbitrator, which will be a written award, my guess is that will be past the date of free agency."
The Sharks, per CapFriendly, have just over $5.6 million available to spend right now under the $82.5 million salary cap for next season.
Assuming the determination comes in well after July 13 can put the San Jose Sharks in a tight bind for off-season moves until an agreement is reached by both parties.
All of which makes it even more likely now that Kane and the Sharks will come to some type of settlement agreement.
Kane is a pending unrestricted free agent and TSN's Chris Johnston reported that if the grievance remains unresolved by July 13, he would still likely be able to sign a contract with another team.