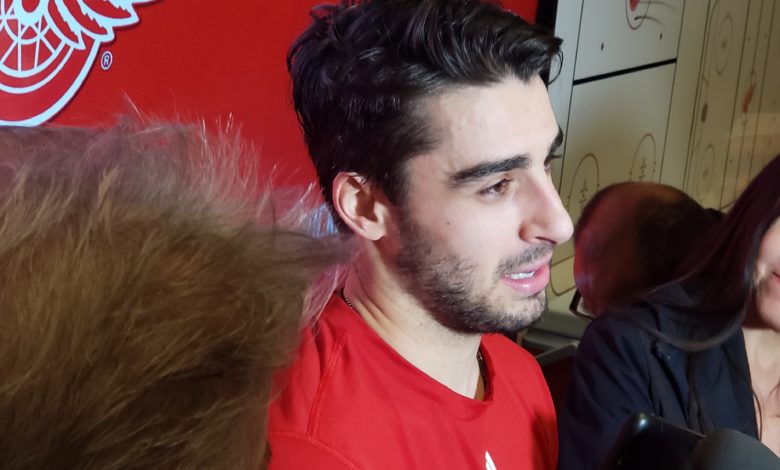 Coming into Thursday night, the Detroit Red Wings had lost 12 consecutive games. It also marked one full month since their last win, which came on November 12th against the Anaheim Ducks. That losing streak was snapped however, as the Wings managed to defeat the Winnipeg Jets by a score of 5-2.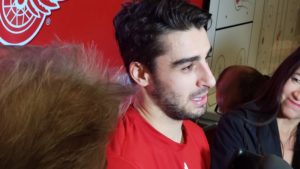 Following an early breakaway goal by Darren Helm, Robby Fabbri scored twice and added an assist in addition to other scoring chances. He's been on fire since being acquired by Detroit in a deal that sent Jacob de la Rose to St. Louis. He played on the top line alongside Tyler Bertuzzi at left wing and Dylan Larkin at center. The first goal was a very clever play as he accepted a pass from Filip Zadina and banked it backwards off the defenseman Tucker Poolman and past Connor Hellebuyck. It was a very heads-up play. Filip Hronek also assisted. His second goal also came from a deflection off a Jets defenseman in the crease, this time Neal Pionk.
"Those are some early Christmas gifts there," said Fabbri. "That's what it takes to win. It's not always going to be pretty. Playing hard, going to the dirty areas. That's what we did from start to finish tonight."
There was some physical play sprinkled in throughout the game as well, with Fabbri at the forefront.
"I'm competitive," I said. "I play tenacious. That's when I'm at my best. When I'm not, I feel like I'm not as into the game. Sometimes getting a few hits or a little scrum like that gets you into the game."
On the other side, following the consecutive goals by Fabbri, Jets forward Kyle Connor also scored a pair of consecutive goals. The first goal was a redirection from defenseman Nathan Beaulieu's point shot. On his second marker, Patrik Laine and Mark Scheifele assisted.
Goalie Jonathan Bernier has struggled all season long, as has the rest of the team. With only five wins in 19 games played and stats of 3.41 GAA and .888 SP are ugly numbers. But he was very solid in this bounce back game against a team with one of the strongest top-six in the league.
Zadina closed out the second period (24 seconds remaining) with his first goal of the season (and second of his short career so far). Hronek fed the pass from which Zadina launched a well-placed wrist shot that beat Hellebuyck on the short-side.
Hronek added an empty-netter to conclude the 5-2 victory.
Dylan Larkin said before the game he "wasn't the feeling the best" but was able to play.
"He played well, as [he does] every single game," said Zadina. "He was a huge part of the win today. I was glad to have him for sure."
Larkin was impressed with how the team played.
"It's huge. The way we played tonight, I feel that it's repeatable. Our D did a good job moving pucks. Our power play was on tonight and made it hard for Hellebuyck there."
"We knew how we did it, that our power play was great. We capitalized on our chances. They gave us some power plays and we scored. Zadina had a great shot there and Fabs had a couple. Just putting it to the ne and it goes in, good bounces. We were do that. Finally we get some of those. It was a good team win."
He also spoke to the progression of Zadina's game since his short stint in the NHL last season.
"I think, similar to the nine games he had here last year, I see him gaining more confidence as each game goes. He plays the game, he looks to move pucks, he's not looking to get it off his stick as soon as he can. He's trying to hold onto it, trying to make plays. You saw his shot tonight. He's a scorer, so he gets his spots. He keeps the puck on his stick. I've seen him game-by-game get more confident."
Fabbri now has 15 points in 16 games since being traded to Detroit (and one in nine games with St. Louis). Zadina has 6 points in 8 games. And Hronek has 17 in 31 from the blueline.
Another Trade
Just prior to the game, GM Steve Yzerman sent AHL defenseman Oliwer Kaski to the Carolina Hurricanes in exchange for AHL defenseman Kyle Wood, who is currently in his fourth season in the American League.
Cold as Ice
Frans Nielsen has only one assist to his name in 29 games this season. Valtteri Filppula has just one assist in his last 10 games, and 12 points in 33 games, while sporting the team's second-worst plus-minus (minus 25). Only Andreas Athanasiou's minus 33 is worse. Through 25 games, Adam Erne has failed to register a single point.
A Look Ahead
On Saturday, Detroit is in Montreal to face the Canadiens at 7:00 ET. They're back in action again Sudnay night vs. Los Angeles and Tuesday night vs. Columbus.
Follow me on Twitter @KevinSporkaHOHM