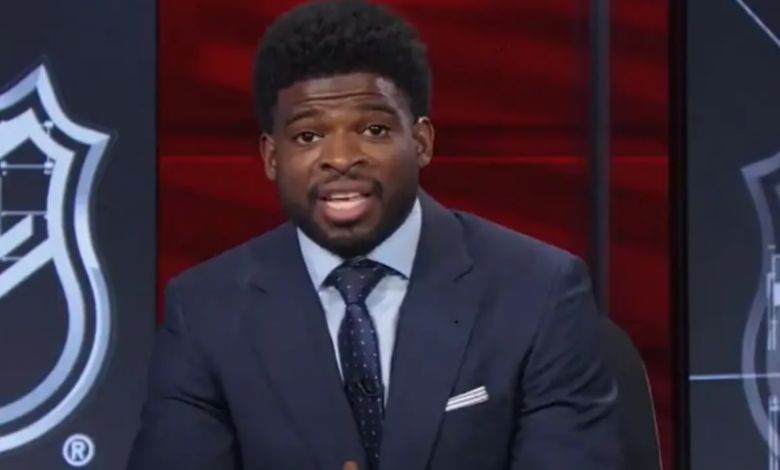 P.K. Subban faced controversy frequently while he was a player. It appears that nothing has changed since he retired and joined ESPN as an analyst.
The former Norris Trophy winner Subban is facing backlash for remarks he made against the Toronto Maple Leafs and a well-known plus-sized celebrity.
Subban was on the air commenting on the Leafs' in game 1 of their second round series against the Florida Panthers, when he referred to Toronto as needing to bring more to their game.
"Listen maybe they need to pack a Lizzo sized lunch. They weren't prepared in my opinion." – Subban
I have a feeling ESPN will be forced to take some sort of action no? https://t.co/e3tAu1s326

— Brandon Curtis (@CrunchpuckCurt) May 3, 2023
This issue runs deeper, and the NHL needs to do something to change this toxic culture in hockey.
Subban's analogy isn't sitting well with many.
NHL growing the game for women:

– Biz saying women only watch hockey for attractive men

– Phil Esposito calling a Leafs fan (a woman) fat while on-air.

– PK Subban fat-shaming Lizzo

But Jack Edwards is still flamed for his comments about Pat Maroon. Give me a break.

— Lauren (@BOSBruinsHC) May 3, 2023
This is completely unacceptable, and he's getting a lot of heat on Twitter for this.
Sis Pk Subban really just say "Lizzo sized lunch?" That's… not acceptable. That's fatphobic.

— Maya 🌸 (@OstrowskiMaya) May 3, 2023
What the fuck Subban? " "Pack a Lizzo size lunch? " Hello @ESPN and @NHL your culture continues

— RegionRev_GaryIN 🇸🇰 (@GaryMillrat) May 3, 2023
I'm not surprised by the PK Subban Lizzo comment to be honest, just disappointed. It's also the amount of men in the comments that think it's hilarious that's disturbing…smh

— Jordann King (@king_jordann) May 3, 2023
"Maybe they need to pack a lizzo sized lunch." PK Subban. Fuck you, PK. Black women aren't a punchline for you.

— cursed maple leafs fan (theythem/hehim) (@Wesoninternet) May 3, 2023
So what do you think, is this an appropriate comment or did Subban cross a line and deserves to be fired from ESPN?