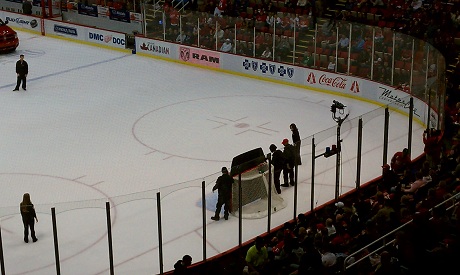 With the main focus in the NHL revolving around Rick Nash/Jeff Carter and other trade rumors, players are playing harder than ever to try to increase their trade value and show off their skills to contending teams. The Columbus Blue Jackets have already been active, dealing away Antoine Vermette and Carter to Phoenix and Los Angeles respectively, and other teams will soon follow suit. It will be interesting to see the traded players play in their new homes, and how those trades will affect their team's playoff hopes. Here are the Hot/Cold players currently in the NHL:
Hot – Forwards:
Jason Spezza – Ottawa – The Senators forward has scored 7 goals and recorded 9 assists for 16 points in his last 7 games played. In those games he has also accumulated a dazzling +/- of +8 and 20 shots on goal. Keep Spezza active on your roster.
Evgeni Malkin – Pittsburgh – Malkin has been outstanding even without Crosby this season. In his last 13 games played he has 8 goals and 10 assists on a hot Penguins team. I expect the Penguins to be a huge playoff threat and to finish the regular season strong. Especially with Jordan Staal back, Malkin will continue his Hart Trophy worthy season.
Steven Stamkos – Tampa Bay – The Lightning may not make the playoffs this season, but GM Steve Yzerman is making trades that will impact the future of the young team. In his last 13 games, Stamkos has scored 10 goals and 8 assists for 18 points, which is really impressive given the lackluster play of the Bolts this season.
Radim Vrbata – Phoenix – Vrbata has racked up 8 goals and 6 assists in his last 11 GP, and the red-hot Yotes are on fire. He was also a +8 in that span. He's no stranger to shooting the puck, and he usually fires the rubber about 4 times per game. The more he shoots, the more points your team will gain.
Jeff Carter – Los Angeles – Carter will definitely be among the Kings' royalty when he plays his first game for L.A. Joining a team already dominated by youth, he will fit right in. He recorded a hat trick in his last game for Columbus (how's that for a farewell?). I expect his stats to skyrocket with the strong wingers he will be paired up with.
Hot – Defensemen:
Erik Karlsson – Ottawa – It's hard to ignore the 12 points Karlsson's accumulated in his last 5 gampes played. 5 of those were goals, and for a defenseman that's a really impressive stat. The Senators are sitting at 7th place in the East and are 1 win away from tying New Jersey for 4th place.
Dustin Byfuglien – Winnipeg – "Big Buff" has been stellar in his last 8 games played. In that time he has recorded 3 goals and 8 assists for 11 points. As NBC's Pierre McGuire always says, Byfuglien's a "big body presence" and he definitely uses it to his advantage. The Jets are surprisingly at 3rd place in the East and are leading their division with 67 points.
Kevin Shattenkirk – St. Louis – The Blues are still hot and only trail the Detroit Red Wings by 4 points for the division lead. He has a goal and 3 assists in his last 5 games.
Hot – Goalies:
Craig Anderson – Ottawa – You can't get much better than Craig Anderson is right now. He is 4-0 in his last 4 starts and recorded 2 shutouts. He has only allowed 4 goals in that span for a GAA of 1.00. Play him with confidence but he does suffer from fatigue after a while, so be on the lookout.
Mike Smith – Phoenix – I was wrong, you can be better than Craig Anderson. Mike Smith of the Coyotes is on a 9 game winning streak. He has been their MVP so far this season. He is 10-1 in his last 11 games with 2 shutouts.
Martin Brodeur – New Jersey – The Devils are still on a roll and Marty is still Marty. In his last 9 games played, he is 8-1 and his stats have improved to .927 SP and 2.28 GAA for the year. I wouldn't be surprised if the Hockey Hall of Fame changed their induction policy to include active players. Brodeur continues to impress and after a rocky start to the season, has now lead his team to 4th place in the Eastern Conference.
Jose Theodore – Florida – They say stats don't lie right? Wrong. Upon his return to the Panthers, Theodore has a record of 1-4 in his last 5 games, but has not allowed more than 2 goals in any of those games. He only allowed 8 goals in the 5 games and the Panthers are still hanging on to 8th in the East with 66 points and 2 games in hand on 9th place Toronto.
Cold – Forwards:
Mikhail Grabovski – Toronto – Grabovski only has 1 point (an assist) in his last 8 games played. In his previous 5 games however he had 3 goals and 8 assists for 11 points. He is definitely on a cold streak, and his +/- has definitely dropped.
Ryan Smyth – Edmonton – Smyth has 17 goals and 22 assists on the season, but in his last 13 games played has only accumulated 1 goal and 4 assists. He still plays an average of 17 minutes per game but is not producing at his usual pace.
Cold – Defensemen:
John-Michael Liles – Toronto – Liles returned to the Leafs' active roster on February 1st, but has underachieved ever since. In his last 11 games he only has 1 assist and is a disappointing -8. In 4 of those 11 games he failed to even register a shot on goal.
Zach Bogosian – Winnipeg – Bogosian is currently injured (foot) and has missed the last 5 games, but in his previous 8 games he only registered 2 assists. His average ice time per game is 23:30 minutes, but his points totals have plummeted recently. This may change when he returns to the lineup, so keep him on your watch list.
Cold – Goalies:
Cam Ward – Carolina – The netminder for the Carolina Hurricanes is 1-3 in his last 4 starts giving up a total of 13 goals in that time. At this point in the season, look for better options for your team, for instance a cardboard cutout.
Antii Niemi – San Jose – Nothing has gone right for the Sharks' goalie recently. In his last 8 starts, he has posted a record of 2-6, giving up 6 goals once (February 16th), 4 goals twice, and 3 goals three times. He is a wildcard in net. Play him at your own risk. While he continues to struggle, make sure he's warming the bench.
*Stats referenced from ESPN.com*
(Next Article: Weekly News Wednesdays – Wednesday, February 29th)