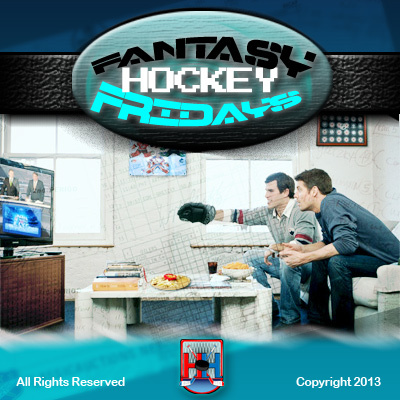 Injury Report
(Included are only players with significant impact on Fantasy Hockey)
Part 1:
Who's Day-to-Day?
Brad Marchand (F – BOS) – Was elbowed in the head Wednesday and left the game
Jiri Hudler (F – CGY) – Upper Body Injury – Did not play Wednesday
Semyon Varlamov (G – COL) – Hip – Did not travel with the team this week
Kari Lehtonen (G – DAL) – Lower Body Injury
Joffrey Lupul (F – TOR) – Neck – Did not travel with the team this week
Who's Out?
Patrice Bergeron (F – BOS) – Concussion – No timetable yet, but seems like things are progressing smoothly
Patrick Sharp (F – CHI) – Shoulder – Traveled with the team this week, should be playing sometime soon
Dave Bolland (F – CHI) – Upper Body Injury – Did not travel with the team this week
Milan Hejduk (F – COL) – Shoulder – Skated Monday
Dany Heatley (F – MIN) – Shoulder – Will miss the remainder of the season due to surgery on his shoulder
Matt Cullen (F – MIN) – Lower Body Injury – Could miss up to a week
Ilya Kovalchuk (F – NJ) – Shoulder – Skated Wednesday, not likely to play this week
Milan Michalek (F – OTT) – Knee – Is reported to be returning soon
Erik Karlsson (D – OTT) – Torn Achilles
Danny Briere (F – PHI) – Concussion – Could return very soon
Kris Letang (D – PIT) – Toe – Is back practicing with the team
James Neal (F – PIT) – Concussion – Will be out for a week or so
Skaters to Add
1. Brandon Saad (85% F – CHI) – The rookie from the Blackhawks has scored five goals in his last six games (8 points). This brings his totals to 9 goals and 23 points for the season so far. This will likely warrant Calder votes. His +/- for the season is +14, and in the six-game span was +6. He also has 80 shots on net for the year.
2. Ryan Kesler (80.8% F – VAN) – Alright, he's back…again. In his first game back four days ago, he scored his second goal of the year (8th game). Two days later he recorded two assists for 7th and 8th points of the season in 9 games. He should be back to stay this time. Go ahead and pick him up.
3. Steve Ott (82% F – BUF) – Five games ago, Ott started his three game goal streak, which ended five days ago. The goals came against teams with good defense/goaltending: Pittsburgh, Ottawa, and New Jersey. He's a +5 on a mediocre Sabres roster that just lost their captain and two best defensemen. In his last five games, he had a +5 rating. He has racked up 72 penalty minutes, and has amassed 175 hits.
4. Cory Conacher (48.4% F – OTT) – New team, new opportunities to succeed. In his second game as a Senator, Conacher scored his 10th goal of the season. He now has 25 points for the season, and will have a lot of Calder votes. He's playing on a much better team in Ottawa, so he'll likely be worth the risk.
Goalies to Add
1. Brian Elliott (84.7% – STL) – Apparently Elliott's been trolling everyone, including his own team this year. After he and Jaroslav Halak won the Jennings Trophy last year, he started this season off with an atrocious start which will be put into perspective right now. He has started five of the last six games for the Blues, of which he's won all of them. The last three wins were back-to-back-to-back shutouts. So after allowing just four goals in his last five games and posting the three donuts, Elliott's stats still read like a horrible novel: .892 SP, 2.68 GAA. Get him while he's hot and hurry, because the season's ending….like soon. In two weeks to be exact.
2. Mike Smith (94% – PHO) – Smith is back. He started all three games upon his return, winning two of them. One of the wins was a shutout. The other was a one-goal-against win. This is the Mike Smith of last season, and fantasy owners are quickly realizing that. His season totals now stand at .910 SP and 2.59 GAA. Phoenix is pushing for the playoffs right now, so he'll be on his game.
3. Viktor Fasth (82% – ANA) – When Jonas Hiller returned from injury earlier in the year, it seemed like Fasth wouldn't get many starts. Since April 1st, Fasth has started four of the six games the Ducks have played. The most recent game saw Fasth take over for Hiller when he allowed 4 goals on 16 shots to last place Colorado. Fasth saved the last 12 shots to finish the game. The first three games of the month were all against the Stars (a tripleheader? Are we still speaking of hockey?). Fasth started all of them, earning a 1.67 GAA in the stretch. The following game he won in a shootout, giving up three goals, but still posting a .921 SP. The first-year goaltender continues to impress with a 2.17 GAA and a .923 SP for the year.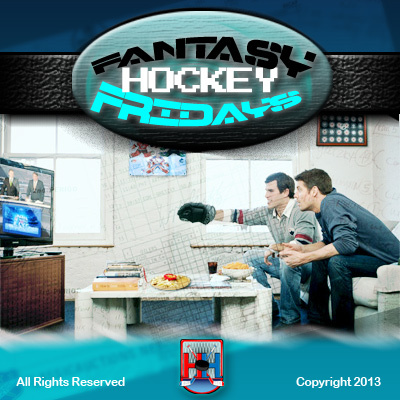 Part 2:
The Playoffs are underway here in the HOHMFL, and after one week, has been narrowed down to just four teams.
The results from last week:
1. Steve Auld (First Round Bye)
2. Adam Bernard (First Round Bye)
3. Andrew Williams vs. 6. Igor Burdetskiy
IB: 9 AW: 1
Goals: 11-10 IB; Assists: 22-19 IB; +/-: -1 to -12 IB; PIM: 41-22 IB; Powerplay Points: 8-7 IB; Shots: 144-135 IB; Hits: 77-71 IB; Goalie wins: 5-3 AW; GAA: 1.79-2.64 IB; SP: .935 IB
Key Players:
AW – Brandon Saad (3G, 1A, 11 SOG, +3), Devan Dubnyk (2 wins 2.02 GAA, .935 SP)
IB – Evander Kane (1G, 1A, +1, 23 PIM, 14 SOG), Michael Ryder (3G, 1A), Evgeni Nabokov (2 wins, 1.30 GAA, .941 SP)
4. Joshua Beneteau vs. 5. Kevin Sporka
KS: 7 JB: 3
Goals: 14-8 KS; Assists: 25-14 KS; +/-: 9 to -8 KS; PIM: 51-10 KS; PPP: 7-5 JB; SOG: 159-124; Hits 90-53; Goalie wins: 6-4 KS; GAA: 1.56-1.99 JB; SP: .954-.927 JB
Key Players:
KS – Jonathan Toews (2G, 3A, +3, 16 SOG), Taylor Hall (2G, 5A, +3, 16 SOG), Antti Niemi (3 wins, 2.20 GAA, .914 SP)
JB – Jason Pominville (1G, 3A, +3), Mike Richards (1G, 2A, +3), Ben Bishop (1 win, 2.03 GAA, .945 SP)
This week's matchups:
1. Steve Auld vs. 5. Kevin Sporka
2. Adam Bernard vs. 6. Igor Burdetskiy
HOHM Fantasy League (HOHMFL)
Here are the 12 writers and their initials:
BD – Bob Duggan (Buffalo Sabres)
AC – Alvin Cho (Winnipeg Jets)
AW – Andrew Williams (Carolina Hurricanes)
KC – Kevin Cawthra (Vancouver Canucks)
SA – Steve Auld (Toronto Maple Leafs)
JB – Josh Beneteau (Team Canada/Various NHL news)
IB – Igor Burdetskiy (Founder and Editor-in-Chief of HOHM)
MK – Mike Kluxdal (Minnesota Wild)
DD – Dawson Drolet (Calgary Flames)
KS – Kevin Sporka (Detroit Red Wings)
AB – Adam Bernard (New York Rangers)
KW – Kayla Winsett (Nashville Predators)
Our Transactions in the Past Week:
4/5:
None
4/6:
IB – Dropped Mathieu Garon and Added Jake Allen
KS – Dropped Ray Emery and Activated Craig Anderson from Hibernation (er, Injured Reserve)
SA – Dropped David Perron and Added Derick Brassard
4/7:
None
4/8:
BD – Dropped Dany Heatley (IR) and Added David Legwand
AC – Dropped Alexei Emelin (DTD) and Added Brent Burns
SA – Dropped Mikkel Boedker and Added Ilya Kovalchuk (IR)
4/9:
IB – Dropped Justin Peters and Added Ray Emery
SA – Dropped Miikka Kiprusoff and Added Brian Elliott
AB – Dropped Stephane Robidas and Added Dan Hamhuis
4/10:
None
4/11:
SA – Dropped Matt Cullen (DTD)
JB – Dropped Brooks Orpik
Follow me on Twitter @yungspork