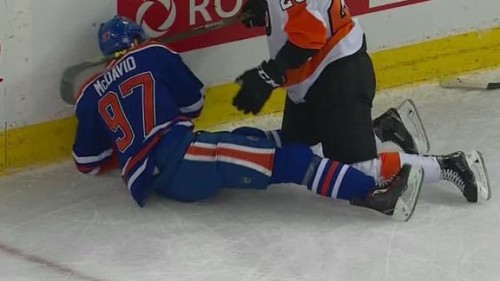 The 2015-16 NHL season is now a good four weeks in with every team having played at least their first 10 games. While the season is still very young and there are more questions for several teams, the injury bug has started to make its presence among multiple teams and big time name players. On Tuesday November 3rd the Edmonton Oilers saw their first overall pick in the 2015 NHL Draft, Connor McDavid, collide into the boards while losing his edge. What has now been said to be a broken left collarbone will rule McDavid out for many months making fantasy owners and Oilers fans both feel the pain.
Other notable injuries around the league include Anze Kopitar of the LA Kings, Ryan Getzlaf of the Anaheim Ducks, Martin Hanzal of the Arizona Coyotes, Chris Kelly and David Pastrnak of the Boston Bruins, Evander Kane of the Buffalo Sabres, Jonas Hiller of the Calgary Flames, Marian Hossa of the Chicago Blackhawks, Pavel Datsyuk of the Detroit Red Wings, Jaromir Jagr and Aleksander Barkov of the Florida Panthers, Carey Price of the Montreal Canadiens, Logan Couture of the San Jose Sharks, and Paul Stastny of the St. Louis Blues. This is a very hefty list of big time players that could make up a superstar team of their own. So you can imagine how many fantasy owners are dreading having to find replacements and at the same time hoping the rest of their rosters don't fall victim to the injury bug anymore then it already has.
That's of course why so many have turned to daily fantasy sports and other like-minded gaming sites such as Betway Casino that serve better odds for hockey lovers and gamers alike any day of the week. There's still a lot of hockey to be played and that leaves room for more injuries and uncertainty to hit teams throughout. The injury bug isn't just exclusively hitting hockey either as the NFL lost several big name players over the weekend to season-ending injuries too.
It's certainly a matter of luck sometimes for many fantasy hockey playing fans and actual NHL teams to avoid major injuries but the matter of the fact is they do still happen. Like it or not that's the beauty of the game and the challenge that creates champion winning teams whom can adjust the best to such circumstances. So as the season pushes on into its fifth full week with a lot more hard-hitting and grinding hockey to be played, don't be surprised to see more big name players go on the IR or be DTD. It is of course the price many athletes have to pay playing in some of the most physically demanding sports out there.