Landon Ferraro and Mitch Callahan. Two players who are fighting as hard as they can for a roster spot on this tightly packed Detroit Red Wings squad. Both deservedly getting a chance to show what they've got. Both players whose contracts expired last season and were both extended for a single year.
In Saturday night's contest against the Boston Bruins, these two players dominated. Mitch Callahan (most known for taking a puck to the mouth last season and tweeting a picture of the damage) is a solid player who has collected 73 points and 247 penalty minutes in the American Hockey League over the past three seasons. He began his night by taking a run at Slovakian giant Zdeno Chara. For most young players, engaging in any physical play with Chara would be a death wish. However, for Callahan, he stood his ground and hit him hard and with conviction.
Callahan and Ferraro combined for seven hits. The latter is not usually an overly physical forward. He doesn't seek out trouble, but can hold is own when needed. In this contest, his four hits showed progression in his game. He appeared fearless on the ice, even against the big bad Bruins team that is known to deliver many bone-crushing checks on a nightly basis.
"I've always been able to skate," said Ferraro. Last year, when I'd go to hit someone, you know, I'd either be the one falling or they'd just kind of bounce off. This year I feel a little stronger on my feet and I can get through people a little better."
When asked about the speed and tenacity of the Bruins, Callahan said he thoroughly enjoyed it. "We're not afraid of that style [of play]. I think overall the speed of the game was great. It's nice to play at that speed."
Ferraro, whose job is was at the time to kill a penalty, found himself going the other way mid-way through the second stanza. He put everything he had into a rising wrist shot that looked to have found the glove of goaltender Tuukka Rask. But the puck had other ideas, caroming off the end of his glove and bouncing into the open net. That tied the game at one goal apiece after Bruins defenseman Dougie Hamilton scored early in the period.
"I thought my first [period] was a little off," said Ferraro. "I didn't feel comfortable with the puck. But I thought it got a little bit easier as the game went on, and I got more comfortable."
He said he thought his goal was the result of a little luck, but also said he was happy to take it.
The Red Wings would ultimately land on the losing side, with Jonas Gustavsson being saddled with the loss. The man known as "The Monster" saved 20 of 22 shots and earned a .909 save-percentage.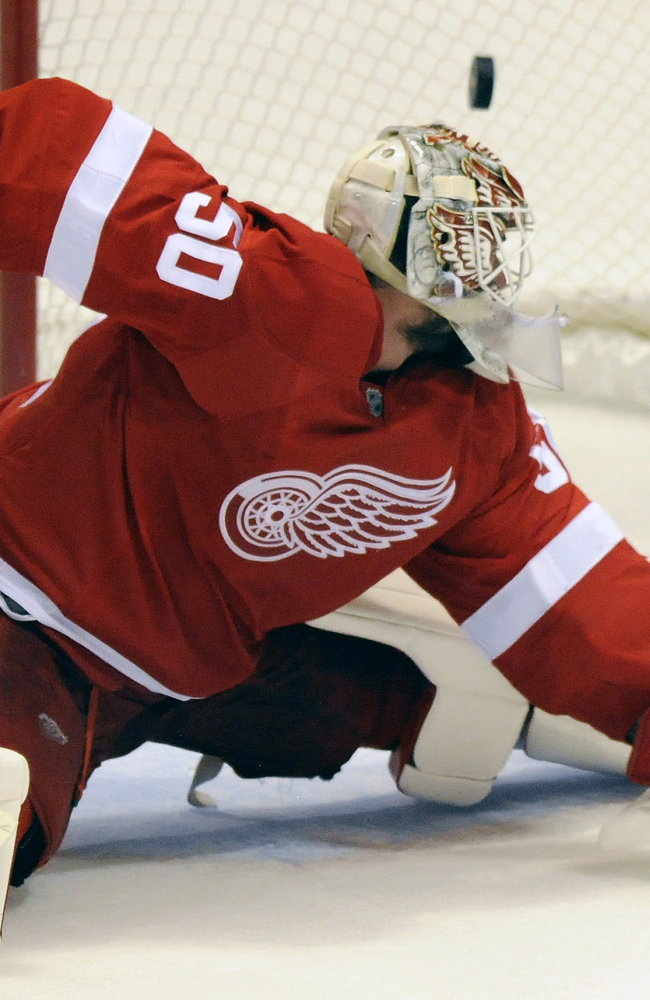 I asked him after the game if there was anything he felt needed more work in his game before the regular season begins. And in typical Gustavsson fashion, he responded with a well-thought out and very insightful answer.
"You want to work on everything. Every week I feel more confident out there. Like today, there was some stuff I probably should have done differently, but there was some stuff I was happy about. But that's how it is in the season too. You almost never have the perfect game. You always have something you want to do better. And if you have a shutout, there's always some stuff you want to do different. That's why we look at the video, probably tomorrow or in a couple days, analyze what's good and what could be done differently, and move forward."
Red Wings pre-season action continues Monday night at 7:30 ET when they take on the Toronto Maple Leafs in Detroit.
Follow me on Twitter @yungspork