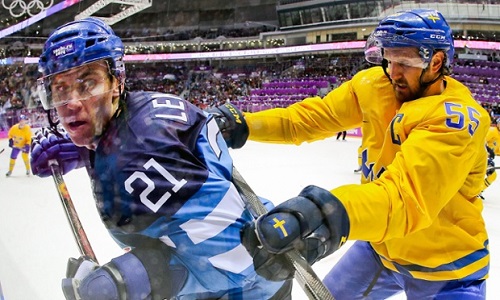 In Friday's border rivalry game, Finland fell to Sweden 2-1 , Erik Karlsson capitalized on Olli Jokinen's second period tripping penalty to score the go ahead goal – the game winner – to top the Finn's improbable run.
Having lost three of their players to injury early in the tournament, Finland's underdog status propelled them past Russia 3-1 on Wednesday, but they couldn't top Sweden on Friday. Jokinen scored the first goal of the game on Henrik Lundqvist in the second period, but Loui Eriksson tied it less than five minutes later and Karlsson knocked the game winner in past Kari Lehtonen from the blue line another five minutes later.
Despite having five power play opportunities and matching up with Sweden in shots (25 to Sweden's 26), Finland will see the loser of Canada/USA on Saturday. Sweden moves on to face the winner for the Gold on Sunday.
Neither Team USA nor Team Canada will be easy opponents to face when the Finn's hit the ice for one last game in these 2014 Winter Olympics. Saturday's game will [probably] be captain Teemu Selanne's last Olympic game, one he surely wished had ended with the elusive Olympic Gold.