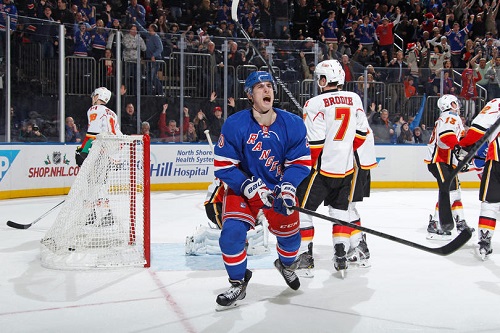 There's no such thing as a "must win" hockey game in the middle of December, especially an inter-conference match-up. But when you have a home game against a team with the fifth-worst record in the league, and you've lost four in a row, saying a team needs a win certainly isn't out of the question. For the New York Rangers on Sunday Night, they needed a win against the Calgary Flames, and had to claw their way to victory.
The Blueshirts fell behind early by a score of 2-0 in the first period (the fourth straight game they've done that) courtesy of goals from Mikael Backlund (power play) and Curtis Glencross. A mere twenty-five seconds after the Glencross goal, Derek Stepan stopped the bleeding and cut the Rangers deficit to one. Once again, it's December, so you don't want to say "that goal saved the season", but man, oh man, did they need that goal. 2-1 heading in to the first intermission looks a lot better than trailing 3-0. In the second period, Carl Hagelin tied the game courtesy of assists from his new linemates Dominic Moore and Benoit Pouliot.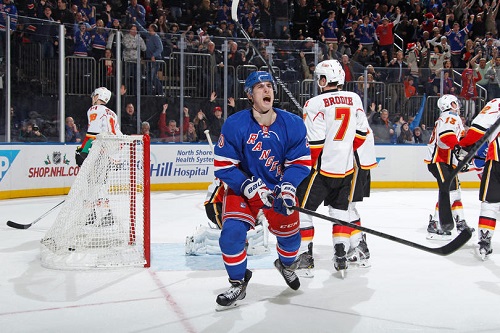 In the third period, early season Calder-candidate Sean Monihan gave Calgary the lead again 4:44 in to the frame, but Chris Kreider tied the game for New York about eight minutes later. The Rangers had a five-on-three for 1:20 late in the period, but failed to convert on either power play opportunity. Calgary also squandered a late period opportunity that extended in to overtime when Kreider was given a double minor for high-sticking. On to the shootout, where the Rangers would need seven rounds to get the second point. Brad Richards and Dominic Moore each gave the Rangers a chance to win earlier in the shootout, but Lee Stempniak (4th inning) and Paul Byron (6th inning) each managed to beat Henrik Lundqvist to keep the Flames alive. Pouliot's slick puck handling beat Karri Romo, and Lundqvist closed the door on Mikael Backlund to steal the win from Calgary.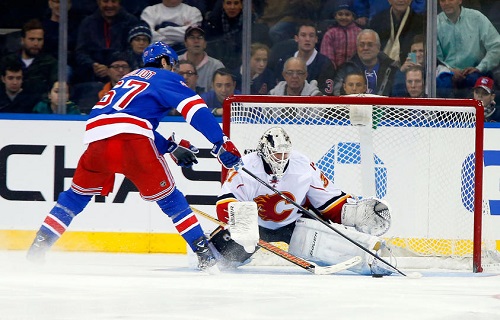 Blowing a lead to the rival Devils at home, but managing to get a point is one thing. Getting beaten by Washington 4-1 at home is bad, but the Capitals aren't a bad hockey team either. Playing a flat game against Nashville, and digging themselves too deep of a hole against Columbus (both at home) were both bad losses. Losing at home against Calgary would have been inexcusable. Even without key players like Ryan Callahan and Marc Staal, the Rangers need to take care of business against lesser teams at home. They've gone 1-3-1 so far on their nine-game homestand, and have Pittsburgh (Wednesday), the Islanders (Friday), Minnesota (Sunday) and Toronto (Monday) remaining before the Christmas break. They'll need to win three of those games just to salvage their two-and-a-half weeks at home before heading out on the road for over a week.