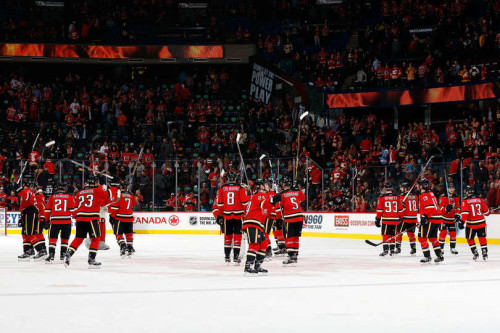 Boy, Saturday night sure was fun at the Scotiabank Saddledome. With the red hot Pittsburgh Penguins (winners of six straight) in town the Flames' young guns came to the forefront and led the team to an impressive 5-2 win. As I wrote in my last article, ending this early season funk rested on the shoulders of Sam Bennett, Johnny Gaurdreau, and Sean Monahan. The trio's play on Saturday night showed that they are more than willing and capable of delivering on this responsibility. Gaudreau scored twice while Bennett and Monahan each added a goal and an assist. Bennett's goal was a highlight real effort as he undressed defenceman, Ian Cole, to get in alone on Marc-Andre Fleury and bury his third of the season. Joe Colborne also scored for the Flames.
This was an important win for the Flames as they have now won two straight, three of there last four, and have some momentum as the head onto the road for four straight games. As much as the young guns offensive display was impressive, many of the players cited the team's defensive play as the key to the victory. Specifically, Gaudreau said after Saturday's win " [We are] playing a lot better defensively, which is leading to more offense."
The Flames were able to hold the Penguins high powered offence to only 25 with only five of those coming from the likes of Sidney Crosby, Phil Kessel, and Evgeni Malkin. Indeed, many analysts will claim that with the Penguins' effort was not 100% as they were on the second night of back-to-back games and t coming to the end of its Western Canada road trip. Even with the facts about the Penguins being true, the Flames defensive effort should not be belittled.
For the the second straight game the team has limited some of the League's best offensive threats (Claude Giroux, Jakub Voracek, and the Penguins). From my perspective it certainly looks like that much talked defensive unit is finally rounding into form and the timing could not be better. The Flames' four game road trip has playing other offensive powerhouses like the Tampa Bay Lightning, Washington Capitals, and Chicago Blackhawks. A concerted defensive effort will be needed for the Flames to be successful on what will be a tough road trip. As mentioned, the team is aware that their defensive play is the key to their recent success and hopefully this trend of strong defensive play continues. A successful road trip (3-1 or 4-0) can put the Flames back into the Western Conference's Wild Card race.