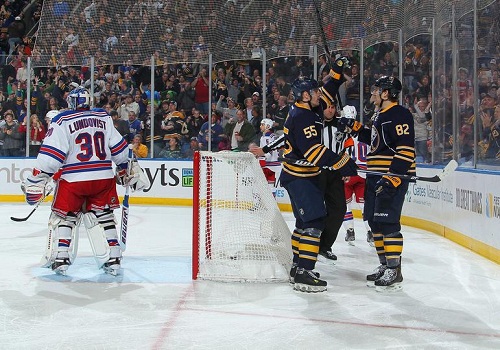 The New York Rangers made their second stop on their season-long four game road trip on Tuesday night. They came in to Western New York having won five of their last six games, and were starting to look like the team people expected before the season. On the other bench were the Buffalo Sabres – a team who hadn't won a game won a game since March 2nd. While it had been ten days since the Sabres' last win, it was even longer for the man who got the start in net for Buffalo.
After a physical first period that produced a couple of spectacular saves by Henrik Lundqvist and not much else, the Rangers took an early penalty in the second period. The Sabres power play had given up a league-high four goals this season. Derek Stepan's seventh goal of the season made it five (assisted by Ryan Callahan), and the Rangers had a short-lived lead.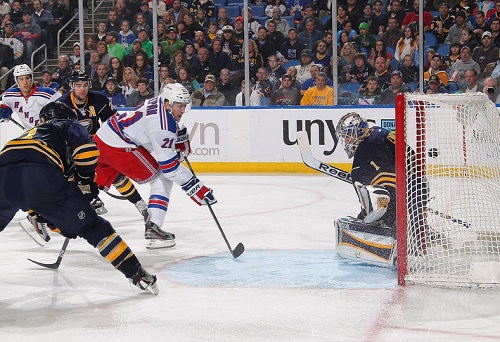 A little over a minute later, Marcus Foligno snapped a 20-game scoring drought to tie the game on a rebound from Christian Erhoff (Andrej Sekera also assisted on the goal). Seven minutes later, Thomas Vanek notched his 14th goal of the season on a head-man pass from Jason Pominville (Cody Hodgson also on the assist) to give the Sabres the lead. Both Sabres goals were even-strength goals despite the Rangers giving Buffalo four opportunities with the extra man in the frame. Foligno scored his second goal of the game midway through the final period (Sekera & Brian Flynn with the assists), and the Sabres went home with a 3-1 win.
Tuesday night's victory was Buffalo's fourth win under interim Head Coach Ron Rolston. As for back-up goalie Jhonas Enroth, it was his first win since November 26th, 2011. Enroth got the nod because a sinus infection prevented Ryan Miller from getting the start. For the Rangers, it was their second loss in their past three games (both losses against teams from the Northeast Division). Rick Nash's ten game point streak also came to an end.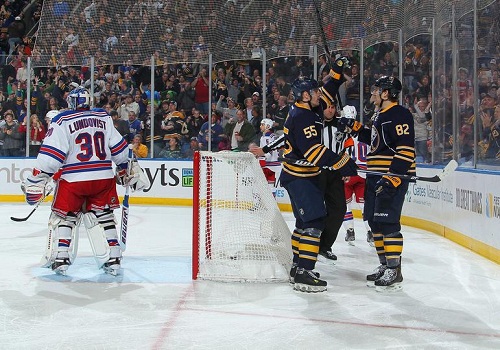 This game was far from the Rangers worst effort of the season. But taking four penalties in a period and five in a game leads to a team defending instead of attacking for 1/6 of the game. If the Sabres didn't have an awful power play (ranked 30th in the league), this game would have gotten away from the Blueshirts in the 2nd period. The Rangers outshot Buffao 18 to 3 in the third period, and came away with nothing. This was a wasted opportunity, against a back-up goalie, to get two points against a team that ranks 13th in the East. Next up for the Rangers is a stop in Manitoba to take on the Winnipeg Jets. Both teams have 28 points, so it'll be a battle to be inside the top eight in the conference.