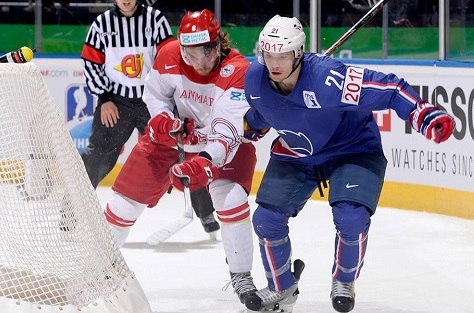 For the first time since 1995, France will be playing a quarter-finals game in a World Championship tournament. How did the team get there this year? By being the most shocking team of the tournament throughout and registering three upset victories and one late upset loss.
Earlier today France crushed Denmark 6-2 to secure the playoff berth. The win also has decided the four teams in Group A that qualified for the quarter-finals. Those four teams being Canada, Sweden, France and Czech Republic.
Meanwhile in Group B only Russia and USA have secured official spots while Belarus and Latvia can both take over Finland's current third place hold. It's the second to last day of the preliminary round and so far this year's tournament has been anything but disappointing. The first four days included daily upsets and comeback shockers from several teams.
France started off the tournament with an upset shootout victory over current Group A leader Canada. So it's safe to say that France will be the most dangerous underdog team going into the quarter-finals round. All anyone can do now is just wait till the final games have been played and for the round robin matchups to be posted tomorrow evening.