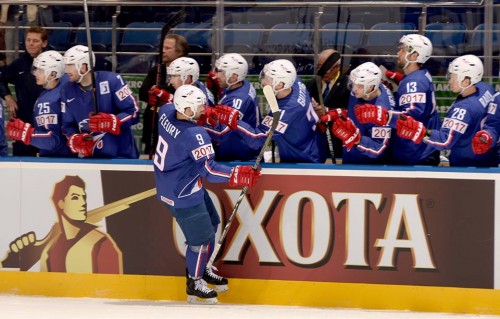 In consecutive years, once again France has stunned an elite hockey nation in the preliminary round of the World Championship. Many would have thought Canada would roll right by France without much trouble but that certainly wasn't the case today. Just like last year's 2-1 upset over Russia, France proved they can hang with the best of the best in the hockey world. France got on the board first on a power-play goal 17:03 into the first period by Stephane da Costa. However, that lead was short lived as Canada would tie the game up by a power-play goal of their own scored by Bryaden Schenn with only 26 ticks to go in the first.
The teams exchanged a few penalties through the second including France getting a key five-on-three powerplay towards the end of the second period and to start the third period. Despite the man-advantage, France was held off the scoreboard and the teams kept on exchanging opportunities through the first half of the third. Finally, Canada broke through to take the lead by a goal from Erik Gudbranson with 9:18 left to go in the third period. Yet France would not back down and managed to take advantage of once again another power-play to knot the game up at two a piece; scored once again by Stephane da Costa, his second of the game.
With seven more minutes to go at a tied game, neither team could breakthrough and skated into a four-on-four, 5 minute overtime. That too wasn't enough to determine the victor and a shootout would have to settle the game. Cristobal Huet turned down all three shooters faced in the shootout and Pierre-Edouard Bellemare scored on France's third shootout opportunity to help cap off the upset victory.
Certainly the two heroes for France were Huet and his 34/36 saves including three key stops in the shootout and da Costa's two key power-play goals in regulation. The victory gives France two points meanwhile Canada comes away with just a single point. This is a fantastic start for France in the World Championship and Canada will have to regroup and look-on to their next match to get back into the thick of things if they plan on securing a playoff spot as expected by all.