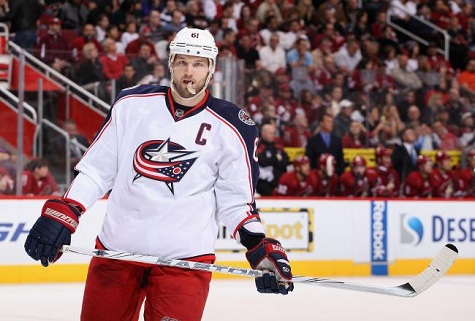 The Columbus Blue Jackets said good bye to their franchise cornerstone this afternoon. Rick Nash was selected 1st overall by Columbus in the 2002 NHL Entry Draft, started right away with the big club, and became the club's 5th Captain in franchise history in 2008. In that time, he tallied 289 goals and 258 assists in 674 games. He was a Calder nominee in 2002, made the All-Star game five times, and reached the playoffs once (a 4 game sweep at the hand of the Red Wings in 2008-09). But that's where his list of accolades in Columbus ends. Some can choose to see the glass half-empty (true franchise players are supposed to carry their teams); while others can see it half-full (Nash never truly had any talent depth surrounding him). Either way, the Brampton, Ontario native is getting a fresh start on a team that needs him.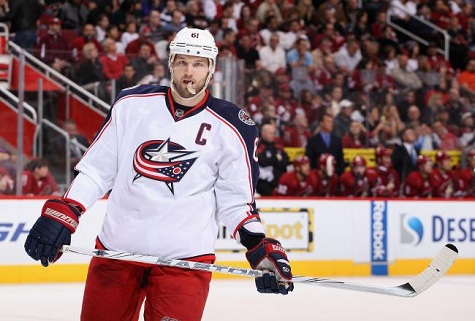 After months of talks, dating back to before the 2012 NHL Trade Deadline, the Rangers and Blue Jackets were finally able to hammer out a deal earlier today. In exchange for Nash (and minor league defenseman Steven Delisle and a conditional 3rd round pick in the 2013 NHL Draft), Columbus acquired F Brandon Dubinsky, C Artem Anisimov, young D Tim Erixon, and a 1st round pick in the 2013 draft.
Here is what Columbus is getting:
Brandon Dubinsky: The 26 year old is a 2nd line center/winger that's had four seasons of 40 points or better in his career(54 in 2010-11), but only had 10 goals and 24 assists in a reduced role this past season. He's gritty, will fight for his teammates, and is capable of becoming a 40+ point person again. He was a part of the silver-medal winning Team USA in the 2010 Olympics.
Artem Anisimov: He's young (24), big (6'4″ 210lbs), and has averaged 36 points a season in his 3 years with the Rangers. He's an enigmatic player that the jury is still out on. He can make the clutch play, or there are stretches where you don't hear his name. He was good enough to be a part of the Russian Olympic squad in 2010.
Tim Erixon: Calgary took the son of former NHL'er Jan Erixon with the 23rd overall pick in 2009. After refusing to sign with the Flames, he was traded to the Rangers before last season. The 21 year old Swede only had two assists in 18 games with the Rangers, but registered 3 goals and 30 assists in 52 games with the Connecticut Whale of the AHL. He's 6'3″, 205lbs, and can move the puck. He still has the potential to be a top-pairing D-man.
*also the Rangers 1st round pick in 2013 – that will likely be somewhere in the 20s.
Blue Jackets GM Steve Howson was running out of options, and I'm not shocked that this was the best he could do. I spoke to Rangers Radio Analyst Dave Maloney this afternoon, and while he thinks the Rangers gave up a sizeable amount, the common consensus is that Rangers GM Glen Sather used a getaway car after finalizing the trade. Howson went from asking for young studs like Chris Kreider and Ryan McDonagh to acquiring guys the Rangers would have given up without thinking twice about. The other options/teams on Nash's wish list were:
-San Jose Sharks – Once Sharks GM Doug Wilson said young C Logan Couture wouldn't be part of any trade, the talks stopped.
-Boston Bruins – Howson was asking for combinations of names like Milan Lucic, David Krejci, Dougie Hamilton and Tyler Seguin. No dice.
-Detroit Red Wings – There were reports that Detroit made a sizeable offer for Nash, but Howson had no interest of dealing him within the division and getting burned six times a season.
-Philadelphia Flyers – The Shea Weber offer sheet took them out of the running
-Pittsburgh Penguins – They already have over $60 million committed in salary for next season. They also didn't have as good a young talent pool as the Rangers.
The Rangers are getting exactly what they needed. Their biggest need was a top-tier scorer, and they're getting a RW that has averaged 32 goals and 28 assists over 9 seasons. He's enjoyed some success, winning the gold medal with Canada in the 2010 Olympics. With Marian Gaborik out until December, Nash will be expected to carry the load early and earn his $7.8 million per season (if the season starts on time, that is). We are still a long way away from the regular season, but this is what the Rangers line combos COULD look like for next season when fully healthy and with whom they currently have signed:
Kreider – Richards – Nash
Callahan – Stepan – Gaborik
Hagelin – Boyle – Asham
Rupp – Halpern – Pyatt
With the Rangers deep blue line (hence why they were able to give up Erixon and I think they'll pay Anton Stralman's arbitration if nothing gets done before 7/31), three quality lines, a shutdown line, and the reigning Vezina winner, it's tough to not get excited for the season. Let's just hope there's a season to get excited about.