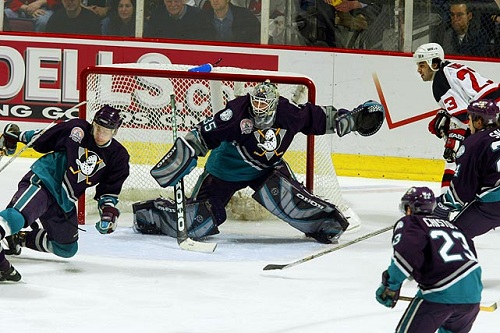 Yesterday, I mentioned that while we deal with this lockout, it might help to relive some of our fondest hockey memories. Yesterday, I shared the memory of the first hockey game I saw – the night that the Wings and Avs brawled and the night that the Red Wings  transformed from overrated to champions. Today is another memory – this one not as fond. See, I was born and raised in Detroit so I am a huge Wings fan. However, when I witnessed this upcoming memory, I could not help but be amazed. This is the memory of the 2003 Anaheim Mighty Ducks and their remarkable goaltender J.S. Giguere.
The Detroit Red Wings were the defending Stanley Cup Champions and boasted a remarkable amount of talent in the 2003 season. The Wings had Yzerman, Shanahan, Fedorov, Hull, Robitaille, Larionov, Datsyuk, and Zetterberg up front. They had Lidstrom, Chelios, and Mathieu Schneider on the back end. In goal, they had Curtis Joseph. They won 48 games and were the #2 seed in the West. Their first round matchup was the Anaheim Mighty Ducks, a team they had defeated in three of their four regular season matchups. They had a rookie head coach, a goalie who had just posted his first winning season and just one player with more than 59 points (the Wings had 4). They had no business competing with Detroit. Honestly, I think the Wings might have thought the same thing.
The series opened in Detroit and the Wings came out firing. They score quickly, just five minutes into the game, and a many felt that this game would get out of hand quickly. Giguere afterwards said that he was extremely nervous early on as this was his playoff debut and it was at Joe Louis Arena against the defending Stanley Cup Champions. Well those nerves certainly didn't last long. The Wings threw 15 shots at the playoff rookie in that first period, but just that lone goal beat him. His team tied the game ten minutes after the Wings goal and the game remained tied thanks to Giguere's remarkable play. He stopped 27 shots in regulation as the game went into OT. In the 1st OT period he stopped another 20, an NHL record. Finally, after stopping an additional 16 shots, Ducks captain Paul Kariya ended the game early in the 3rd OT. Giguere finished with 63 saves – not bad for a playoff debut.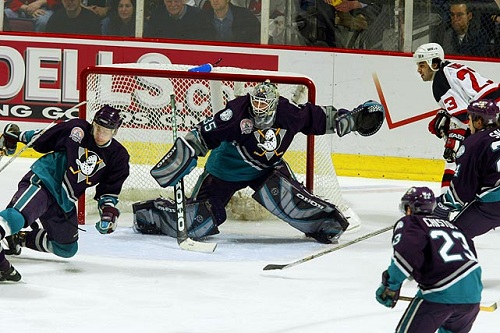 I'll never forget that game because I don't think we'll ever see another playoff debut like it from a goaltender. Unfortunately for the Wings and the rest of the Western Conference that season, Giguere was not a one hit wonder. Giguere stopped 165 of 171 shots faced as the Ducks swept the Wings. Yea, you read that right. Giguere faced 171 shots in a 4 game series (average of 43 a game) and posted a .965 SV% and an even more remarkable 1.24 GAA. Unbelievable.
The scary part? Giguere kept this play up the entire playoffs. In Game 1 of his 2nd round series against the #1 seeded Dallas Stars, Giguere posted another monster game, this time stopping 60 shots as he led the Ducks past the Stars, 4-3 in a 5 OT epic. In the Conference Finals against Minnesota, Giguere just went insane. Giguere did not allow a goal in Game 1. Or Game 2. Or Game 3. It took the Minnesota Wild, 184 minutes and 37 seconds to finally score on J.S. Giguere. That goal ended Giguere's personal shutout streak of 217 minutes and 54 seconds. Are you kidding me? Giguere's stats for that series you ask? He stopped 122 of 123 shots faced (a ridiculous .992 SV%) and had a 0.22 GAA. No, those numbers are not a misprint. He seriously had a 0.22 GAA and a .992 SV%. It's not like he was stopping easy shots either. Just ridiculous. Heading in to the Western Conference Finals, Giguere had a 1.26 GAA and a .958 SV%. Those are video game numbers. Hell, I don't even think I could post those numbers in a video game playing on the easiest mode.
Giguere carried this play all the way through the Stanley Cup Finals, where the Ducks finally fell to the New Jersey Devils in 7 games. However, Giguere was recognized for his efforts, as he received the Conn Smythe Trophy, becoming the 5th player in NHL history to receive it in a losing effort. In recent years we've seen Cam Ward, Braden Holtby, Jonathan Quick, and more, but in my mind, Giguere's Game 1 debut and his entire playoff run is by far the most remarkable performance I've seen by a goalie in his playoff debut. To do it against the defending Stanley Cup Champions, a team that boasted 7 sure fire Hall of Famers (Yzerman, Hull, Shanahan, Larionov, Lidstrom, Chelios, and Robitaille), as well as four other potential Hall of Famers (Datsyuk, Curtis Joseph, Zetterberg, Fedorov)…it's just unbelievable.
J.S. Giguere is one goaltender I will never forget as long as I live because of that magical 2003 playoff run.
Love Reading About Hockey?

Subscribe to keep up-to-date with the latest and most interesting hockey news!
| | |
| --- | --- |
| | We hate spam just as much as you |