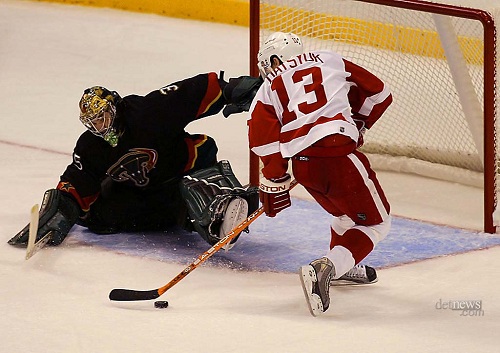 This is the last of my memories that will go into the Frozen Memories segment and I hope you all have enjoyed the ones that I have shared. This last memory is of one of the most magnificent plays that I've ever witnessed by one of the most magical players. This is Pavel Datsyuk's "Datsyukian Deke".
The night was November 12th, 2003. The Wings were matched up against their Western Conference rivals, the Dallas Stars. The game had turned into a bit of a rout in the 3rd period as goals from Detroit's Mathieu Schneider and Pavel Datsyuk pushed the lead up to 5-2. Then, with 43 seconds left in the 3rd, Pavel Datsyuk decided that he'd have a bit of fun with Stars goalie Marty Turco. Datsyuk took a perfect feed from Brett Hull and had a breakaway on Turco. Datsyuk then executed one of the most insane moves the hockey world has ever seen. It was a huge shoulder fake, coupled with extreme edge-work on his skates, followed by pulling the puck back and firing it past the sprawled out Turco.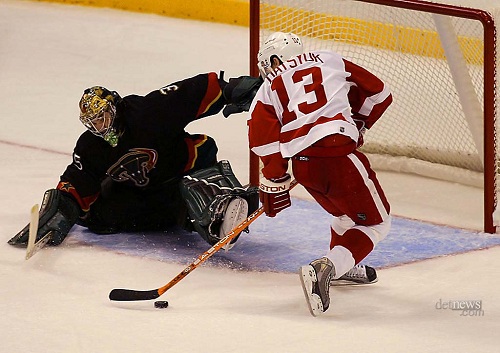 I saw that goal and went berserk. Turco was so out of position and didn't even know what hit him. The hockey world went insane over that deke. Then hockey gave us the greatest gift of all – the shootout. This allowed us to see Datsyuk perform that move several times since, on Tomas Vokoun, Josh Harding, and Antti Niemi. The move has been attempted and modulated by several other players, most famously Linus Omark. I feel that I should also give credit to the only goaltender to have successfully stopped the move – Phoenix's Mike Smith. Regardless, it's one of the greatest moves in hockey history and it has earned it's place next to "The Forsberg" as one of the few moves that is known by just a player's name.
Below are the videos of all 5 documented attempts in the NHL of the Datsyukian Deke.
[youtube http://www.youtube.com/watch?v=xH08Kvwu9Og&w=420&h=315]
[youtube http://www.youtube.com/watch?v=Mlvgf5lEowU&w=420&h=315]
[youtube http://www.youtube.com/watch?v=zz-USpo0NnY&w=420&h=315]
[youtube http://www.youtube.com/watch?v=kvMZj5jJZ84&w=420&h=315]
[youtube http://www.youtube.com/watch?v=FlJwRFsF_7U&w=560&h=315]