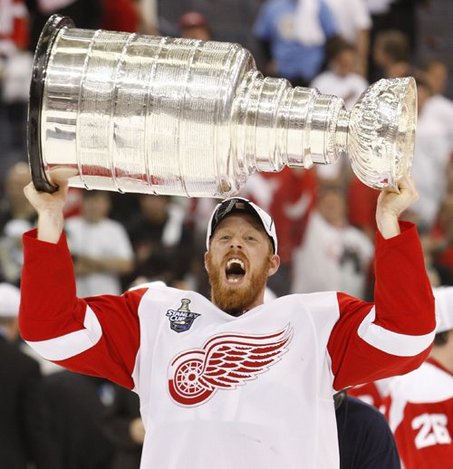 Today's frozen memory occurred not too long ago, just back in 2008. It's how one player single handedly decided that he was going to carry his team to the Stanley Cup. Usually when this happens, it's a star player playing out of his mind. This time however, it was a guy that only had 22 goals and 46 points in his career. This is the story of how Johan Franzen became a big time playoff performer.
The legend of the mule begins in March of 2008. At this point in the season, Franzen had 12 goals and 6 assists through 66 games, numbers that were a little below what was expected of him. The Red Wings were in the midst of a miserable 1-8-2 stretch and desperately needed their fortunes to change with the month of March. Enter Johan Franzen. Franzen went on a reign of terror unlike any ever seen in Red Wings history. In the month of March (13 games), Franzen recorded 13 goals and 4 assists. 6 of those goals were game winning goals, breaking Gordie Howe's franchise record for game winning goals in a month. That month was especially critical as 11 of those 13 games were against divisional opponents. Franzen's run helped the Wings to a 10-2-1 record in the month, solidifying the #1 overall seed in the playoffs. Unfortunately for the rest of the NHL, Franzen didn't stop there.
In the 2008 playoffs, Franzen scored 13 goals and 5 assists in 16 games. The 13 goals are a Red Wings franchise record. 5 of those 13 goals were game winners, also a Wings record. But the most impressive part of that run was what he did to Colorado in the 2nd round. You almost had to feel sorry for the Avs. The Wings swept the Avs that year thanks to Franzen's 9 goals in the 4 game series. He had two hat tricks in the series and finished the series with 9 goals on 39.1% shooting. The 9 goals in the series are a Red Wings playoff record, breaking Gordie Howe's record of 8 goals…which occurred in a 7 game series. Even the commentators couldn't believe it with Mike "Doc" Emrick at one point exclaiming, "Do you believe this guy?!". Also, not to make Avs fans feel worse about that series but Franzen's 9 goals equaled the output of the entire Avs team that series. Yup, that's right – Franzen had 9, the Avs had 9. The Wings went on to win the Stanley Cup, with Franzen only missing out on the Conn Smythe because he missed 6 games due to injury.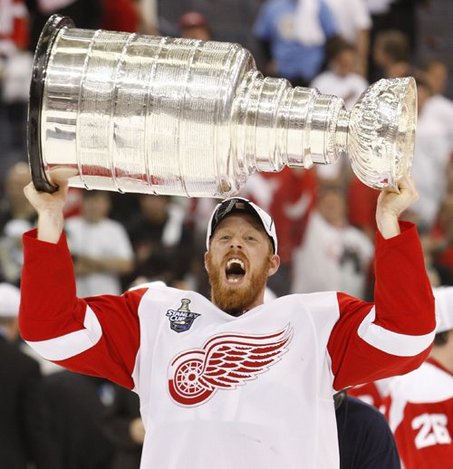 This was just the start. Suddenly, Franzen became Mr. Clutch for the Wings. In the 08-09 playoffs, Franzen recorded 12 goals and 11 assists to lead the Wings in playoff scoring and taking them within a game of the Stanley Cup. The Ducks were his victim of choice in this playoff run, scoring 6 goals and 9 points in the 7 game series. Franzen followed up his 08-09 run with another stellar run in 2009-2010. The Wings lasted just 12 games in the playoffs this year, falling in 5 games to the Sharks. That didn't stop Franzen from recording a point in every game (a Wings record), scoring 6 goals and 18 points in the 12 games. He especially took it to the Sharks, scoring 5 goals and 11 points in the 5 game series, including his Game 4 outburst where he scored 4 goals and 2 assists in just 14:44 of ice time. He was so good in the first 11 minutes of the game that announcer Ray Ferraro proclaimed,"this might be the greatest 11 minutes of playoff hockey in one period ever".
I'll never forget that first run in 2008, especially the series against the Avs. I've never seen such a display from any player and it got to the point where any time Franzen touched the puck, everyone collectively held their breath as they knew something magical was about to happen. There are few players in today's game that make you feel like that. Crosby, Stamkos, Ovechkin, Datsyuk, and Malkin come to mind. But when the playoffs come around, you have to add Franzen's name to that list.
Love Reading About Hockey?

Subscribe to keep up-to-date with the latest and most interesting hockey news!
| | |
| --- | --- |
| | We hate spam just as much as you |