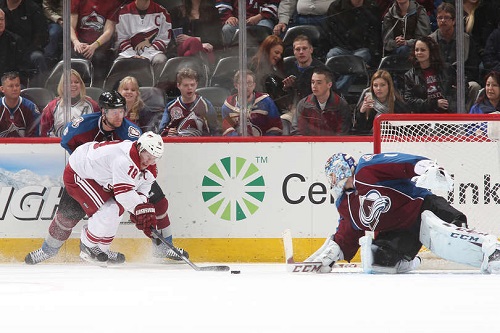 The Avs have their work cut out for them.
It's no secret that the Central Division is currently one of the most tenacious divisions in the NHL, with the current Stanley Cup Champions, the Chicago Blackhawks, as well as the St. Louis Blues who showed signs of no plans to surrender soon after a blockbuster trade with the Buffalo Sabres, where the Blues picked up Steve Ott and recent Team USA goalie, Ryan Miller. Although the upcoming schedule including games against Chicago and St. Louis will challenge the Avs who currently hold the number three spot in the Central Division, the boys in burgundy and blue can easily hold onto their current playoff spot.
It seems to be a theme that the Avs struggle defensively. Even on the best nights, there are still major flaws on our back line. This proved especially true against the Los Angeles Kings last Wednesday, when the Avs surrendered two goals within the last few minutes of the second period to tie the game.
No team is without flaws, and the good for the Avs definitely outweighs the bad.
Between veterans like Matt Duchene and Ryan O'Reilly as well as rookie Nathan MacKinnon, the Avs aren't struggling to score. Even on the third and fourth lines, the Avs are energetic, and communication and connecting passes has lead to beautiful goals. A player of note is Jamie McGinn, a guy who was previously criticized for his lackluster play but has turned it around to accumulate 26 points.
Without a doubt, Semyon Varlamov has been one the biggest asset to the team. After a tough few seasons since coming to Colorado, Varly has found his niche in the crease. Thanks to new head coach Patrick Roy, a previous Vezina winner, and the addition of goalie coach Francois Allaire, Varlamov is second in the league in games won.
After a less than stellar season following the lockout, the Avs have come back with a vengeance. If the Avs can fix the glaring issues defensively while capitalizing on the forward pressure, upcoming must-win games against division leaders shouldn't be more than a second though.
Thanks to an aggressive new coach and a new sense of camaraderie, the Avalanche are a force of nature not to be taken lightly, especially with the upcoming playoffs.