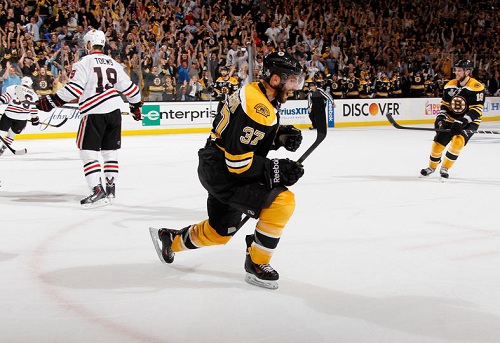 BOSTON – When Daniel Paille ripped a shot past the outstretched glove of Corey Crawford, the Chicago Blackhawks knew they were in trouble. And Patrice Bergeron's powerplay goal in the second period must have felt like ten goals to a Blackhawks team that managed only 28 shots on goal in three periods, and watched each and every one of them get turned away by Tuukka Rask. And it gets worse for Blackhawks' fans. The Bruins' stifling defense didn't just keep Chicago off the board en route to their 2-0 victory; they made it look easy.
The Blackhawks managed only a single odd man rush in Game 3. The Bruins did a fantastic job of eliminating time and space from Chicago's forwards, and while Rask stopped every shot he faced, he really didn't have to work that hard. The question needs to be asked: Is Rask in Chicago's head? It certainly seems that way. Patrick Kane, one of the purest offensive talents in the game, had a chance to beat Rask glove side from only about 25 feet out from the crease and missed the net entirely. Patrick Sharp also had a chance to get Chicago on the board, and drilled a shot right into the spoked B on Rask's chest. It looks like Chicago's forwards are trying to be too precise with their shots, and Rask and the Bruins defense are making them pay for it. Rask has allowed more than two goals only once in his past eight games, and that's enough to get shooters thinking a little bit harder on how to beat him.
In the NHL, it's not uncommon for teams to take on the personality of their leaders, and Game 3 had Zdeno Chara and Bergeron written all over it. Chara led the Bruins in time on ice with over 25 minutes, and helped out offensively with an assist. As for Bergeron, he continued to be a dominant force in all three zones, leading the Bruins in shots, scoring a powerplay goal, and winning an insane 24 of 28 faceoffs. Led by Chara and Bergeron, the Bruins controlled the pace of play, and the Blackhawks couldn't muster any kind of response.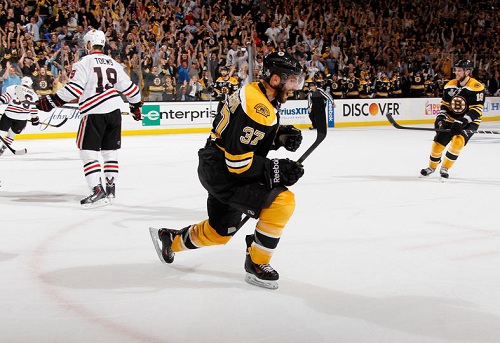 As for Chicago's leaders, Jonathan Toews and Kane have been invisible this series, combining for a single point over the first three games. If they don't start showing up, the Blackhawks won't be in this Finals matchup for too much longer. Toews and Kane looked poised to join Sidney Crosby, Evgeni Malkin, Kris Letang, and Rick Nash on a veritable all-star team of players shut down by the Bruin's suffocating defense.
Even with the man advantage, the Blackhawks were unable to mount any sustained offensive attack. After going 0-for-5 on the powerplay last night, Chicago is now a dismal 0-for-11 on the series, and while the Bruins are a fantastic penalty-killing team, that's just not acceptable for a Blackhawks team with that kind of talent. It's all part of the lesson plan for the Bruins, who certainly remember how shutting down the Vancouver Canucks powerplay (just 2-for-33 in the Finals) worked out for them in 2011. The Blackhawks need answers on the powerplay, and they need them fast because 5-on-5, they're simply not getting enough quality shots on Rask.
Game 3 was a virtual clinic for the Bruins where goaltending and team defense took center stage. Games like this have been a staple of Boston Bruins hockey in these playoffs. It's not complicated, but it sure is effective. If Chicago wants to get back in this series, they'd best be taking notes.
Love Reading About Hockey?

Subscribe to keep up-to-date with the latest and most interesting hockey news!
| | |
| --- | --- |
| | We hate spam just as much as you |