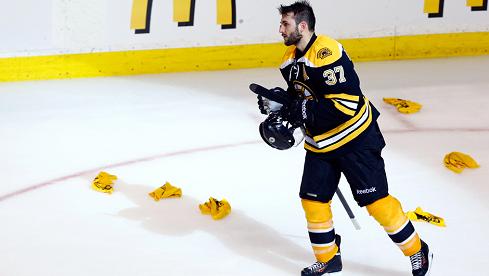 BOSTON – To say things didn't go Boston's way in Game 5 against the Chicago Blackhawks would be an understatement. The Bruins were the victims of some unlucky bounces of the puck, they sure didn't get any help from the officials, and the game ended with them on the wrong side of a 3-1 score. The message couldn't have been clearer when Milan Lucic shattered his stick across the post after Dave Bolland's goal essentially ended the game: this was a frustrating night for the team in Black and Gold. But the Bruins on-ice loss isn't the worst thing to come out of Game 5: if Patrice Bergeron isn't ready to go in Game 6, this series is over.
Bergeron left the game early in the second period with what looked be an upper body injury of some sort, and only played one more shift before leaving the game and heading to a nearby Chicago hospital in an ambulance. In Claude Julien's postgame press conference, he didn't give any update on what kept Bergeron out, but he didn't rule Bergeron out for Game 6 on Monday either, saying that, "he might be in for the next game [but] we don't know right now." The early reports say that Bergeron will be kept at the hospital for observation for the time being, and that's not good news for Bruins fans.
While Boston prides itself on its lack of superstar players, the truth is that the Bruins just don't look like the Bruins without Bergeron at center. Boston typically establishes the pace they want to play at by dominating the puck possession, and that starts with Bergeron winning faceoffs. In Game 5, the Bruins only won 24 of 57 faceoffs, and never looked like they were able to gain a territorial advantage. Bergeron has also been putting up points for the Bruins, scoring nine goals and registering six assists in 20 playoff games. Without Bergeron, linemates Jaromir Jagr and Brad Marchand were invisible offensively in the third period, failing to register a single shot in the final twenty minutes.
And don't forget perhaps the most important aspect of Bergeron's game: his defense. Bergeron and his linemates have been matched up against the Blackhawks' Patrick Kane, and without the Bruins' center on the ice, Kane looked a lot more dangerous. Kane ended Game 5 with two goals, including the eventual game winner. Without Bergeron shutting down space in the neutral zone, Kane able to use his speed to beat the Bruins defensemen around the outside, giving him some choice opportunities to beat Tuukka Rask. Bergeron has been the key in Boston's strategy to keep Kane under control, and without him on the ice, things get a whole lot harder for the rest of the Bruins.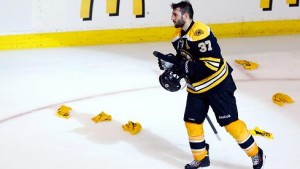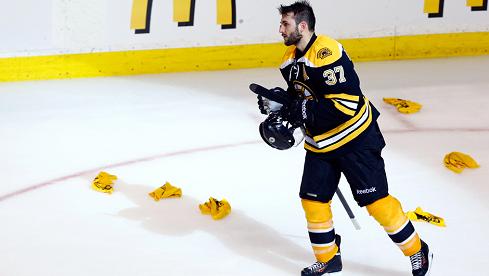 If Bruins fans are looking for a reason to be optimistic about Bergeron's injury, Julien's decision to play Carl Söderberg in Bergeron's spot between Marchand and Jagr would be a good place to start. If Julien expected a long-term injury for Bergeron, it would make more sense for the coach to put Rich Peverley on that second line instead of the Söderberg (who has played on 7 games in the NHL). Until we know more, it's likely Julien isn't assuming the Bruins will definitely be without #37 for Monday night's Game 6.
The Bruins have been in worse situations this year than being down 3-2 in this series to Chicago. After all, there were only 51 seconds left when Boston tied up Game 7 against the Toronto Maple Leafs in the first round. But without Bergeron, this Bruins team is in trouble. Let's hope for Boston's sake that he returns before this series is over, because without Patrice Bergeron leading the way, there won't be any parade down Boylston Street.
Love Reading About Hockey?

Subscribe to keep up-to-date with the latest and most interesting hockey news!
| | |
| --- | --- |
| | We hate spam just as much as you |