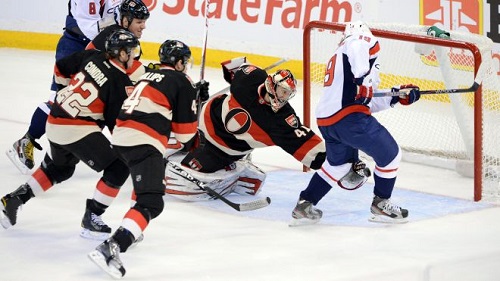 The 12-10-2 Washington Capitals face the 9-11-4 Ottawa Senators tonight in America's hockey capital. Tonight marks the first of four meetings between the pair of hockey teams who are each off to inconsistent starts.
The Caps are currently on a 3 game losing streak and are 8-5-0 at home. The Senators on the other hand are 5-5-2 on the road and have only a single win in their previous 5 games, 2 in their past 7. The Senators have won 4 consecutive games against the Caps and have outscored them 13 to 6 during this game stretch.
Below are the expected line-ups for both squads:
Washington:
Johansson-Backstrom-Ovechkin
Fehr-Grabovski-Brouwer
Chimera-Laich-Ward
Volpatti-Latta-Wilson
Alzner-Carlson
Schmidt-Strachan
Urbom-Green
Holtby, Neuvirth
Ottawa:
Michalek-Spezza-Zibanejad
MacArthur-Turris-Ryan
Conacher-Smith-Neil
Greening-Grant-Condra
Methot-Karlsson
Phillips-Corvo
Cowen-Wiercioch
Craig Anderson is expected to make the start between the pipes for the Sens, his first start since a 4-3 loss to Minnesota last Wednesday night at the Canadian Tire Centre in Ottawa. (This was his third loss in four starts for the Senators.)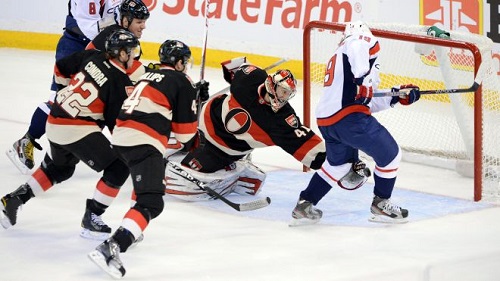 It's been reported that forward Brooks Laich was not a participant in the Caps' morning skate just as a precaution at Kettler Iceplex this morning with a lower-body injury. Oates said that he does expect Laich in the line-up this evening, so not to worry.
Defenseman, Tyson Strachan has been recalled from the Hershey Bears,vice president and general manager, George McPhee announced today. The 29 year old D-man made his debut with the Capitals November 15 against the Red Wings. Strachan skated with Nate Schmidt this morning as Steve Oleksy took part in the scratches' workout.
Just a side note, it should be interesting to see how special teams play out in tonight's matchup. The Caps sit with the third most effective power play in the league. (23.4%) The Senators are the sixth most penalized squad in the league, averaging about 12.8 minutes per game. As long as the Caps play smart, clean hockey and CAPitalize on these power play opportunities, there should be no reason to suffer a loss at home tonight. Also, pay close attention in the second period. The middle 20 minutes of the game appears to be the Capitals' strongest, with 32 goals scored this season, and the Senators' worst with only 19 goals.
Watch the Caps and Sens clash in a Thanksgiving Eve battle at 7 PM EST at the Verizon Center on Comcast Sportsnet.
Go Caps!