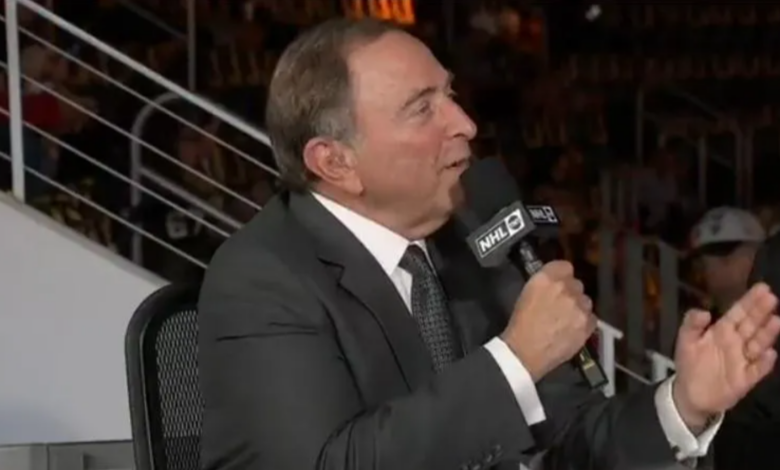 Gary Bettman, the commissioner of the NHL, is not a very liked figure among NHL fans, especially those from Canada.
The NHL made over $6 billion in revenue this season, according to recent boasts from Bettman, but the Arizona Coyotes still haven't found a suitable home.
Bettman had hoped to keep the coyotes in the desert, but there have been indications that they are being moved.
This raised the question of why not either relocate the Coyotes to Toronto or add a second team to the GTA in a manner similar to how the New York Rangers and New York Islanders coexist.
The notion of either the Coyotes moving to the GTA or potentially a second franchise joining was directly posed to Bettman.
Which Bettman promptly and predictably shut down faster than Phil Kessel could consume a hotdog.
"The discussion takes place in your world more than it does in ours. It's a matter of speculation, it's a matter of putting things out there, but in terms of the interest, the reality, what's involved. It's not something that seems to be resonating the way other markets and other ownership requests are resonating for whatever reason or reasons"

– Bettman on the idea of a second GTA-based team
We all understand that there won't be any franchises coming to Canada as long as Bettman remains the NHL Commissioner. In fact, if Bettman had his way, he regrettably would likely relocate some teams outside of Canada.
Gary Bettman just now on the @NHL_On_TNT Stanley Cup Final pregame show regarding the #Coyotes situation pic.twitter.com/F7XHXwflAQ

— Collin Harmon (@CollinHarmonTV) June 3, 2023
Bettman asked about a 2nd team in Toronto: "The discussion takes place in your world more than it does in ours. It's a matter of speculation, it's a matter of putting things out there, but in terms of the interest, the reality, what's involved.."

— NHL Watcher (@NHL_Watcher) June 3, 2023
Bettman asked about a 2nd team in Toronto: "The discussion takes place in your world more than it does in ours. It's a matter of speculation, it's a matter of putting things out there, but in terms of the interest, the reality, what's involved.."

— NHL Watcher (@NHL_Watcher) June 3, 2023
Imo each state/province should only be allowed to have one team

— Coffee Spots 🇺🇸 (@Coffee_Spots2) June 4, 2023
Totally not an NHL city 😂 https://t.co/lnpQvyuD9i

— NHL Watcher (@NHL_Watcher) June 5, 2023