Featured
Gary Bettman Receives 2023 SBJ Lifetime Achievement Award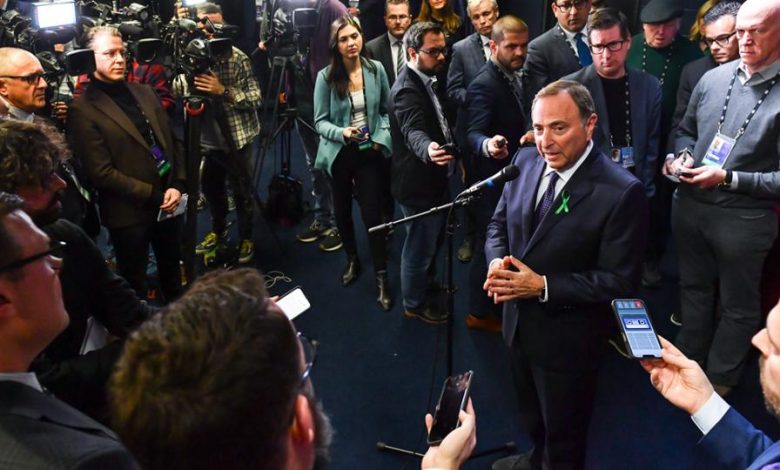 In the January 30-February 5 issue of Sports Business Journal, NHL Commissioner Gary Bettman was named the 2023 recipient of the Sports Business Journal Lifetime Achievement Award.
Bettman will be honored on May 24th at the Sports Business Awards in New York.
"Since his first NHL media rights headlined the inaugural issue of Sports Business Daily back in 1994, Gary Bettman has been a fixture in our pages and an immensely influential figure in our industry," Sports Business Journal publisher and executive editor Abraham Madkour said in an SBJ article announcing the award. "His willingness to think big, take risks and stick to his principles have solidified the NHL as an important property in the global sports landscape and positioned the League to continue to thrive well in the future."
Bettman will celebrate his 30th anniversary on the job on Wednesday, surpassing the late David Stern, who served as NBA commissioner from February 1, 1984 to February 1, 2014, as the longest-tenured commissioner of North America's four major men's professional sports leagues. Before becoming the NHL's first commissioner on December 11, 1992, he was the NBA's senior vice president and general counsel under Stern. He took office on February 1, 1993.
Congrats to our Lifetime Achievement Award recipient, @NHL commissioner Gary Bettman 🥂

After 30 years, Bettman is the longest-tenured commissioner in any of the four major men's professional team sports leagues in North America.

For more info ➡️: https://t.co/RGZPn98I7o pic.twitter.com/SkKWI4bLzC

— Sports Business Journal (@SBJ) January 30, 2023
Bettman's accomplishments, according to Sports Business Journal, include the expansion of the NHL from 24 to 32 teams and an increase in League revenue from around $400 million per season to a record $5.2 billion last season. It also credited Bettman's "penchant for creativity" in expanding and relocating teams, citing the Dallas Stars, Nashville Predators, Carolina Hurricanes, and Vegas Golden Knights as examples.
The NHL became the first major professional sports league with a team in Las Vegas following the addition of the expansion Golden Knights in 2017-18. The Seattle Kraken joined the NHL in 2021-22 as its 32nd team.
The NHL Winter Classic, an annual outdoor game established in 2008, has also grown into a major regular season tentpole event, as has the League's willingness to sign media rights agreements with nontraditional broadcast partners, beginning with Fox Sports in 1994 and later Comcast's OLN. This resulted in a long-term relationship with NBC Sports, as well as partnerships with ESPN and Turner Sports beginning last season.
"The 70-year-old has had an incredible journey in growing the game around the world and the NHL has flourished under his direction and guidance," Madkour wrote of Bettman on the Sports Business Journal's Forum page. "He has been a leader with substance and clearly helped define the sports business of the modern era. He is well deserving of SBJ's Lifetime Achievement Award."
Sports Business Journal noted that the NHL has had three work stoppages under Bettman, but also credited him with delivering "significant victories for the League at the negotiating table." Those included obtaining long-term cost certainty for owners in 2005 "with the establishment of a salary cap, improvements to the on-ice product and greater parity between the large- and small-market teams."