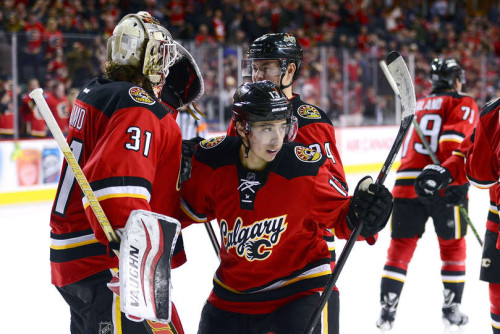 Since Christmas is only two days away, you all have probably heard the popular Christmas carol, I'll be Home for Christmas, more than a few times as you shop. If you are unfamiliar with the song, it begins as follows:
I'll be home for Christmas
You can plan on me
If you are familiar with the song, you may be surprised to hear that in Calgary the lyrics are actually changing due the Flames' franchise record tying 10 game home winning streak. The new lyrics are as follows:
The Flames will win in Calgary
Fans can count on it
Indeed, after Tuesday's 4-1 win against the Winnipeg Jets matched the franchise record of 10 straight wins on home ice Flames' fans will expect wins every time the team plays on Saddledome ice. As I wrote in my last article, the Flames extended success on home ice has brought the Flames back into playoff contention in the Pacific Division. The team currently sits a point behind the Vancouver Canucks for third, two points behind the San Jose Sharks for second, eight points behind the Los Angeles Kings for first in the division. Considering the inconsistencies that plagued the team through October and parts of November, fans should be pleased with where the team sits at the holiday break. I would expect that fans of the Flames would take the team riding this momentum to a strong second half of the season and a playoff spot as their Christmas presents.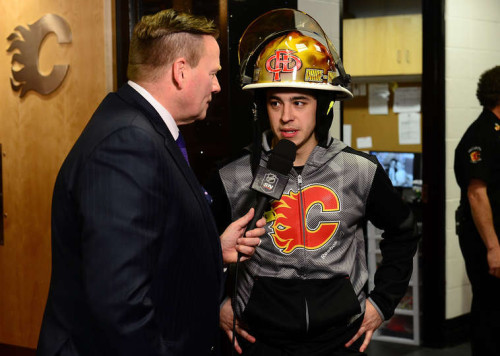 In order for the Christmas wishes of Flames' fans to come true it will likely require continued heavy lifting from Johnny Gaudreau. I wrote in the this space that this season is Johnny's coming out party as an NHL superstar. Gaudreau's month of December has been stellar as he has delivered two hat tricks and the Flames offensive catalyst. Over the course of the Flames' streak Gaudreau has 13 goals, 20 points, and his first goal last night was his 100th as a Flame. Whenever the Flames have needed someone to deliver a spark over this course of successful play, Gaudreau has been the guy. Consider Gaudreau's second goal where he stripped Mark Scheifele of the puck and went in alone and restore the Flames two goal lead. Gaudreau's desire to have the puck on the stick and be 'the guy' has produced many big moments over the course of his short career. The Flames will need Gaudreau to do much of the heavy lifting offensively as they continue to lack offensive depth. If his Gaudreau's success continues and he propels the Flames into the playoffs we may be talking about a potential Hart Trophy season. It is the Christmas season so it is okay to have big wishes.
Happy Holidays.
Love Reading About Hockey?

Subscribe to keep up-to-date with the latest and most interesting hockey news!
| | |
| --- | --- |
| | We hate spam just as much as you |